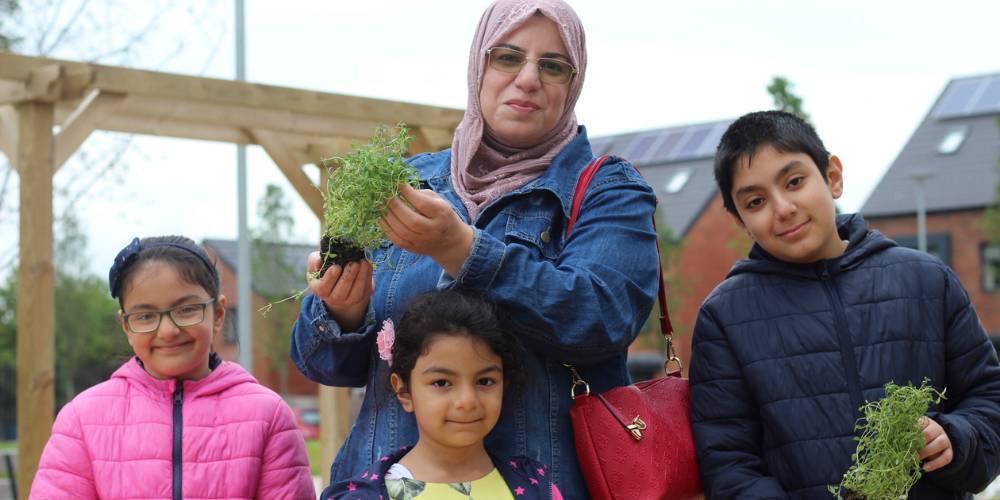 Wardeh Nasir is a fantastic and passionate cook who wanted to share her native Syrian cuisine culinary skills with her local community.
Forever Manchester's Community Builder, Lisa Kershaw, first met Wardeh at the West Gorton Community Centre. As a Syrian refugee she was struggling to connect with the local community and wanted to find new friends.
With Lisa's encouragement and a little help from Forever Manchester to purchase equipment and ingredients, Wardeh set up a healthy Syrian cookery project as a way of building relationships and meeting new people. Word of Wardeh's culinary skills soon got out and proved to be a great success, attracting residents from all parts of the community.
This has since progressed into a multi-cultural cooking group with ladies from such places as Iran, Pakistan, India, Syria and England now sharing, showcasing and teaching their specialities and culturally flavoured favourites to each other.
Wardeh has now become well connected in her local community, helping other refugees who are new to the country settle in, alongside encouraging their English skills. She also wrote for a piece for the local Hand and Heart blogging website in response to the impact of quarantine on a local park project.
She also became a key part of the community's response to providing support for local vulnerable people during the pandemic, volunteering to cook for her neighbours and making Eid sweets for the community. She also supported the NHS by volunteering at vaccination clinics as well as providing free translation services at local events so people were not excluded and did not miss out on important health information.
Wardeh is being supported by Lisa in her application for employment at the local GP surgery and actively volunteers in her local community and is the lead organiser for a group of local women from different cultures and backgrounds developing their own ideas for community activities.
Wardeh is an inspiration to anyone interested in getting involved in the local community which she undertakes with gusto, despite her own, at times, difficult circumstances. She is warm, welcoming and practically helpful to anyone in need. She demonstrates a huge generosity of spirit and kindness and the passion for her local community holds no bounds.
Wardeh explains, "As a Syrian refugee, I have had everything except my husband and children taken away from me. To be able to cook and share food with others and to talk together feels like something normal again. My confidence has really grown. Being an active member of the local community has also provided me with the opportunity for others to hear our stories and understand why we are here. I have met lots of lovely people and made many new friends as well as getting to know lots more about the place I am calling home."
Wardeh Nasir has been shortlisted for the Connecting Communities Award to be presented at Forever Manchester's Birthday Party on Friday 18th March 2022.
The award is given in recognition of a person or group of local people who have formed a project or put on an activity which brings people together, benefiting others in their neighbourhood.
Click here for more details about our Annual Birthday Party.
---
Date added: 10th December 2021
---