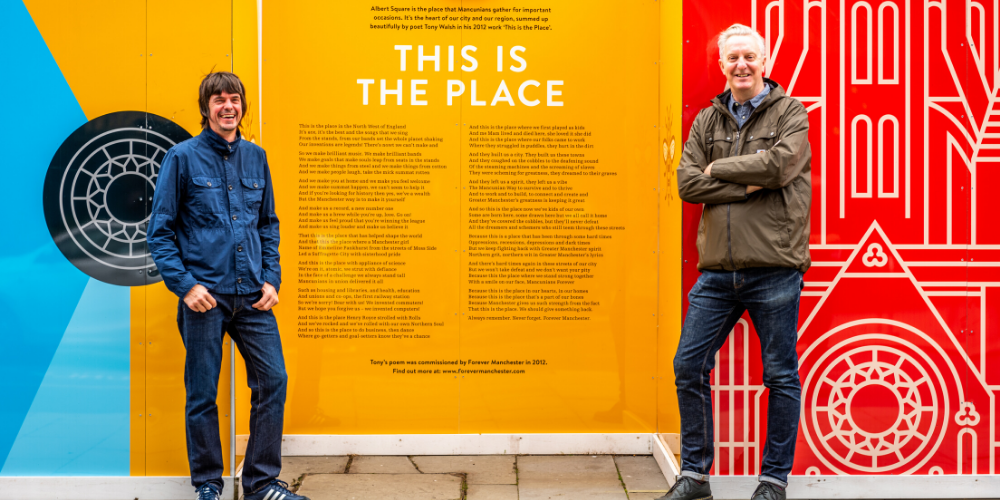 Albert Square is the place where Mancunians gather for important occasions. It's the heart of our city and our region, summed up beautifully by poet Tony Walsh in his 2012 work 'This is The Place'.
Anyone who has been into Manchester city centre recently will notice that Albert Square is now cordoned off by hoardings which have enclosed the space. It's now part of the 'construction site' that Manchester Town Hall itself has become.
The renovation is a once-in-a-lifetime piece of work that will safeguard the building and bring it up to 21st century standards and ensure it retains its position at the very heart of the city. The hoardings will be in place for several years, with the project due for completion in 2024.
When Manchester City Council were planning the 'Our Town Hall project' hoarding designs and thinking about Albert Square, one of the first things they remembered was Tony Walsh's epic delivery of his poem 'This is The Place' from the steps of the Town Hall in May 2017 in front of thousands of people gathered in Albert Square and millions of people across the world on TV.
By giving the people of Greater Manchester a sense of pride and words where there were none, 'This is The Place' has since become synonymous with the city of Manchester and the resilience of its people, and has been used on artwork, buildings and Forever Manchester merchandise ever since.
The poem, which has been mounted on a gold background and has its very own little alcove, is situated in Albert Square opposite Brazennose Street.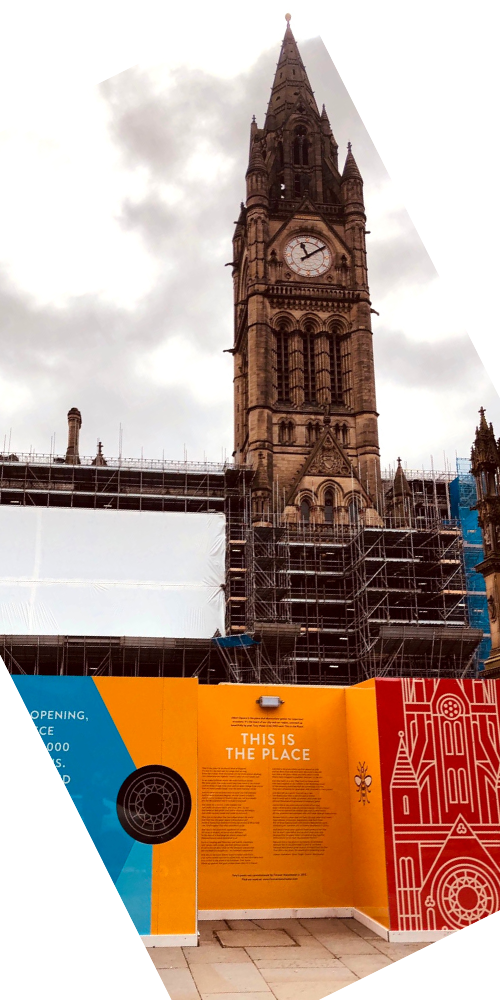 Tony Walsh said "The way that so many Greater Mancunians have taken my poem to their hearts will always mean a very great deal to me. To see it emblazoned so beautifully in front of our magnificent and historic Town Hall in this way is a great honour too. From the messages that I still receive daily it seems that the poem continues to inspire people across Greater Manchester and that's something that I'll always remember and never forget. Forever Manchester!"
Forever Manchester's Paul Haworth (pictured above with Tony Walsh) added "We're absolutely delighted that the 'This is The Place' poem is taking pride of place in Albert Square during the renovation of the Town Hall. When we commissioned Tony to write the poem for us back in 2012, we asked him to create something that encapsulates the spirit of Greater Manchester and sum up what makes this place, its people and its communities so great. What we got back was 'This is The Place'."
© Photographs by Manchester City Council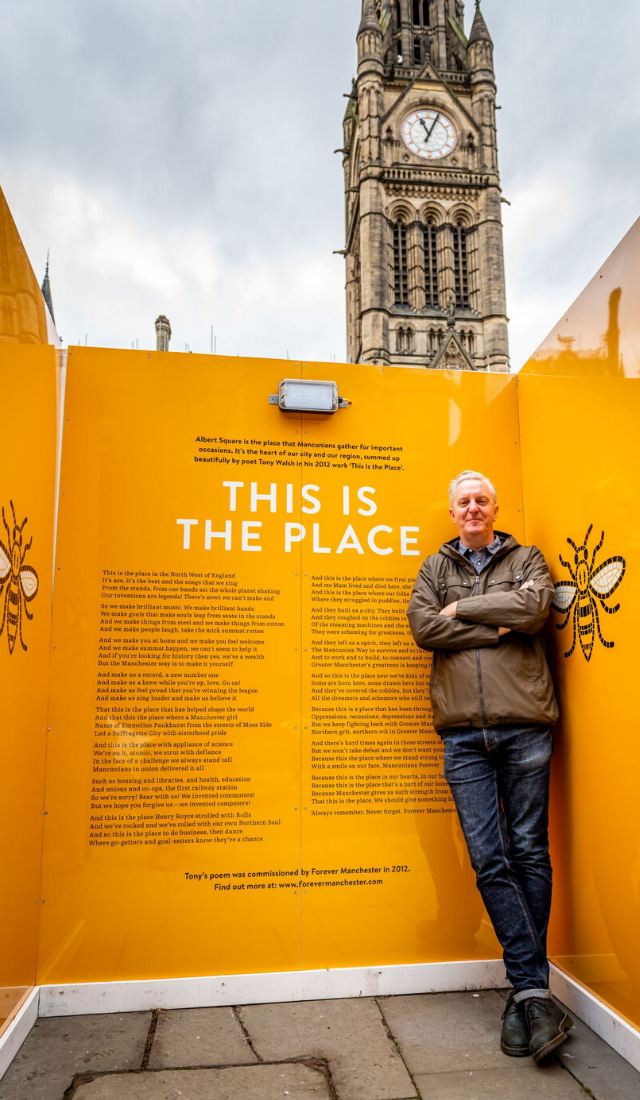 Take a moment – Take a photo
If you are passing by Albert Square, take a moment to read the poem, and don't forget to share your photos with us using the following hashtags:
#ThisIsThePlace
#OurTownHall
---
About the Our Town Hall Project
What's planned for the Town Hall and Albert Square
---
Date added: 17th July 2020
---