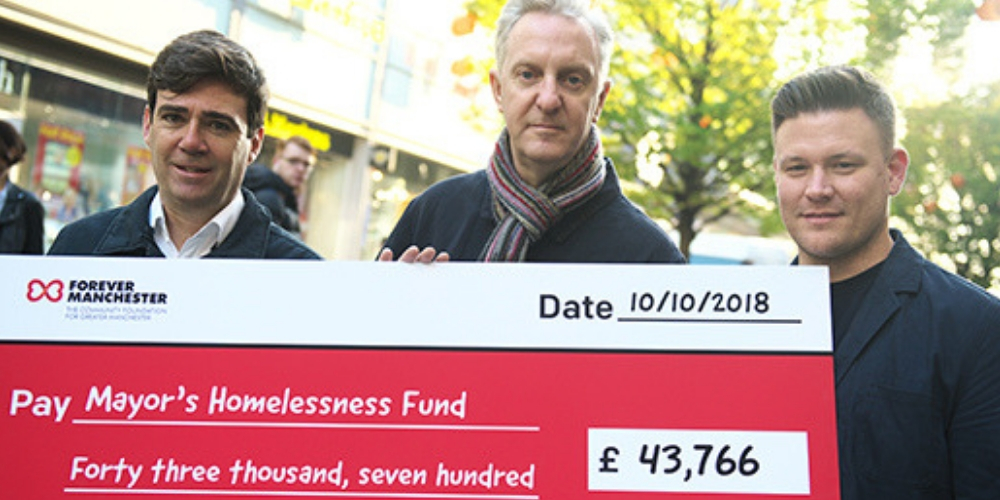 Forever Manchester was delighted to present Andy Burnham, Mayor of Greater Manchester with a cheque for £43,766 from the proceeds of This is the Place, a book brought out following Manchester Arena attack to demonstrate the spirit of our city-region.
Performance poet, and 'This is the Place' author, Tony Walsh, together with James Torry from Monsall-based Doodledo Motion – the driving force behind the book – presented Andy with the cheque to mark World Homelessness Day on Wednesday 10 October 2018.
The limited edition 'This Is the Place' book was curated by James Torry and designed by Manchester-based brand and creative agency Glorious Creative. Over 60 creatives from Manchester collaborated with Tony Walsh, taking a line or phrase from the poem, to turn his 'This Is the Place' poem into 88 page hardback coffee table book. The proceeds from the book have been split equally across the three charities: Forever Manchester, We Love MCR Emergency Fund and The Greater Manchester Mayor's Homelessness Fund.
Forever Manchester, who had originally commissioned Tony Walsh to write the 'This Is The Place' poem in 2012, to encapsulate the spirit of Greater Manchester, to celebrate our local communities and help explain what Forever Manchester does, published and promoted the This Is The Place book in October 2017. With the help of Waterstones and Amazon, who waived their fees from the sale of book to ensure that 100% of the money raised went to the three charities, all 5,000 books were sold within 3 months.
The £43,766 given to the Greater Manchester Mayor's Homeless Fund will contribute to 'A Bed Every Night', Mayor of Greater Manchester Andy Burnham's landmark campaign to provide every person sleeping rough in the city-region a bed for every night of the coming winter.
Speaking on World Homeless Day, Andy said: "This significant sum will contribute this winter to providing a bed for every rough sleeper here in Greater Manchester. We can make that commitment partly on the back of this contribution. This is real progress – thank you to everyone involved in the book and to everyone who bought it."
Curator James Torry received the Captain Manchester Award at the Forever Manchester annual Birthday Party on Friday 9th February 2018. An award given in recognition of an individual with true Mancunian spirit, someone who has given their time, money, skills or resources to support communities of Greater Manchester; has gone the extra mile and embodies the spirit of Forever Manchester.
Listen to this exclusive interview with James Torry
Listen below to the full story behind the Poem.
As well as raising money to support community activity across Greater Manchester, Forever Manchester, in its role as the 'Community Foundation for Greater Manchester' also offers a range of professional services to not-for-profit and charitable organisations from financial management, administrative support and advice, grant making support and investment, allowing organisations to fulfill their objectives without the burden of additional infrastructure costs or unnecessary duplication of activity.
Forever Manchester currently offer these services to Big Change Manchester, a group of Manchester charities, organisations and voluntary sector agencies providing services for homeless people, who have come together to tackle homelessness in the city.