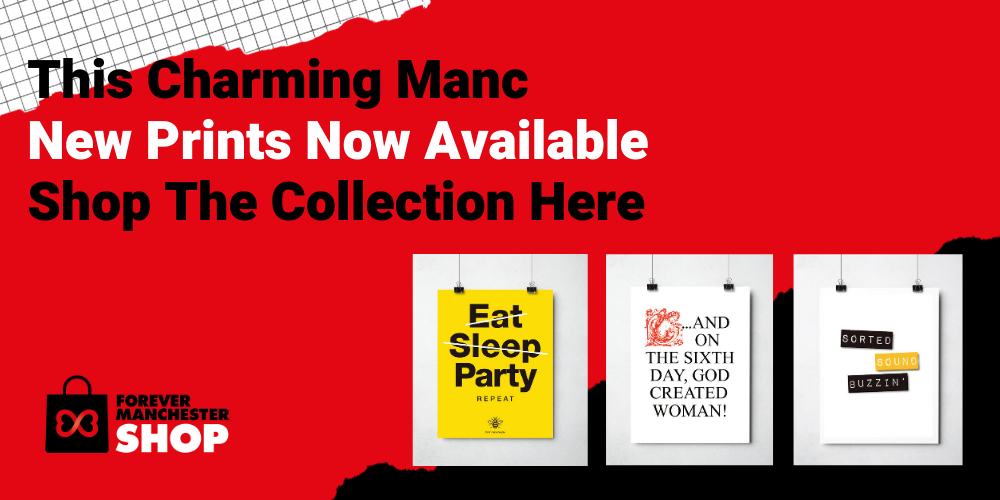 'This Charming Manc' collection of prints is now available in the Forever Manchester Shop, with 35% of profits being donated to Forever Manchester.
The Forever Manchester shop is proud to sell a range of artwork and products from artists local to Greater Manchester who celebrate what makes our area so great. Not only do we get to shout about how talented our artists are, but buying a product from our shop means that it is a gift that keeps on giving, because every penny raised goes to Forever Manchester to fund and support community activity across Greater Manchester.
One of the artists who features in our shop is Ray Lancaster, more commonly known as This Charming Manc. Ever since 1980, Ray has been honing his strong graphic, typographic and illustrative skills, and is now an award-winning brand and marketing professional working in Manchester, London and India.
In 2015, Ray got together with Leo B. Stanley -the brains behind the iconic 'On the Sixth Day God created Manchester', emblazoned on the side of Affleck's– to work on a project based on promoting Manchester and its proud musical, sporting and cultural heritage.
Their liaison was a huge success and from there Ray has gone on to create brands and labels like 'This Charming Manc' and 'Sixth Day' using sometimes 'quirky' but always strong graphic art, that represents both his and Leo's mutual love of Manchester and the North West.
Ray has now kindly offered to donate 35% of the sale price of his prints to Forever Manchester. Available in sizes ranging from A4 to A1, The Charming Manc print collection encompasses an array of Mancunian icons and imagery. Whether you're a red or a blue, a Hacienda raver or a proud Oasis fan, (not to mention a multitude of other bands) you'll be spoilt for choice.
All the money raised for Forever Manchester is used to fund and support over 1,000 community projects in Greater Manchester each year. This means we will have supported community activity within one mile of your home or business if it's in Greater Manchester.
Click below to shop the collection…
This Charming Manc
---
Date Added: 30th April 2021
---