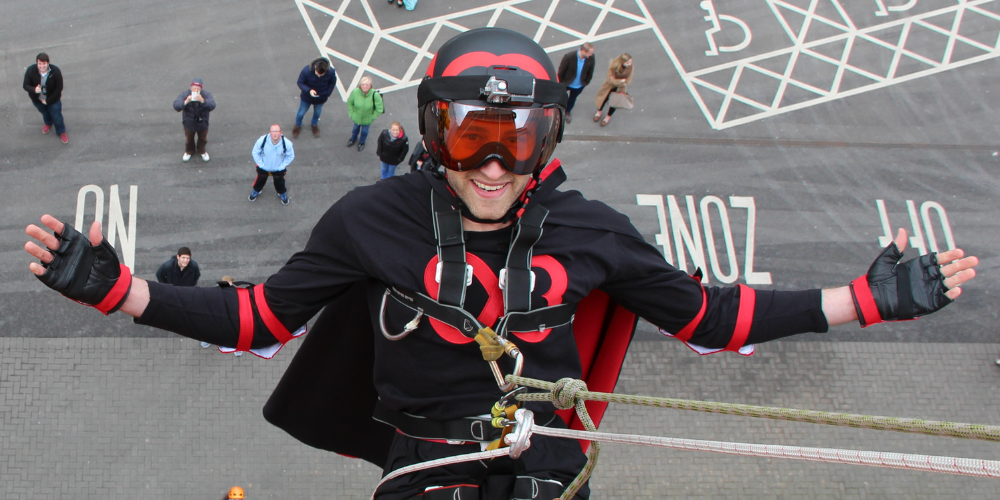 Here at Forever Manchester we're always asking our supporters to get stuck in with fundraisers, but this year it's not just them going the extra mile but our staff members too!
On Sunday 16th April, the Manchester Marathon took place, and our Director of Forever Consulting, Kev Duxbury was one of 28,000 runners taking part. Having completed the Manchester 10K back in 2021, Kev was ready for the next challenge, and did a fantastic job of completing his run in just under 3 hours.
We want to say a huge thank you to Kev for his fundraising efforts!
Abseil Challenge – Fancy joining us?
Taking place on Sunday 25th June, the Forever Manchester abseil is a brand-new fundraiser for 2023. A breath-taking 170ft drop down the Trafford Palazzo Tower, it's the perfect challenge for thrill-seekers or fear conquerors.
Turns out we've got four of those dare-devils in the Foroever Manchester office! Gill, Helen, Vikki and Evan will be taking on our abseil challenge, cheered on by friends, colleagues and shoppers.
Why not set yourself a challenge and join our abseilers this Summer to help raise money for Forever Manchester? With the added satisfaction that you're pushing yourself out of your comfort zone in order to help the communities where you work, live, play and most importantly, love!
Whether you're an individual, or a business supporter looking to get a team together, find out more about the abseil here:
Forever Manchester Abseil Challenge
---
Date added: 20th April 2023
---