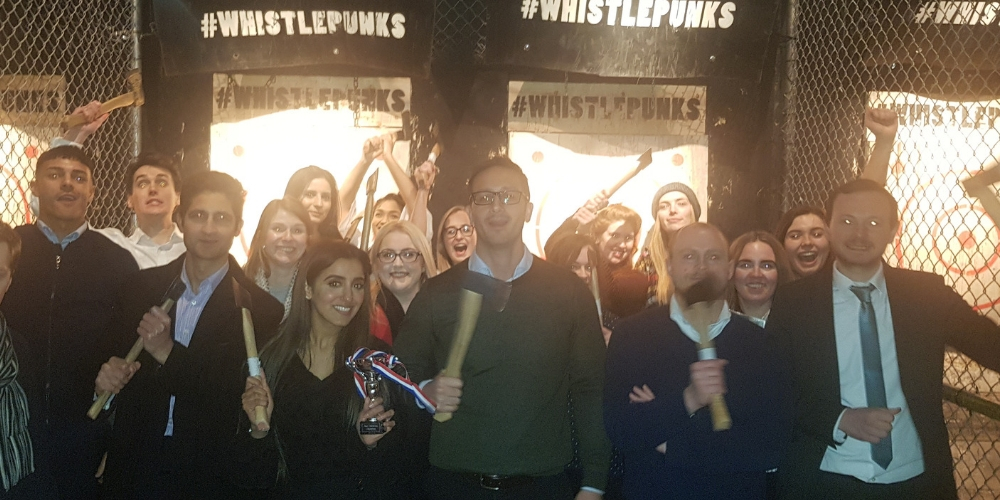 The Manchester Young Solicitors Group (MYSG) is a free membership organisation for all qualified solicitors up to 10 year's post qualified experience (PQE) in the Greater Manchester area. With over 1,000 members, their aim is to provide social, networking, personal and professional development opportunities to its members.
MYSG has supported Forever Manchester for a number of years, fundraising and donating for Forever Manchester to help us fund and support our local communities.
Their latest fundraising event was a hair raising session at Whistlepunk in the city centre, throwing axes! Fortunately they were throwing at targets and not each other!
Heena Kapadi and Elizabeth Ormesher, Charity Directors at MYSG said: "We have supported Forever Manchester for a number of years now. We support them because we know that 100% of the money we raise for them will stay within the 10 boroughs of Greater Manchester and be used to help fund and support local community initiatives"
Ged Murray from forever Manchester said "We are delighted to be supported by such a professional organisation as MYSG. Their continued support over the years has allowed us to help literally thousands of local people to improve their local communities"