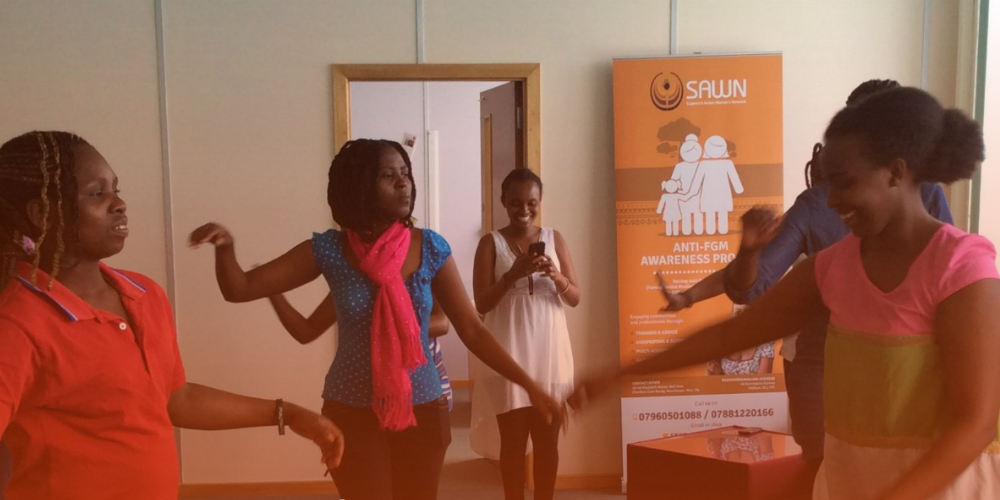 Support and Action for Women Network (SAWN) was established in 2007 to promote the welfare of Black/African women in Oldham and the wider Greater Manchester area.
The group aims to realise the full potential of African women through solidarity and by providing activities, events and opportunities that enable them to be independent, self-sustaining and key players in matters that interest or concern them.
SAWN train, educate, and provide opportunities to raise awareness by working with faith and community leaders and other statutory and voluntary agencies, to help remove barriers to participation. The group also helps to forge links with hard-to-reach African communities, particularly in Oldham, where a large cohort of Economic Migrants, Asylum Seekers and Refugees have settled.
By taking a culturally sensitive approach, they help women face and overcome a wide range of issues and difficulties that can include: isolation, suicidal thoughts, stress, depression, inability to concentrate, anger and agitation, sleeplessness, poverty (income and food), language barriers, intimidation, lack of family support networks, low educational achievements, unrecognised qualifications, immigration status, FGM, lack of health system awareness and life in the UK.
The impact of Covid-19 also changed the way SAWN worked. Those with no recourse to public funds and already impacted by issues such as immigration, language, unemployment and poverty, (including asylum seekers) found coping with these additional difficulties particularly hard. This resulted in an increase in requests for support for things like meeting utility costs and help in accessing basics such as baby milk, nappies and sanitary products.
The group's volunteers also set up, operated and sustained a cultural foodbank in order to deliver weekly food parcels and help meet emergency needs. The foodbank provided a selection of African staple foods such as yam, sweet potatoes, fresh vegetables and dried foods not always provided by the generic foodbanks, yet essential to Black African peoples' stable diets. This not only ensured the provision of regular nutritious food but also provided the opportunity to share useful multilingual information, including Covid-19 updates and links to relevant support services.
The group also used virtual engagement links using Zoom and WhatsApp to ensure those hit hardest could continue to communicate and connect. SAWN volunteers were able to provide support for 145 Black African Women and approximately 40 families with culturally vital help, as well as others referred by Local Authorities and foodbanks.
Support and Action for Women Network (SAWN) has been shortlisted for the Community Group of the Year Award to be presented at Forever Manchester's Birthday Party on Friday 18th March 2022.
The award is given in recognition of a community group or project that has made a meaningful and significant impact, strengthening communities, making a difference and putting smiles on people's faces.
Click here for more details about our Annual Birthday Party.
---
Date added: 8th December 2021
---