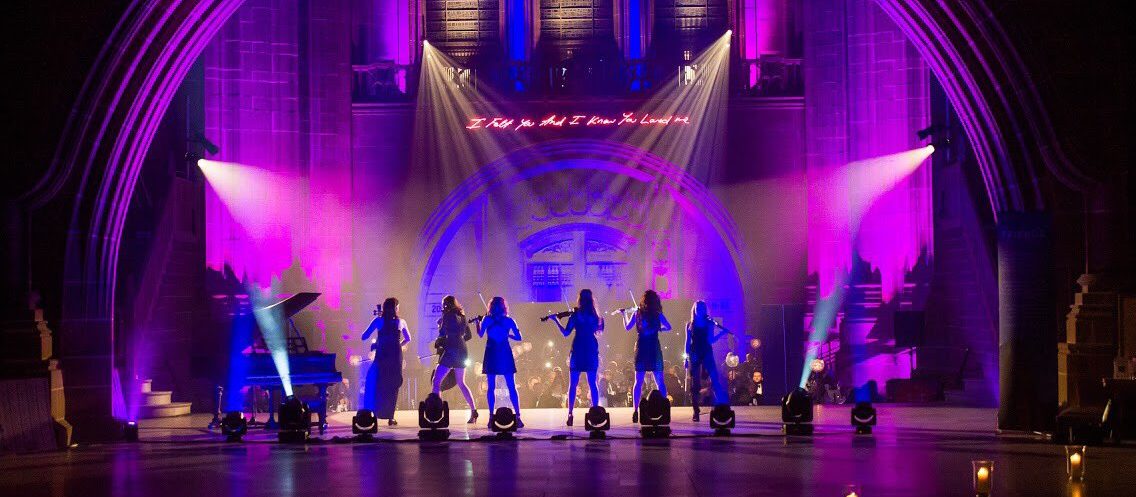 We are delighted to announce that String Infusion will be performing at our annual Birthday Party, taking place on Friday 9th February 2018 at The Principal Manchester.
Our annual Birthday Party, kindly sponsored by Express Solicitors, will celebrate another great year of supporting community activity across Greater Manchester. The event brings together over 400 passionate and dedicated Forever Manchester supporters to celebrate another great year of helping local people do extraordinary things together.
BIRTHDAY PARTY PERFORMER – STRING INFUSION
String Infusion don't just play music, they perform it. String Infusion are a group of female world-class string musicians who know how to captivate and entertain any audience. Their strings have reverberated around the O2 Arena, shook the walls of the X-Factor studio and harmonised with the BBC Philharmonic Orchestra.
They believe music is there to be shared, and that's precisely what they do. String Infusion's sets are built from scratch to create intense, breathtaking performances wherever they go, taking the music you adore and turning it into something truly memorable.
TICKETS NOW ON SALE
Guests at the Forever Manchester Birthday Party will be treated to a welcome drink on arrival, three-course meal, entertainment from community groups Forever Manchester has funded, an awards ceremony and a special guest DJ.
Here's some of the highlights from this year's Birthday celebrations, filmed by Tunafish Media (our 2017 Video of the Night sponsors).
Tickets for the Birthday Party are priced at £85 per person with tables of 10 being £800 if booked before 1st November 2017 (£850 per table thereafter).
If you are interested in buying tickets and/or booking a table please drop our Events Officer, Cheryl Hill, an email at: cheryl@forevermanchester.com.
Individual tickets can also be booked here on Eventbrite, or through the ticketing form below. All proceeds from ticket sales will be reinvested in communities across Greater Manchester.
---
SPONSORSHIP OPPORTUNITIES
Sponsoring Forever Manchester's Annual Birthday Party is a great way to support Forever Manchester, demonstrate your company's philanthropic spirit and commitment to strengthening communities across while gaining fantastic brand awareness for your company.
If you are interested in finding out more about the various sponsorship opportunities available please view our sponsorship brochure or contact Jean Mills, Head of Business Development on 0161 214 0940 or at jean@forevermanchester.com.
View the Birthday Party sponsorship brochure here