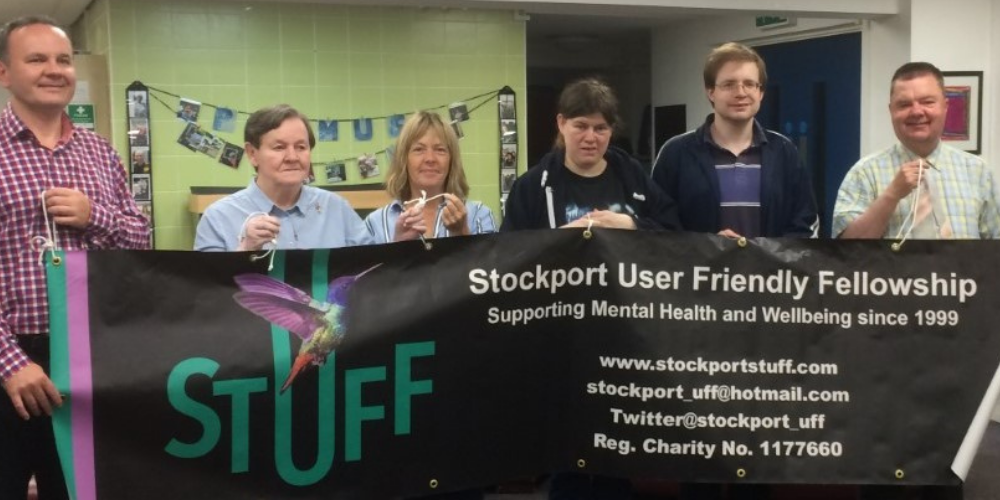 Established in 1999, the Stockport User Friendly Fellowship (STUFF) is a user-led self-help organisation founded by mental health service users wishing to address a lack of support for people like themselves.
Based at Stepping Hill Hospital's Mental Health Unit, a team of four core members and 16 regular volunteers provide support for over 300​ people each year living with a mental health issue, alcohol dependency issues, substance abuse/misuse or homelessness.
The work of this group is preventative and proactive with the aim of giving people support that stops them reaching crisis-point and therefore prevents them from having to return to mental health units or attend A&E departments in a state of crisis.
STUFF reaches a broad cross-section of society with specific communities regularly supported including: BAME, refugees, LGBTQ+, people with disabilities, those affected by medication for mental illness, people with life-limiting conditions, travellers, and members of the Polish community. (Several STUFF volunteers are native Polish speakers.)
Recently receiving the Queens award for Voluntary Service, the group take a person-centred approach by providing support in a safe environment where people can be heard, but not judged, by those who have found themselves in similar situations.
During the pandemic they received the highest number of referrals in their entire history, seeing a rise in the number of people affected by domestic violence and higher numbers of people with alcohol/substance issues relapsing.
Over the last year, STUFF has been operating entirely in the community, supporting people on a one-to-one basis where weekly volunteering hours have risen, from 98 to 233. They have also provided support through WhatsApp, Facebook, Skype, Zoom, and by email. This is particularly relevant to the large Polish diaspora community in Stockport on account of cultural stigma around mental health.
STUFF is now planning to provide a full-time, 'in-community' service offering wellbeing checks, laundry, bookkeeping, foodbank pick-ups, walking groups, a shopping service and GP, Pharmacy and administration support.
The impact of Covid-19 has not only highlighted the underlying importance of groups like STUFF, but it has also changed the way this group now views itself and adapted to new circumstances, in that it has demonstrated how it can scale-up to become a larger and more sustainable organisation.
Stockport User Friendly Fellowship (STUFF) has been shortlisted for the Community Group of the Year Award to be presented at Forever Manchester's Birthday Party on Friday 18th March 2022.
The award is given in recognition of a community group or project that has made a meaningful and significant impact, strengthening communities, making a difference and putting smiles on people's faces.
Click here for more details about our Annual Birthday Party.
---
Date added: 16th December 2021
---