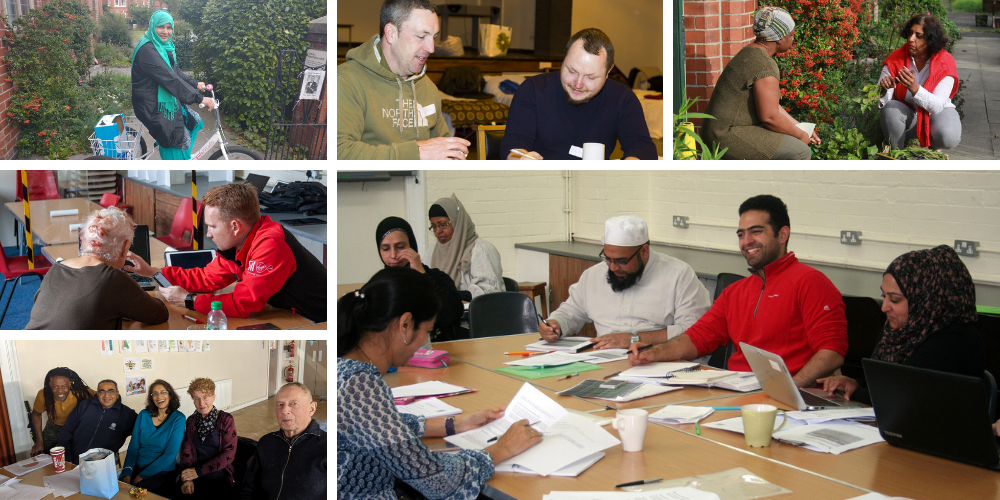 The St John's Centre in Old Trafford aims to reduce inequality and enrich the lives of local people by providing both space and opportunities for learning, personal development, and community cohesion.
Located in a diverse inner city neighbourhood containing residents of all ages, backgrounds, ethnicities and faiths, the centre has built a long-established relationship with the community it serves.
The project was started at St John's Church in the heart of Old Trafford in 1982 in response to the Moss Side riots in Manchester. A handful of volunteers opened the church hall for unemployed people to come and share their skills, enabling them to gain confidence, feel valued and meet others in similar situations. Which, in many ways, is how the project continues to work today with a full-time manager and six part-time staff members, supported by a team of over 30 volunteers.
The team and volunteers are mostly local, boasting a wide range of skills and experiences that enables the centre to contribute to many local and regional networks. They have longstanding relationships with local schools, places of worship and community groups, providing space for them to run their activities. Twelve different groups regularly use the hall in the evenings, including two choirs and four exercise classes while weekends see the space being used for community events, private parties and local fundraisers.
During the day St John's offer a wide variety of courses and activities that help people to build their skills and confidence, engage more fully in their community, and increase their chances of paid work.
Courses provided at the centre include computing, basic skills (Maths, English and ESOL – English for speakers of other languages), crafts and many more. They provide around 20 adult learning classes every week, these range from basic skills and 'English to Speakers of Other Languages' (ESOL) up to Level 2 and 3 vocational qualifications.
There are also a number of wellbeing activities throughout the day and into the evening that include family activities, choirs, various exercise classes, fitness related activities and healthy eating sessions. Alongside these activities, St John's also provide wider support including help with food, benefits, signposting and befriending to anyone who needs it. They also provide affordable, accessible cultural opportunities to things like Open Gardens and British Science Week events.
During school holidays, there are family activities and a Summer School. The centre also hosts the weekly Bread and Butter Thing (Food Bank), and for three months every winter the hall becomes a venue for the Greater Together Manchester Winter Night Shelter.
Despite lockdown placing a temporary halt on almost all regular activities, it was natural for St John's to continue to support local people with the centre becoming one of Trafford's Community Response Hubs.
The St John's team and volunteers handled calls and enquiries, delivered food parcels, shopped and made wellbeing calls to ensure the centres commitment to supporting local people was maintained.
The St John's Centre has been shortlisted for the Outstanding Community Contribution Award to be presented at Forever Manchester's Birthday Party on Friday 18th March 2022.
The award is given in recognition of a person or group of local people who have supported their community over a long period of time, delivering sustained and meaningful impact for many, doing something extraordinary.
Click here for more details about our Annual Birthday Party.
---
Date added: 14th December 2021
---