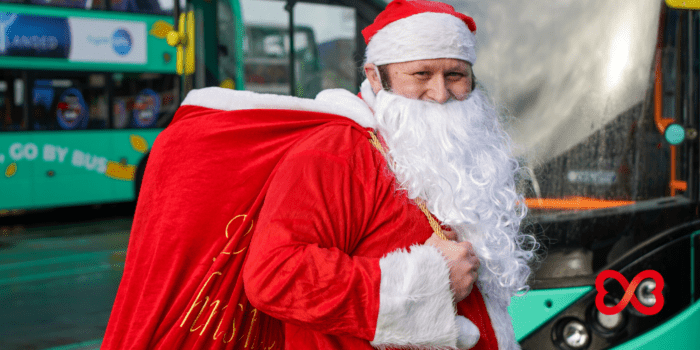 Forever Manchester supporter, Stagecoach Manchester, are getting their bus drivers in the Christmas spirit by swapping their uniforms for Christmas costumes in a bid to raise much needed cheer and funds for communities across Greater Manchester.
Things might be little different this year but the Stagecoach annual Christmas fundraising will be going ahead as usual. Throughout December bus drivers will be dressing up as Santa and elves to spread seasonal joy, and raise funds for charity partner, Forever Manchester.
Jean Mills, Head of Business Development here at Forever Manchester, said: "It's fantastic that Stagecoach is continuing to supporting Forever Manchester throughout this difficult time. The Santa and Elf drivers are a great idea and we're thrilled they are going ahead this year.
Every penny raised will help to fund and support community activity across Greater Manchester. Community groups have demonstrated throughout the last 8 months how important community is; keeping in touch, connecting and helping each other makes people happier and healthier and reduces isolation which is needed now more than ever."
Elisabeth Tasker, Stagecoach Manchester managing director, said: "Seeing Santa or an Elf driving a bus puts a smile on everyone's face, and our customer's generosity never fails to surprise us. We know this year has been especially difficult for many people and our drivers are happy to do everything they can to raise funds to help support the communities we serve."
We can't thank Stagecoach Manchester and their drivers enough for truly getting into the Christmas spirit and putting smiles on faces of their passengers during what can be a difficult time for a lot of people.
Every penny raised by Stagecoach bus drivers really will make a difference to communities across Greater Manchester, so please support their initiative and give whatever you can this Christmas.
---
Date added: 9th December 2020
---