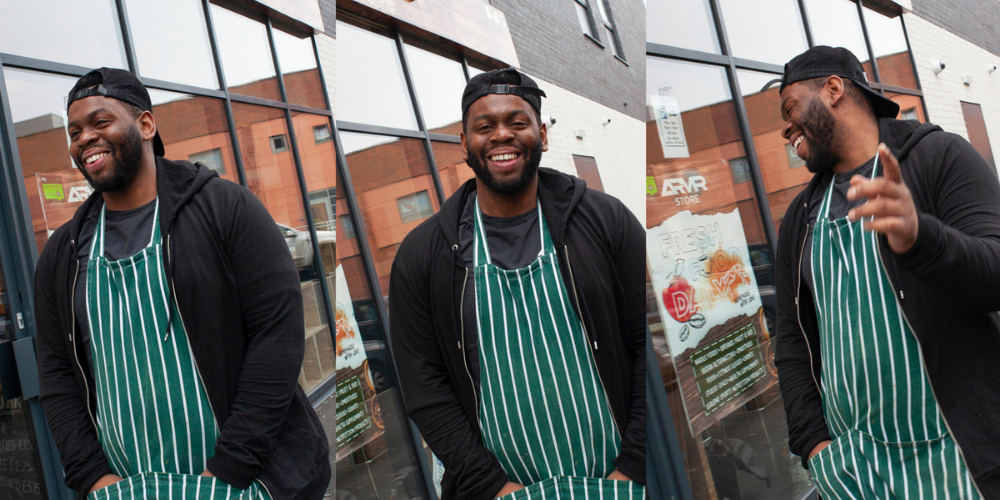 In 2019, Raphale Evans (Raph) had recently opened the ARMR Café in Ardwick and was interested in using his business as a way of bringing the community together, but he wasn't really sure how.
Then he met Forever Manchester's Community Builder Lisa Kershaw, who utilised her knowledge and community building skills to encourage Raph to look at his business in a different way. They realised that there could be different uses for the café space, including how it could be developed and viewed as a community asset for the benefit of local people.
This resulted in Raph setting up and running 'Menitate', a male focused meditation group. Lisa also introduced Raph to a number of residents and organisations which led to different local groups utilising the space and café facilities to meet.
During lockdown, Raph was connected to the Ardwick and Longsight Mutual Aid Group (ALMAG) and kindly allowed them to use his café as a base. He also offered free healthy vegan smoothies to NHS workers and housing staff who used the café to hold meetings. A local women's mental health group 'Bold Steps' also began using the Café to bring members together.
Being keen to do more to support the local community, he built a relationship with Brunswick Church. This enabled him to take advantage of their large kitchen area to get more food out to support those most vulnerable in the community. This resulted in Raph producing a fresh hot meal every night for 15 homeless people who had been temporarily placed in a local hotel, but without access to food.
He then successfully obtained funding to produce and deliver culturally sensitive hot vegetarian foods. Demand for these meals was so high that Lisa introduced him to several local residents to lend a helping hand.
Raph's confidence, passion and drive are apparent and as a result of his commitment and support, the community responded with an outpouring of appreciation and gratitude.
Raphale Evans has been shortlisted for the Connecting Communities Award to be presented at Forever Manchester's Birthday Party on Friday 18th March 2022.
The award is given in recognition of a person or group of local people who have formed a project or put on an activity which brings people together, benefiting others in their neighbourhood.
Click here for more details about our Annual Birthday Party.
---
Date added: 7th December 2021
---