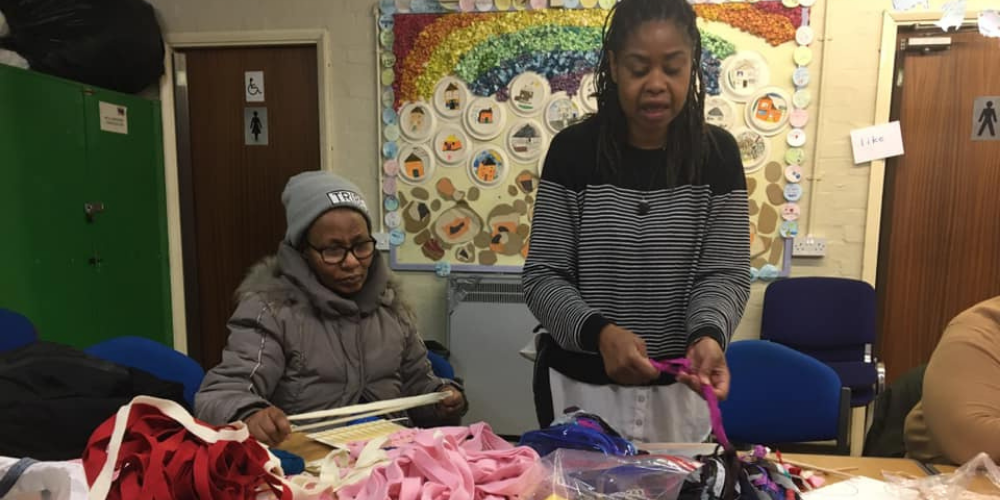 Patricia Griffin helped set up 'Weaving on a Budget' and the 'Dynamic Engagement Project' to attract and engage members of her local community in Ardwick.
Although Patricia's talents cross a broad range of creative disciplines, she wanted to host an activity that anybody could learn and afford to do. She recognised that she had valuable skills that could be shared, but she also wanted to show how arts and crafts can be extremely beneficial to a persons own wellbeing.
With support from Forever Manchester's Community Builder Lisa Kershaw, and a little bit of funding to get Patricia's idea off the ground, 'Weaving on a Budget' was born. It is a community arts and crafts group where participants learn the basics of weaving, from concept and design through to end product. They are also taught about different looms, how to make a loom for weaving with wool or recycled fabrics, learning different weaving techniques and using certain tools.
Last year, Patricia was asked by Buzz (NHS) to run a number of sessions for their service users. She also organised a group fundraiser by selling homemade items at a Neighbourhood Weekender event at Victoria Baths. Patricia also hosted a virtual session for Forever Manchester's Community Builders online Christmas get together, showing people how to make Christmas Wreathes, for which she produced 30 activity kits for participants.
More recently Patricia has also been involved in setting up a new women's group, the 'Dynamic Engagement Project' (DEP), whose creative members collectively share lots of different talents and skills, ranging from Childcare to Hat Making and many other things. DEP came together very naturally and represent a good example of the fact that communities can be built by the community.
Patricia's 'Weaving on a Budget' sessions continue to provide a popular source of activity along with taster sessions for other organisations in the local community. Participants spread the word and their new skills can be passed on to others.
Thanks to the success of Patricia's sessions, she was invited by housing provider S4B to take part in a project using art and craft to encourage people to talk about anti-social behaviour issues with the police. Following the success of this, she was provided with the opportunity to showcase her art and went on to create 'Woman', a beautiful piece which was subsequently entered in the Great Northern art exhibition.
Patricia has continued inspiring her groups, maintaining their activities, and allowing them to extend their local reach and diversify activities. There is always laughter, lots of fun and talk of what people want to do next.
She has met lots of new people and gained in confidence, meaning her mental health and general outlook have changed for the better. It makes Patricia happy to find and bring women together to laugh and create beautiful things together.
Patricia Griffin has been shortlisted for the Connecting Communities Award to be presented at Forever Manchester's Birthday Party on Friday 18th March 2022.
The award is given in recognition of a person or group of local people who have formed a project or put on an activity which brings people together, benefiting others in their neighbourhood.
Click here for more details about our Annual Birthday Party.
---
Date added: 12th December 2021
---