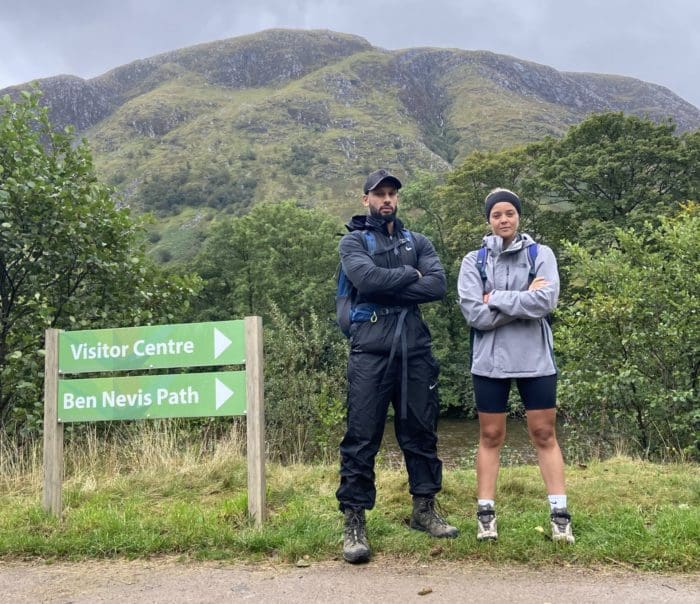 Antoni Davis-Phillip and Sophie Binder, from Oscar Recruitment, triumphed the famous Three Peaks Challenge, raising over £2,000 for Forever Manchester.
Antoni and Sophie took the first of their 88,000 steps at 5.30am to reach the first climb at first light. Just over 23 hours (and 23 miles!) later, they had successfully completed their challenge, tackling the three highest peaks in the UK – Ben Nevis, Scafell Pike and Snowden. The pair walked over 37km with a total ascent of 3064 metres, not to mention the 462 mile drive between peaks!
Catching up with Antoni, he let us in on just how tough it was the take on the wind, rain and darkness to complete their challenge in under 24 hours. "After a great first peak, we got lost on the second one coming down. It was going dark and we started to worry more about surviving the night than completing the challenge! We managed to find our way back following a river and our instincts, this gave us a good chance of finishing on time, if there were no more hiccups of course!"
"We got halfway up the last mountain in the pitch black… and got lost again! With time running out, we decided to climb upwards, completely off track. Rocks were falling down, exhaustion had kicked in and we honestly thought we had blown it after all that hard work."
"Somehow, we manged to pull ourselves up, leaving us just over one hour to get back in time. Our only option now was to run, so we did. We made it back in 23 hours and 50 minutes – just 10 minutes to spare."
Sophie added, "It was definitely a testing 24 hours with about every emotion you could expect – sleep deprivation didn't help either! A lot of teamwork was needed, it's amazing to be able to look back and see how much money we've raised so far. We can't wait to see all the amazing things Forever Manchester does with our fundraising!"
Battling the Three Peaks Challenge is by far no mean feat; we asked Antoni and Sophie why they wanted to take on such a tough task, and all in aid of raising money for Forever Manchester.
"Supporting your local community is so important, especially as a lot of the support that is needed goes unnoticed. Forever Manchester has given us an insight into this support and how donations like ours go a long way to helping people from different age groups, ethnic background and cultures, all within the community and areas we live in. That's just one of the many reasons why it is so important to get behind the charity."
Everyone at Forever Manchester is incredibly proud of Antoni and Sophie for choosing to take on, (and successfully complete!), the Three Peaks Challenge and we can't thank them enough for their efforts. Antoni and Sophie are still taking donations and their JustGiving page can be found at: www.justgiving.com/fundraising/adpandbinder24hourchallenge
---
Join The Movement
Forever Manchester is all about giving everyone the opportunity to be happy and supporting local people transforming the lives of others. Our fundraising guide provides you with the inspiration and information that you'll need to host your own event or fundraising challenge.
If you have any questions regarding fundraising for Forever Manchester, please contact us at:
marketing@forevermanchester.com
0161 214 0940
---
Date added: 14th September 2020
---