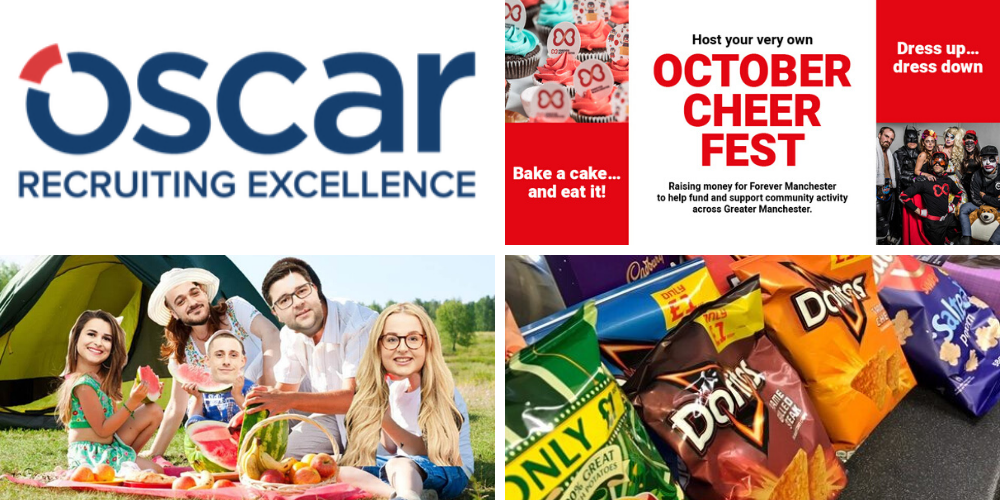 The gang at Oscar Recruitment organised their own mini Cheer Fest festival in support of Manchester's most exciting charity for this year's Forever Manchester October Cheer Fest. 
On Friday 25th October, Oscar hosted 'I'll do it for you Day' with the theme of celebrating everything Forever Manchester does in supporting local communities across Greater Manchester and included the many acts of kindness and things we do for each other, everyday within our places of work.
Oscar also organised a 'Payday Picnic' (obviously featuring lots of FOOD) with the staff team producing and providing a delicious array of both sweet and savoury dishes. Dinner time at the Oscar office then became a 'Dig In' buffet style lunch!
The Payday Picnic also included a competition for best contributions on the day with the idea of donating what you would normally spend on lunch to Forever Manchester.
As well as 'Payday Picnic' the Oscar crew also hosted a 'I'll do it for You' a silent auction featuring lots of handy 'Lots'. Staff members silently bid on a list of lots throughout the working day with the highest bidders being revealed at home time with their bids turning into donations to Forever Manchester.
Last but not least on the 31st October they hosted a creative Halloween Bake Off with even more FOOD!!! Yes you know the drill… and featured a host of best bakes plus a prize for the winning Cakes.
We would like to send out sincere thanks to everyone at Oscar for their much valued support of Forever Manchester with their brilliant Cheer Fest efforts.