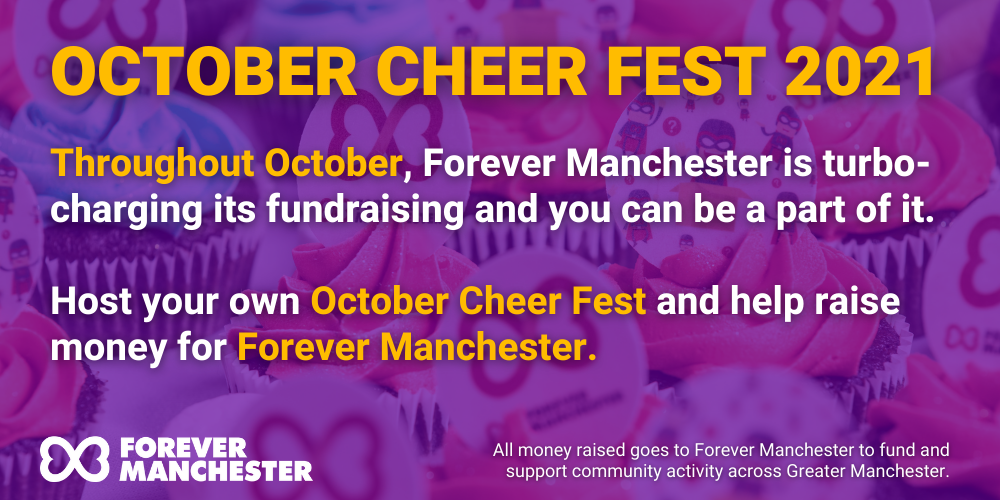 Throughout October, Forever Manchester is turbo-charging its fundraising to help raise a huge chunk of cash to help fund and support community activity across Greater Manchester. And we'd love you to be a part of it.
October Cheer Fest is not only a time to fundraise for Forever Manchester but also a time to have some fun, build team spirit and lift morale, especially after the last 18 months. As with all office fundraising it is also great opportunity for your company to match your staff's fundraising efforts.
When, how and what you decide to do to raise some money is solely down to you, but to get you started we've listed 31 ideas below (one for each day in October).
Host a bake sale
Dress Down day
Dress up day
Buy a Captain Manchester Tombola ticket – and you could win £1000!
Choose Forever Manchester at smile.amazon.co.uk
Donate your spare change
Run an office sweepstake
Host a karaoke
Walk, run or cycle to work for a day, week or month.
Run the Manchester Marathon or Half Marathon on 10th October
Host a computer games tournament
Hold an auction
Run a raffle
Host a quiz
Give up smoking, booze, chocolate, sugar etc. and donate the money saved to us
Organise a social event
Buy something from the Forever Manchester Shop
Buy a Forever Funny Comedy Night ticket (available from September)
Buy a Forever Manchester Birthday Party Ticket
Grow a moustache or shave your beard
Shave your head
Sponsor a job swap
Host an office car boot sale
Avoid the lift, take the stairs
Order Forever Manchester Christmas cards (available from October)
Host a Board Game competition
Sell unwanted gifts
Virtually run, cycle, or row for miles
Run a clothes swap
Wash your colleagues' cars
And finally, have a spooky Halloween Party of course!
---
To take part in October Cheer Fest 2021 please email marketing@forevermanchester.com and let us know what your plans are so we can share what you are doing on social media and help raise even more money.
---
Date added: 6th August 2021
---