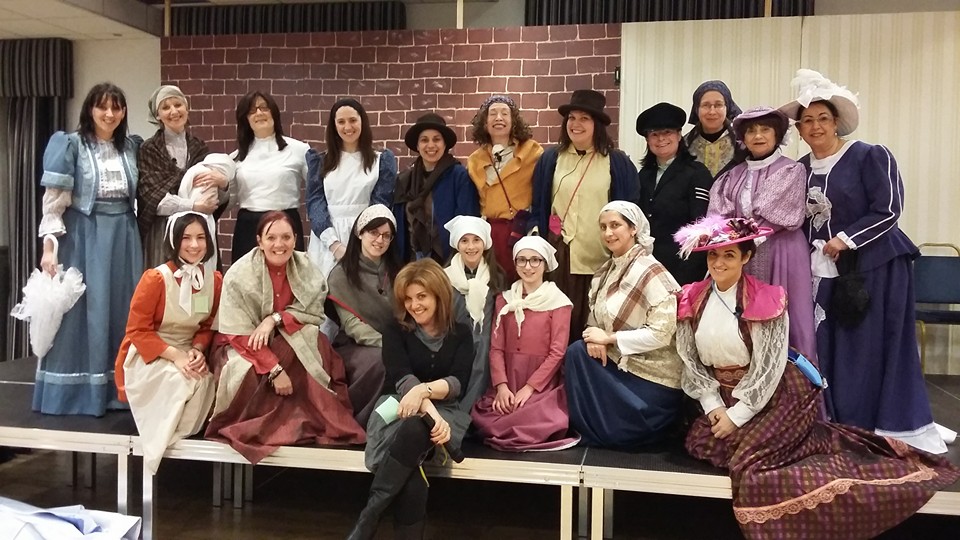 North Manchester Jewish Ladies Drama Group provide an opportunity for ladies and girls to develop new or hidden skills and talents, build confidence and express themselves through drama.
The group came about quite organically in 2013 when five women enquired about drama workshops. A local actor came forward to take the weekly workshop sessions which began attracting 10-12 women each week. As the weeks progressed, the women decided to plan an Annual Show to showcase their new-found talents. They decided that the content of the show should explore current moral issues as well as provide an opportunity to celebrate the history and heritage of the Jewish community.
The personal approach that attendees receive from the drama workshops is very positive for the women, many of whom lack confidence. One member, Shelley, having gained confidence and with encouragement from the group, decided to put herself forward for an audition for a local amateur dramatic production, where she was successful in securing a part.
"I'd never thought to even try drama, and was encouraged to try one session," explained Shelley. "Well I caught the bug! I then found myself auditioning for the chorus in a large amateur dramatics groups."
Another attendee, Margaret, a widow in her early 70s, enjoys the challenge of taking on a part. She finds it difficult to interact with others and suffers from mild panic attacks in stressful situations. Under the sensitive guidance and nurturing of the drama teacher, Margaret has developed her imaginative thinking and is always keen to grapple with emotionally charged scenes.
She has also learnt techniques to express her emotions more, which has also helped her in her everyday life. "I am so grateful to the group for running these drama sessions," explains Margaret. "I've always wanted to act and this gives me this chance. They are so patient and kind and have really helped to build up my confidence. What I want is more and more drama!"
Still small but very committed, the group are looking to expand and are reaching out to more women and girls all the time. The weekly workshops and rehearsals, held at Whitefield synagogue, now attract over 20 women and the Annual Shows attract audiences of over 150 people. In order to increase the professionalism of their productions and provide a more realistic theatrical setting, the group is also looking to secure its own stage set up (staging, lighting and sound), costumes and props.