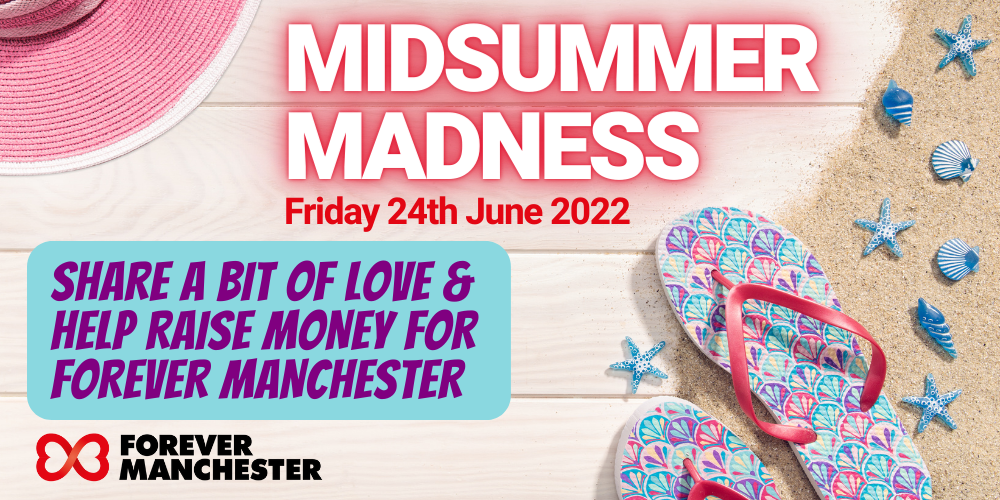 Midsummer Day, with its roots in pagan times, is a celebration of the summer solstice, the longest day of the year, but it is also a celebration of life and love. So, we thought after a long stint in lockdown, you might want to share a bit of the love and help Forever Manchester with a little summer fundraising madness!
We're looking for that group of super giddy, fun-filled bods who work in your office to take on this great challenge to build team spirit and raise money for Forever Manchester.
This year Midsummer Day falls on Friday 24th June, so, whether you have already arranged a summer get together for your team or your company or the idea is just forming in your head – we'd love you to get involved.
Here's some ideas to inspire you…
Come to work in beachwear – or proudly display via zoom/teams
Wet sponge (in the face)
Summer Cocktail Party
Summer food get togethers
Barbecue
Afternoon tea
Best beach/summer hair
Best design for a summer clothes – male or female
Best painted face
Best painted toenails competition
Best decorated flip flops/sliders
We'll also be presenting an Award to the best dressed Midsummer Madness themed office or team.
And don't forget…
It's a great opportunity for the company to match your team's fundraising efforts… turning £500 into £1,000… just like that!!!
Here's what to do next
Let us know what you'll be doing – email jean@forevermanchester.com
We can then feature your company across social media – let us know the best contacts for your company.
Our fundraising guide to help with marketing support and also how to pay in your fundraising, can be found at:
ForeverManchester.com/fundraising-guide
For more details, please contact Jean Mills at jean@forevermanchester.com
---
Date added: 6th May 2022
---