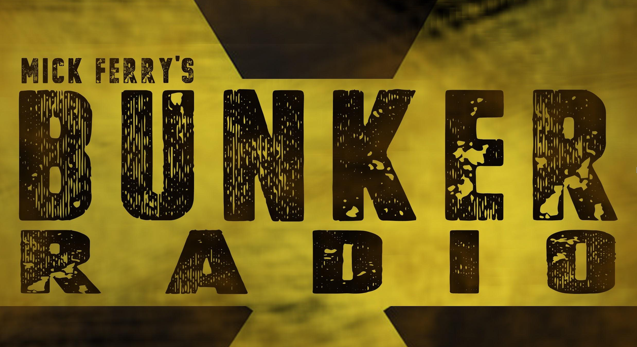 Comedian Mick Ferry has announced the launch of his new comedy podcast, Bunker Radio. A new, irreverent comedy podcast with a post-downfall-of-mankind twist, it will be hosted on the Forever Manchester Radio and Podcast Network, which has been established to promote Greater Manchester-based projects and artists, from Tuesday 5th September.
Bunker Radio Season One will comprise of six weekly episodes. Set in a post-apocalyptic bunker in the ruins of Manchester, Mick and a handful of survivors need a plan to rebuild society. Each week, with the help of his two Ministers, he will decide on new laws and standards for society, welcome new survivors in from the outside and vet them to see if they will become part of Mick's bunker or if they will be cast back out into the unforgiving wasteland that was once humanity.
Mick Ferry, whose impressive CV includes BBC One's Michael McIntyre's Comedy Roadshow, regular Comedy Store appearances, part of the Foster's award-winning Funz and Gamez show, and actor in Ken Loach's 2009 film Looking For Eric. He comments: "We can't wait to get this podcast aired, and the new Forever Manchester Network, which is focused on bringing forward new talent and ideas, seemed the ideal place to do it."
Series One features guests including:
Phil Ellis – Foster's award-winning comedian
Will Duggan – Foster's award-winning comedian
James Meehan – Foster's award-winning comedian
Kiri Pritchard-McLean – Foster's award-nominated comedian with Gein's Family Gift Shop, The Now Show, Russell Howard's Stand Up Central, host of All Killa No Filla podcast
Rachel Fairburn – Funny Women finalist, host of All Killa No Filla podcast
Lou Conran – Warm up for Sarah Millican, Ch4 First Dates Hotel
Jack Gleadow – Amused Moose 2017 winner, Yorkshire Comedian of the Year 2017
Alex Boardman – Comedy Store comedian, writer for Mock the Week, warm up for Eric Cantona, part of 'Football Social' on XS Manchester
Steve Harris – Ch4's So You Think You're Funny finalist
Rob Mulholland – Winner Beat the Frog World Series 2015, The Reaper on Panelbeaters podcast
Dave Williams – Manchester-based comedian and poet
Caimh McDonnell – Comedian and author of the Dublin Trilogy of books, host of Panelbeaters podcast
Rob Riley – Promoter of Manchester's Off the Rails comedy clubs
Rick Hulse – Chairman of NABD charity
Hayley Ellis – Comedian and contributor to Russell Howard's Good News show
The show was recorded live at the Tiger Lounge in Manchester and then produced by Richard Massara (podcast production on: Panelbeaters, New Comedians with Alex Boardman).
Mick Ferry's Bunker Radio is available on Podbean and on all podcast apps, or find it on iTunes by searching 'Bunker Radio'. The podcast is rated mature for rude language.