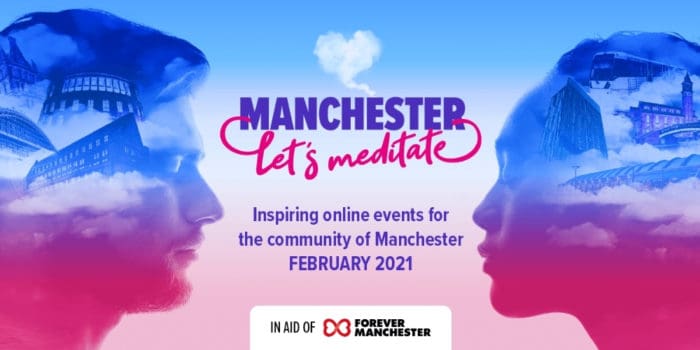 Manchester Let's Meditate is an online event open to all to support people during these difficult times, created in aid of Forever Manchester as a community and fundraising initiative.
Taking place over 7 days starting Monday 8th February, Manchester Let's Meditate is conceived and developed by Forever Manchester supporter, Liane Grimshaw, a local small business owner who found meditation helped to overcome her own depression and anxiety. We are experiencing unprecedented times and so many things seem out of control. Meditation enables us to slow down, let our mind unwind and our body let go of stress.
Benefits of Meditation
Calms your busy mind and helps you find a greater sense of peace
Reduces stress, frustration, depression and pain while increasing happiness
Heightens levels of acceptance and compassion
Develops strength and confidence to deal with anything life throws at you
Helps you learn how to let go of the things that no longer serve you
Improves both the quantity and quality of your sleep
Improves personal relationships
Gives you greater control over emotional reactions to people and situations
Reduces the physical and mental symptoms of stress and anxiety
Improves memory, focus and concentration
Helps you become more present and less distracted
Helps you develop a greater sense of enjoyment in life
So whether you're already an expert in meditation or simply wanting to try something new for 2021, Manchester Let's Meditate is the perfect event to learn skills for both body and mind to last a lifetime, all while raising money for Forever Manchester to fund and support our local communities across Greater Manchester.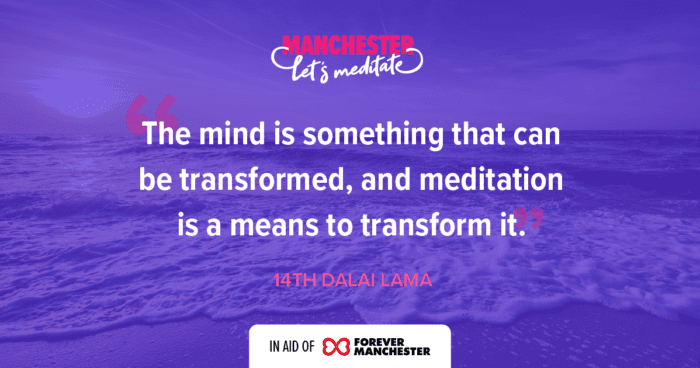 We all know of the increased stresses and strains of these uncertain times and more people are suffering with stress, anxiety, sleep problems, and generally worrying about the future. Most of us are stuck at home, working from home while juggling added pressures of childcare and isolated from our loved ones. You're not alone if you find yourself struggling with negative thoughts and feelings.
But when everything seems out of our control and the uncertainty seems unbearable, there are tools which can help you cope. Meditation is a skill anyone can develop and it's a way of training the mind, exactly like you train your body in the gym – the more you do it, the greater the benefits you will enjoy.
Meditation costs nothing, can be done anywhere, by anyone, with no special equipment needed. You don't have to be religious or into spirituality and science has proved its beneficial effect on our health, both physically and mentally.
VIEW SCHEDULE & BOOK SESSIONS
---
About Manchester Let's Meditate
This online event is co-created with a group of accomplished meditation teachers, many of whom are based in Manchester
Offering something for everyone with a wide range of teachers and sessions to choose from
Take part in the comfort of your own home while connecting our communities across Greater Manchester and beyond
It's a free event and open to all, but we gratefully accept donations to raise money for Forever Manchester
Taking place over 7 days from Monday 8th February – Sunday 14th February 2021
You can make a donation to Forever Manchester when you book a session, simply enter the amount in the 'contribution' box shown in the top right of each session page, click ' Save my spot!' and follow the online process.
BOOK SESSIONS & MAKE A DONATION
---
Last updated: 20th January 2021
---