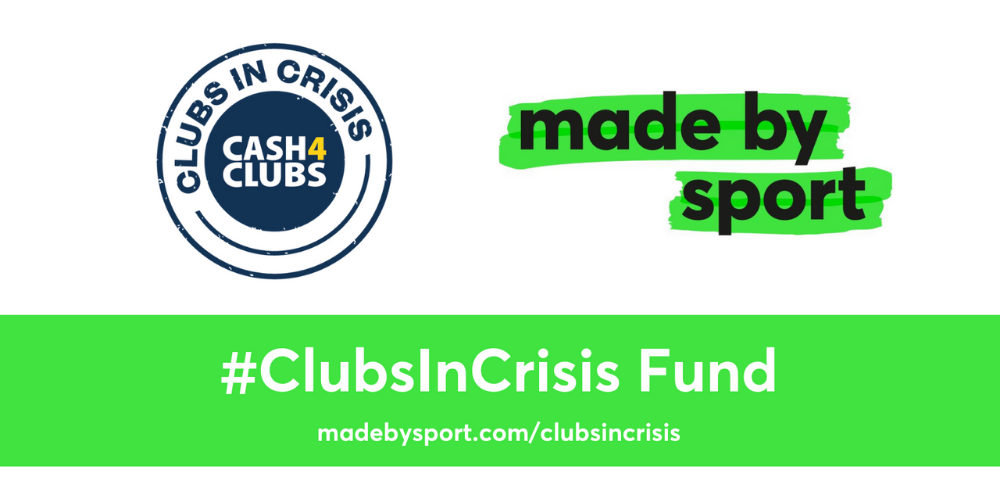 The Made By Sport Fund Fund is NOW CLOSED FOR APPLICATIONS.
The deadline to apply was midday on Friday 12th November 2021.
New funding announcements will be published on our website, featured in our newsletter and shared on our social media channels.
Information on the Made By Sport Fund
We are delighted to announce that the Made By Sport Fund in partnership with Forever Manchester is now open for applications from Community Sports Groups in Greater Manchester.
The Made By Sport Fund is offering awards of £2,021.
---
Fund criteria
The Made By Sport Fund welcomes applications from grassroots community sports groups based in any of the ten boroughs of Greater Manchester who are working with children and young people. The Fund aims to support organisations which are able to demonstrate that the Covid-19 pandemic has affected their ability to deliver their usual activities.
Who can apply?
Clubs or organisations which intentionally use sport to deliver wider social outcomes (sport for development) and who primarily work with children and young people aged 5 -25. The organisations we are looking for operate mostly in disadvantaged communities, often working collaboratively with other partners to meet local need and may offer cross-sector activities.
Specifically, we will fund clubs and organisations which can demonstrate that they are using sport to work towards one or more of the following outcomes:
Developing Life Skills
Improving Mental Health
Reducing Crime and Anti-Social Behaviour
Developing Employability Skills
Building Stronger Communities
For further information on what we mean by sport for development please click on the button below.
Sport for Development Information
Applicant organisations must be a charity, CIO, constituted community group or other recognised not-for-profit organisation, be based in one of the ten boroughs of Greater Manchester and have an annual income of less than £75,000.
Applicants will be prioritised by income as follows:
Priority 1: Income up to £25,000
Priority 2: Income up to £50,000
Priority 3: Income up to £75,000
How much can you apply for?
The maximum award request that will be considered is £2,021.
If you don't need as much as that but would like to apply anyway, please do.
What can you apply for?
The funding is unrestricted so can be spent on core costs as well as on programme or capital costs. Funds can also be used towards match funding or for leverage for a larger programme.
Examples of what could be funded include:
Direct project costs including equipment and kit.
Staff costs related to the project including appropriately apportioned management time.
Appropriately apportioned core costs.
External monitoring and evaluation of projects.
Transport; Volunteer expenses.
Small capital expenditure items (such as changing facilities, resurfacing a play area or IT equipment), where a sustainable plan is in place for ongoing upkeep and maintenance.
Are there any other conditions of the award?
No, but we are interested in the funding being used for two things and will ask you about this in the end of project reporting:
As the funding is unrestricted, we'd love to see it used as match funding to leverage other funds for your club or organisation.
We'd also like to see how it can be used to ensure the sustainability of your club, e.g. has it helped you attract more volunteers or have you been able to train more coaches? Have you increased the number of regular participants and donations?
All activity must be Covid-19 safe and undertaken in line with current government guidance at the time it takes place.
Is there anything you can't apply for?
Unfortunately, there are a few things that can't be funded, such as activities that have already taken place or been paid for, contributions to major appeals, activities promoting political or religious beliefs and activity which should be provided by statutory services.
If you're not sure if we could consider your application for funding, please contact a member of the Forever Manchester Communities Team, email awards@forevermanchester.com and we'll be happy to help.
Supporting Documents
For help and guidance on your groups supporting documents and to see what we require to be submitted alongside your application, please refer to our guidance which you can find here: For Supporting Information
Deadline for Applications
The final deadline for receipt of applications is Friday 12th November 2021, however please note that applications will be processed as they are received and the fund may close at short notice if all funds are distributed before this date.
Please note we expect high demand for the funding and we only have a certain amount of funding to award.
How long will a decision take?
We aim to let you know the outcome of your application within a maximum of 8 weeks from receipt of your application. If we need any further information or the required supporting documentation is not submitted alongside your application, this may take longer.
Please do not plan to start any activity until after you hear if your application has been successful.
If you have any questions or have trouble filling this in, please contact us at awards@forevermanchester.com or phone 0161 214 0940.
---
Date added: 12th April 2021
Last updated: 12th November 2021
---