Forever Manchester supported Manchester Digital Music Archive's LIVE STREAMING of Dave Haslam's interview with Buzzcocks singer, Pete Shelley on Sunday 10th June 2018.
Pete Shelley was interviewed by Dave Haslam at Gorilla, Manchester, which was live streamed on youtube courtesy of Manchester Digital Music Archive.
Manchester Music Digital Archive are a registered charity that provides an online community archive to celebrate Greater Manchester music and its social history. Their online music archive enables people from all over the world to share Manchester music ephemera and memories.
They also curate exhibitions and pop-up events across Greater Manchester, and work closely with other organisations to provide people in our local communities with opportunities to research and share their musical histories. As such Forever Manchester was extremely delighted to be able to support them on this project.
---
Close Up featuring Pete Shelley interviewed by Dave Haslam
At this special event, Dave Haslam interviewed Pete Shelley about his life, ideas, and music, including not only his iconic work with Buzzcocks, and his solo releases, but his pre-Buzzcocks music too.
Buzzcocks still performed and recorded, forty-two years after they were formed in Manchester in 1976, playing some of their first gigs opening for the Sex Pistols, and at events including the 100 Club Punk Festival. After the release of 'Spiral Scratch', a ground-breaking independent release, and the departure of Howard Devoto, Buzzcocks signed to United Artists and began creating a glorious catalogue of singles and albums.
There is so much to talk about; creativity, longevity, sexuality; writing, taking Joy Division on tour, performing; memories, Manchester, music. Always wonderful music…
This was the latest of a series of onstage 'Close Up' interviews hosted by Dave Haslam. Previous guests have included John Lydon, Nile Rodgers, Will Self, and Neneh Cherry. Some of these encounters feature in his new book 'Sonic Youth Slept On My Floor'.
'Close Up' featuring Pete Shelley was presented in association with Manchester Histories Festival.
As well as an insight into his life and career, this event also saw the launch of Pete Shelley's new book of lyrics, which Pete signed for fans on the night.
---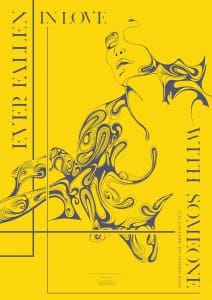 Also on the night an auction of a signed Buzzcocks 'Ever Fallen in Love' Framed Artwork was held with all the proceeds going to Forever Manchester. The artwork was designed by renowned illustrator Si Scott, whose work is characterised by a combination of hand inked and printed artwork with Modern Typography. The Buzzcock's Artwork was part of a limited edition series of Manchester Music Artwork that Si designed to help raise money for the charity.
This Buzzcocks Artwork was the last remaining piece of 50 limited editions produced, and was put up for auction exclusively for the live audience to bid against. The auction raised £500 for Forever Manchester.
Forever Manchester still have a small number of discounted unframed limited edition prints available to buy featuring Joy Division, New Order, The Fall, Oasis, Doves, Magazine and Badly Drawn Boy.