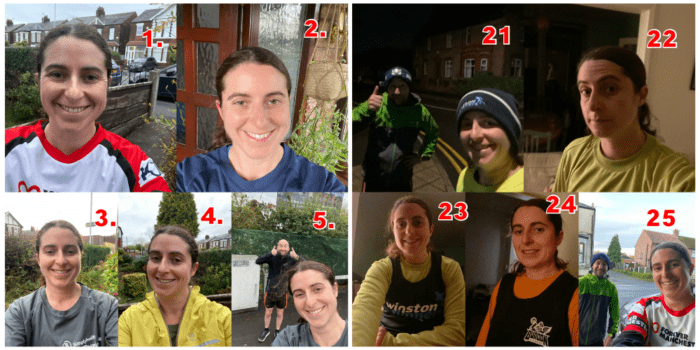 Forever Manchester wish to say a huge thank you and well done to Ambassador, Jenn Lutton, who set herself a unique challenge to run one mile every hour for a whole day and night to raise money for communities across Greater Manchester.
For her unique challenge, Jenn decided to run one mile every hour, on the hour, for a whole day a night. Jenn chose the 24th October to take on the challenge and to complete the whole 24 miles, only before realising the clocks went back that morning, turning her 24-hour challenge into a 25-hour challenge!
Not put off by the one extra mile, Jenn completed her challenge with a little help from friend Paul and other supporters, staying awake all through the night to run a mile outdoors in the cold and wet weather, before returning home and setting a timer to do it all again in an hours time.
So far, Jenn has managed to raise an impressive £700 of her £1,000 target for completing her unique 25-hour challenge and Forever Manchester couldn't be more grateful.
Recovered from her challenge, Jenn said "The hardest part was the lack of sleep and time in between each mile run. It felt as though the time passed really quickly until quarter to the hour and then it took ages and I felt really sleepy."
"What massively helped was doing the whole thing with my friend, Paul – but also a couple of friends did mile 7 and 8 with us, and another did mile 14 and 15. One of them randomly surprised us at 4 in the morning and did mile 23 with us and Rob stayed up till 3am playing music to keep me hyped."
"I can't quite believe that I did it, just because of the lack of sleep while doing it, it seems like a distant dream now but I'm really pleased with the amount raised!"
It's a fantastic challenge and a great way to fundraise, and everyone at Forever Manchester are in awe of Jenn's efforts. If you feel motivated to take on a challenge too, Jenn has organised the second and latest Virtual Lockdown Run that you can find out more and enter by clicking here.
Donations for Jenn's 25-hour challenge are still being made and Jenn is close to her target. To help her reach £1,000, please click here and donate whatever you can.
---
Date added: 26th October 2020
---