James Hampson, Forever Manchester's Connecting Communities Co-ordinator, is in peak condition as he prepares to take part in this year's Tough Mudder where he is raising money for Forever Manchester.
Tough Mudder is taking place at Cholmondeley Estate in Cheshire on the weekend of 10th September. The 10-12 mile course features a mind-numbing combination of new obstacles, unrelenting terrain and the aforementioned mud. James is going to need to muster every little piece of mental grit in the quest for the finish line.
Mud, so much mud. This course is defined by the UK's thickest, darkest and sloppiest mud.
Over the last few weeks, James has been training hard in the office. We've seen him running up and down the stairs, hurdle over chairs and crawl under tables. And, on the odd occasion, we have found him emptying the flower pots to smear soil all over himself. We think he might have been taking things a bit too seriously, but it's been a joy to watch.
On James' Just Giving page, he admits that "his life has been full of bad decisions and things he usually regrets" but he's now doing something he's not going to regret. It may be tough, it may be muddy, but he's doing it because he cares about the communities he is raising money for.
In his role at Forever Manchester he see's first-hand how a little bit of funding and support can have a massive impact on local community groups.
"These groups provide something that cannot be bought or packaged," explains James, "and when they thrive they have far-reaching benefits in a number of areas such as increasing social justice, increasing health and well being, equality, community safety, growing old happily and increasing local economies.
"The most important thing, though, is that these groups are led and run by local people, often in a voluntary capacity. These people interact with the local community on a daily basis. These are the people who are best placed to come up with innovative ideas and solutions to benefit the wider community.
"All they need is a helping hand every so often to help them deliver their activities. And that's where Forever Manchester comes in. As well as providing financial support we also give them advice and encouragement to help turn their ideas into reality.
"But who are these people?  Well, they are people just like you and me – ordinary people doing extraordinary things together. And, like them, I want to do my bit to help our fantastic communities. Can you help me? Can you do your bit?"
"I'll do you a deal."
"I'll run around for a few hours, get covered in mud, climb over obstacles and basically push myself to the limit. In return, all you need to do is to SPONSOR ME. Click on the link below, then click on the donate button and enter an amount of money. It's as simple as that. Deal?"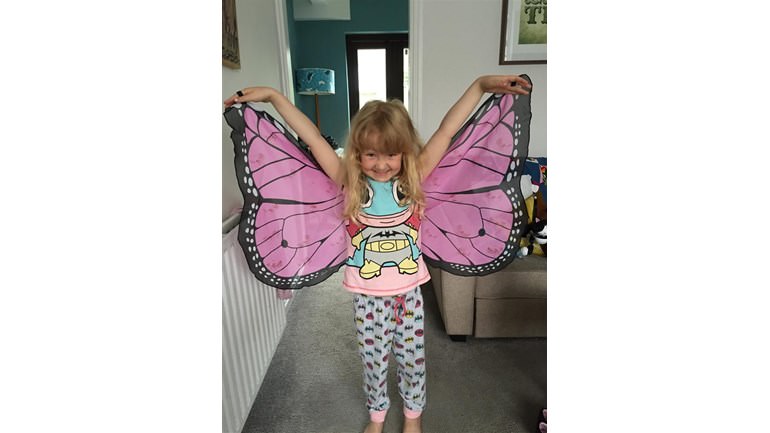 If that hasn't convinced you, here's a picture of James' daughter, who will consider him a failure if he doesn't raise enough money. Look at her… Do you want to be part of the reason she sees her Daddy as a failure?