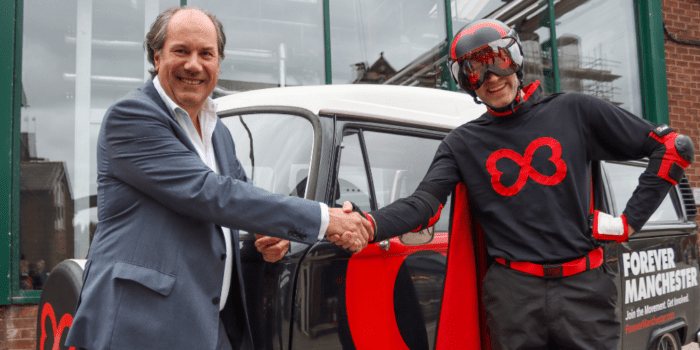 J.W. Lees is proud to announce Forever Manchester as its new charity partner of the year.
The J.W. Lees team at their brewery in Middleton and at their 100 pubs across Greater Manchester will get involved with their own fundraising activities and those of Forever Manchester over the next year. Pubs across the region are already developing fundraising ideas such as a Christmas Fair and a Ladies Night and are looking forward to getting involved in a wide variety of fundraising activities.
William Lees-Jones, Managing Director of J.W. Lees
(pictured above with Captain Manchester)
"There is no better charity partner for J.W. Lees than Forever Manchester. Our pubs are at the heart of their communities and, as a company, we recognise the value of supporting those communities. We are looking forward to supporting Forever Manchester and helping to make a real difference to those local causes close to our team and customers' hearts."
Nick Massey, Chief Executive, Forever Manchester
"Forever Manchester is looking forward to working with J.W. Lees. As a family company rooted in its communities it's a great fit. Forever Manchester has funded hundreds of community projects within a mile of J.W. Lees pubs in Greater Manchester so it's a great opportunity to work together to make a difference at a local level."
---
About J.W. Lees
JW Lees is a family brewery company, founded in 1828 by retired cotton manufacturer John Lees. They are based in Middleton in the north west of Manchester and own JW Lees Brewery, JW Lees pubs, The Alderley Edge Hotel, The Trearddur Bay hotel and Willoughby's wine merchants. They are a sixth-generation family business which employs over 1,300 people, 140 at the brewery and site in Middleton Junction and over 1,100 in their 42 managed pubs, inns and hotels. They also let another 105 pubs to their Pub Partners.
---
Date added: 2nd November 2021
---