Manchester personalities will face the dark and depraved ghosts of Manchester on All Hallows' Eve to help raise money for Forever Manchester.
A group of brave ghost hunters will gather in the bowels of Barton Arcade, kindly offered to Forever Manchester by Crowd UK for this event, on Tuesday 31st October to expose the dastardly goings on of Manchester's undead whilst simultaneously raising money for us. Their only way out is to get friends and family to raise as much cash as they can for Forever Manchester.
Depending on how much money is in each competitor's JustGiving account – they will either be released and whisked off and given a stiff drink to calm their fears, or they will be locked up for even longer until the last man or woman standing is solo – spooky!
Guiding the group on their perilous ghostbusting journey will be resident ghost hunter Stuart Marshall, working to find out exactly what is behind the recent spate of unexplained paranormal activity at this city centre location.
Ghostbuster Stuart has visited over 100 haunted locations all over the UK and has spent years searching for evidence of ghosts, spirits and other entities. Last year, he conducted the Lockdown for Forever Manchester underneath Old Granada Studios (and the year before in The Corn Exchange) – giving him plenty of experience of Manchester spectres!
Find out who will be entering the Lockdown and helping to raise money to help us support grassroots community activity across Greater Manchester:
---
MEET THE CONTESTANTS – SPONSOR YOUR FAVOURITE
---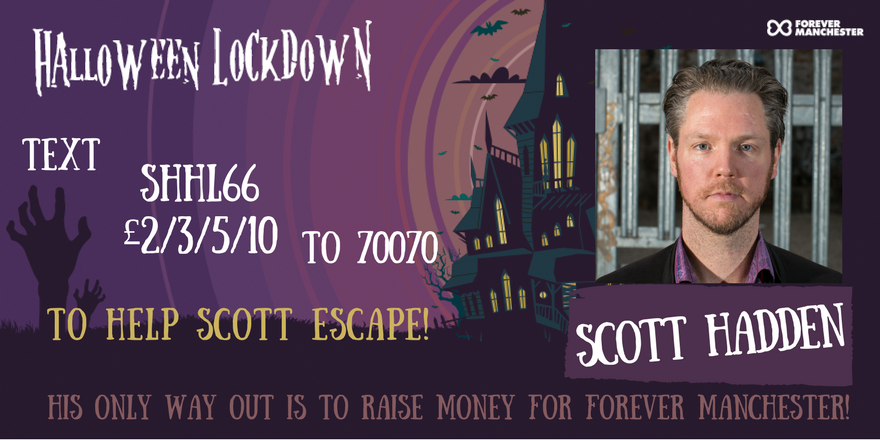 SCOTT HADDEN
Scott is the founder of FoodnFilm, a group that meets monthly to network and then catch the latest blockbuster. Scott says that Manchester is the centrepiece of his career and personal life.
Scott has worked as a Chartered Marketer with over 15 years' experience in the financial and professional services. He is also on the board for the Chartered Institute of Marketing. Scott is also the co-founder of the legendary Get Quizzical which he runs alongside fellow Lockdown contestant Heather Gray.
---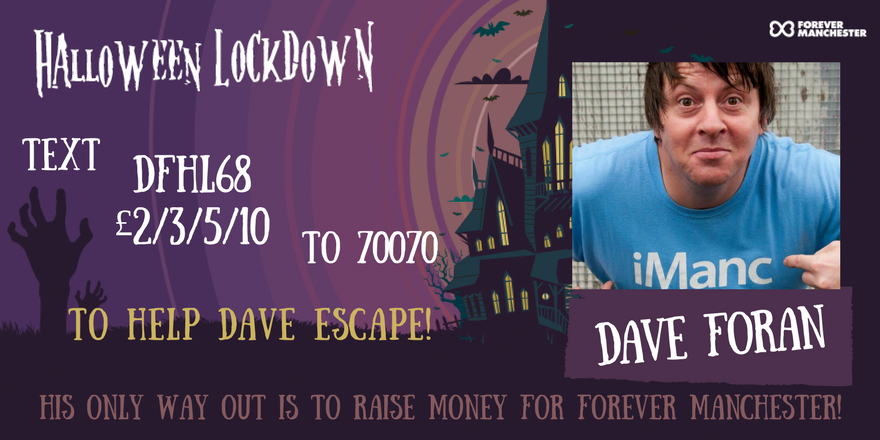 DAVE FORAN
Dave Foran is a long time Forever Manchester Ambassador. Born and bred here he reckons he has all that he needs within a 14 miles radius and gets a nose bleed if he goes as far as Bolton. Once described as a perfect example of a modern day philanthropist, Dave has worked with Forever Manchester for a good few years, even winning Forever Manchester's Captain Manchester Award in 2015.
Dave is passionate about running pubs and about music and he set up Manchester Radio Online to give unsigned bands the airplay they deserve. Fingers crossed the ghouls in the Lockdown don't want to keep him!!
"The best things about Manchester are my mum's 'tata hash and the genuine hard working people who let nothing get them down – even the rain."
---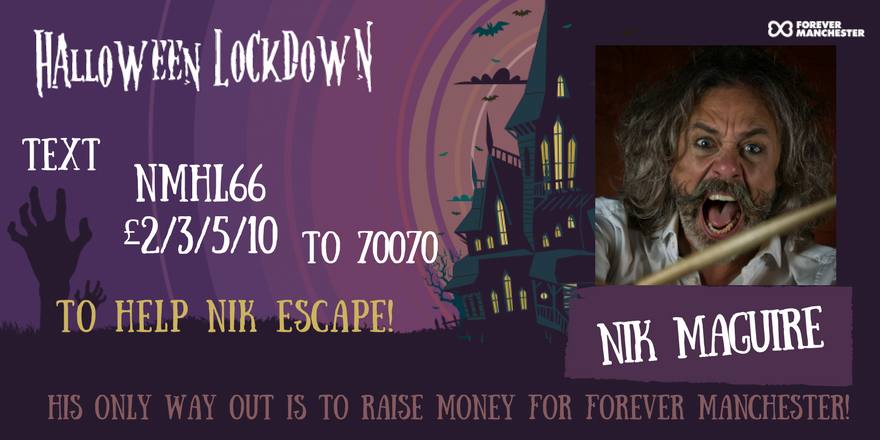 NIK MAGIRE aka 'MR. DEANSGATE'
Nik Maguire has been a well-known personality on the Manchester social and business scene, he was nicknamed 'Mr Deansgate' due to his love of socializing and positive outlook about the city.
Nik was named 'Mancoolians Business Personality' in 2015 and has appeared on TV shows including Yes Chef and Take Me Out. He also founded Mad About Manchester, Manchester's first video magazine focusing on where to live, work and go out in Manchester. Nik is passionate about the city and it's economic success and believes Forever Manchester is the perfect vehicle for helping the city continue to flourish by tackling important issues and causes.
---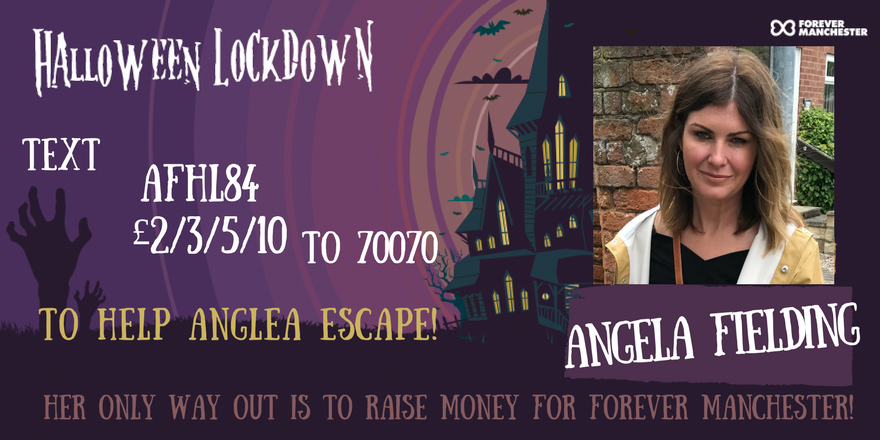 ANGELA FIELDING
Mother of two boys and director of Crowd UK, Angela specialises in commercial property and residential marketing. At Crowd, they turn spaces into amazing places. Barton Arcade is one to watch. A Boro lass turned adopted Mancunian, she's spent the majority of her career working in Manchester and can honestly say that she has never come across a more rooted and respected charity than Forever Manchester.
---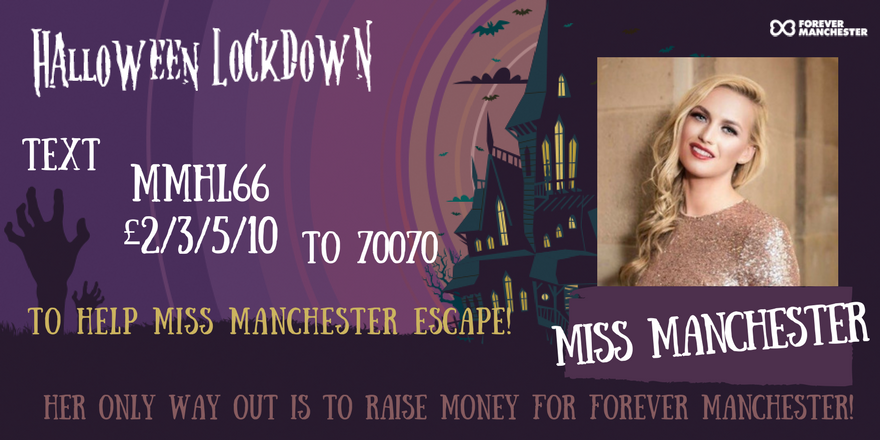 ZOE DALE aka 'MISS MANCHESTER'
As Miss Manchester 2017, Zoe think's it is very important to be involved and help with as many charities as possible especially Forever Manchester. Zoe has always lived in Manchester and the city means so much to her , she says  "it's nice to give something back, especially as Forever Manchester is such a brilliant charity set up to help so many people."
---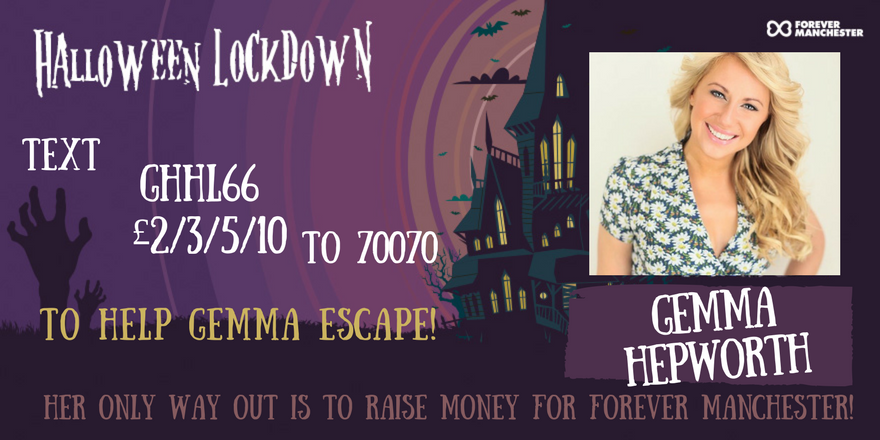 GEMMA HEPWORTH
As well as a dog lover, real ale enthusiast and one of those vegans, Gemma is also Entertainment host on That's Manchester TV, Maze Master host at The Crystal Maze and Theatre gossip gal on BBC Radio Manchester.
---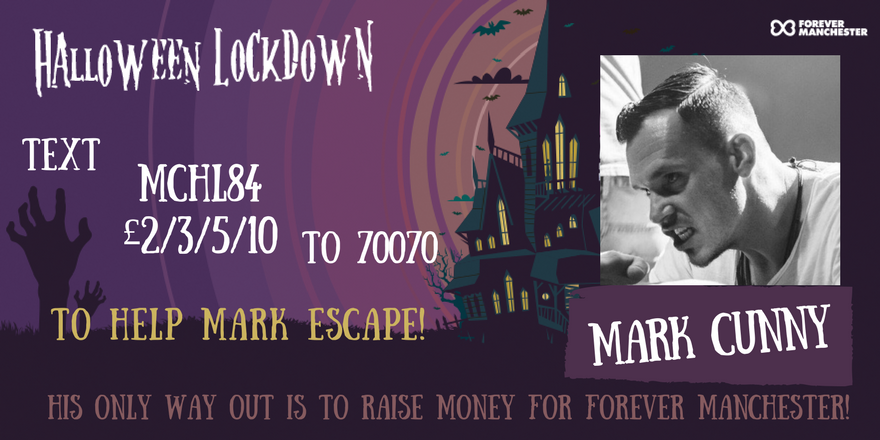 MARK CUNNY
Mark, aka"Cunny"; is, front-man, vocalist, urban wordsmith, and founding member of ,Manchester's premier electro, hip-hop reggae outfit, The Moods. His political voice, socially aware and intelligent lyrics, are a trade mark of The Moods. This unique fusion of styles, has achieved critical acclaim in the press, who tag the moods as a band that, 'Make You dance and Make You Think', and have describe them as; "the most original music to be on the Manchester music scene currently". The Moods:, are a ten-piece collective of producers, poets and musicians from the Northwest of England. Combining drum & bass, reggae, hip-hop and EDM, The Moods' mighty music sparks off a contagious need to dance, underpinned, with real grit & substance: they're a band with plenty to say, singing and rapping with raw passion about the important stuff: war, famine, love, life and death. This is music for the head & heart.
The main reason Mark wishes to take up this challenge is to try and help out the people of Manchester; "I think the thing that sets this Charity apart from many others is the fact all the donations given stays here in Manchester to help out the people of this fine city , which i find inspiring ."
---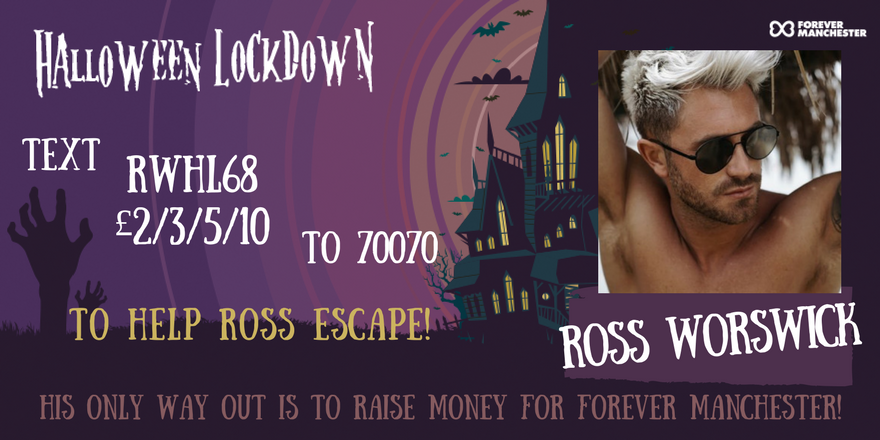 ROSS WORSWICK
Ross Worswick is from Manchester. He originally came out of the Ex on the Beach waters to surprise his holiday romance ex Chloe Goodman.
Since then he has become a regular on the reality scene and has appeared on another reality show called Desi Rascals, a structured-reality TV series on Sky 1 and Sky Living.
He's chosen to use his platform to help raise money for Forever Manchester.
---
The depths of Barton Arcade are freakishly spooky already, but to help add a little more scary flair we've partnered with Halloween HQ who will be decorating the space with there wide variety of products. Halloween HQ currently have a pop-up shop full of everything you could need during the spookiest night of the year on King St, so get down there and get your scare on.