Over the weekend of the 22nd – 24
th

 June 2018, The Great Get Together aims to encourage communities to get together with their neighbours to share food and celebrate all that we have in common.

Forever Manchester supported the Great Get Together by offering £200 awards to communities in Greater Manchester who wished to hold an event in their neighbourhood. We are delighted to support almost 90 Great Get Togethers in total!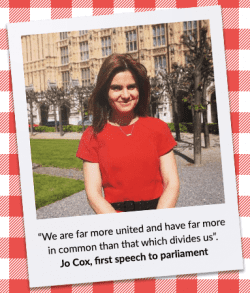 The national celebration marks the 44th birthday of the MP Jo Cox who was killed in 2016. Jo lived her life according to the belief that we have more in common than that which divides us.
Forever Manchester believe that connected communities make stronger, happier communities and love any event that brings people together, so we were delighted to offer our support to people who wished to celebrate where they live with a party! Take a look at some of those listed below and pop along to one if you can!
Find out more about the Great Get Together on their website.
See below for a small selection of the Great Together events taking part in your area. For a wider list of events, click here.
We can't wait to hear and see how it goes and we want to see what are you are doing with the extra special Forever Manchester balloons. You can keep us informed by tweeting us at @4EVERManchester.
From everyone at Forever Manchester, we hope you have an amazing weekend!
---
Friday 22nd June
The Great Get Together – Cheeky Cherubs – 9.30am – 5pm
Cheeky Cherubs Learning Centre, Unit 1 Victoria Parade, M41 9BP
There's going to be entertainment. They will also hire a bouncy castle this year and do a bbq (weather permitting).
Afternoon Tea for Socially Isolated Older People –  12 – 2pm. 
Critchley Community Hub, 75 Chorley Road, Swinton
There will be a vintage style afternoon tea party celebration. They are working with our social rehabilitation service who will refer older people most at risk of isolation & loneliness. Transport will also be provided to make the event accessible for those less mobile.
Abraham Moss Warriors at the Heart of the Community Family Get together – 6.30-8.30pm
Manchester Communication Academy, Silchester Drive, Harpurhey, Manchester, M408NT

There will be a chance to try some old fashioned sports day style events ,there will be food and drink and an opportunity to see what the children and families of the Warriors have achieved this year with the clubs annual prize giving on the same day we are expecting at least 250 people.
---
Saturday 23rd June
Heaton and Markland Hill Great Get Together Garden Party – 12 – 4pm
The Scout Hut on Markland Hill, Bolton
There's going to be a "Jacob's Join" Garden Party at the lovely Scout Hut Garden. They want people to bring food for sharing, and picnic blankets, and their family and friends. People who live in the area are encouraged to come along and meet their neighbours. Live music – races – games – salsa class – henna hand painting, children's craft table.
Manchester Youth Zone Great Get Together – 2pm
The Factory Youth Zone (soon to become Manchester Youth Zone), 931 Rochdale Road, Harpurhey, Manchester. M9 8AE
They are going to hold another family fun day – there will be face painting, a bouncy castle, a raffle and a BBQ as well as many other activities using the facilities available to us. The aim of the day for us is to bring together the community in a positive, happy and open forum.
Connect Barbecue – 3pm
Vasser Road, M18 8BN
They will hold an afternoon tea either in the grounds of Ferguson Court Weather permitting or inside the residents lounge. They are also inviting people from other retirement residences and neighbours
---
Sunday 24th June
World Cup Community BBQ – 12pm
The Brew, Fircroft Road, Fitton Hill, Oldham
There's going to be a BBQ while the football is on, we are going to have activities for the children and arts and crafts for anyone who wants to get involved. They work with lots of groups on Fitton Hill in Oldham, all of these will be invited to attend and get involved.
Picnic in the Park – a fun day to celebrate the park's 50th birthday 1.30pm – 3.00pm
Herristone Park, Crumpsall,  M8 4NP
A fun day in the park to – encourage use of the park – celebrate the park's 50th anniversary this year; – to build a sense of community – to bring various community groups together – to promote other local and community groups.
Bringing our community Together! Celebrating 5 years – 1pm – 4pm
Denton West End Library, Windsor Road, Dane Bank, Denton, M34 2HB
There will be lots of activities including bouncy castle, crafts, treasure hunt, the chance to try new skills and fantastic refreshments. They will also show England in the World Cup as an addition so families can enjoy the football together.