Over the weekend of the 16th-18th June 2017, The Great Get Together aims to encourage communities to get together with their neighbours to share food and celebrate all that we have in common.
Forever Manchester supported the Great Get Together by offering £200 awards to communities in Greater Manchester who wished to hold an event in their neighbourhood. We were delighted to support over 50 Great Get Togethers in total! A selection of them are listed below.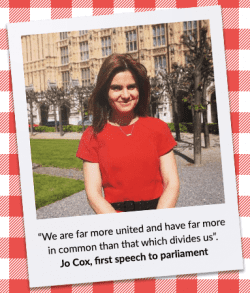 The event marks one year since the MP Jo Cox was killed. Jo lived her life according to the belief that we have more in common than that which divides us and, in that spirit, her husband Brendan and friends are hoping that as many people as possible will mark the anniversary by organising or attending a celebration in their community that weekend.
Forever Manchester believe that connected communities make stronger, happier communities and love any event that brings people together, so we were delighted to offer our support to people who wished to celebrate where they live with a party! Take a look at some of those listed below and pop along to one if you can!
Find out more about the Great Get Together on their website.
---
Friday 16th June
The Great Get Together and The Big Iftar – 7pm
Manchester: Cathedral Gardens, M4 3GB
A live programme of speeches, Manchester Mayor Andy Burnham to attend, followed by some light entertainment and food.
The Northern Quarter Great Get Together – 4-7pm
Manchester: Dale Street / Spear Street, Northern Quarter, M1
Music, spoken word, art, street art, food and drinks – open to all who want to pop along.
Meet the Neighbours – 1.30pm
Wigan: True Colours CIC, Bengal Street, Leigh, WN7 1YA
True Colours support adults with autism, and want to host a vintage style afternoon tea, offering a chance for the autistic adults to take part in a community event. Neighbours are invited along to have a get together, meet other local people and have some home-baked cakes, quiches and sandwiches.
Garden Party – 2pm
Wigan: Clifton House, Keats Avenue, Wigan, WN3 5UD
A party for local residents, hopefully with a barbeque – weather permitting. Bringing the community together for celebration.
Bee Together Old Trafford – 11am-1pm
Trafford: St John's Centre, Old Trafford, M16 7GX
Neighbours and local residents are invited to join the regular ESOL group in creating and decorating clay bees. The bees will be suspended from the Centre's trees to create positivitiy.
Tackling the Issue – 6-8pm Stockport:
Reddish Young People's Centre, Dalkeith Road, Reddish
A football tournament, for local people, with the local police and pcso's being invited along. There will be prizes and refreshments.
---
Saturday 17th June
The Great Get Together – Heaton Park – 12.30 – 6pm
Manchester: Heaton Park, 'The Stables' M25 2GT, St Margarets Road entrance near car park.
We ask everyone attending to bring their own food and drink and if each person could bring something that can be shared that would be superb – you don't need to feed the 5 thousand just maybe those people sat closest to you – but no pressure either!
Great Get Together, Heaton and Markland Hill – 12-3pm
Bolton: 17th Scout HQ, 115-117 Markland Hill, Bolton, BL1 5EJ
Picnic at local scout hut, crafts and entertainment for children.
The Big Park Picnic – 12-3pm Trafford:
Moor Nook Park, Norris Road, Sale M33 3UN
Come along with your friends, family and neighbours to have fun at the park – come rain or shine (indoor alternative)! Bring a picnic and enjoy ceilidh dancing, disc golf, bouncy castle, natural craft activities, face painting, tombola, refreshments and lots of homemade cake!
Trafford Veterans at the Mess – 10-2pm
Trafford: The John Alker Club, Flixton Ex Servicemens Club, Flixton Road, Urmston, M41 6AY
Breakfast club for the local community, armed forces and emergency service veterans.
The Great Get Together at Withington Baths Sensory Garden – 1-4pm
Manchester: Withington Baths Sensory Garden, 30 Burton road, M20 3EB
All welcome to age friendly event, lets et together and enjoy music, food, drinks, dance and chat!
The Great Get Together Bolton – 11-12.30pm
Bolton: Bolton Central Library, Le Mans Crescent, BL1 1SE
Three experienced speakers will talk about humanitarian values of Jo Cox. There will be a mix of choirs and Bollywood Dancing.
Barton Big Lunch – 10.30am – 12.30am
Salford: Ivy Street Park, Ivy Street, Eccles, M30 0PN
A community event and picnic, with food, craft materials and fancy dress items. Local groyp Special Needs Stay and Play group are running craft activities for children.
Smallbridge Iftar – 9pm
Rochdale: Smallbridge Library, Stevenson Square, OL12 9SA
For the wider community and the young people who attend Smallbridge Youth Club.
Afternoon Tea Party – 11-3pm
Salford: Critchley Community Hub
A vintage craft fair with afternoon tea, open to all in the community.
The FORSS Great Get Together – 12-4pm
Stockport: Reddish South Station, Reddish Road, SK5 6TJ
In conjunction with Reddfest Arts Festival Day, the Great Get Together will have a folk band for entertainment and have food too.
The Great Get Together Feast – 9.30-1pm
Trafford: Cheeky Cherubs Unit, Victoria Parage, Urmston, M419BP
The Cheeky Cherubs Centre is open for the local community for the day and will put on a fantastic feast. At 1pm everyone is invited to move over to Golden Hill Park to continue the fun with bouncy castles and stalls.
---
Sunday 18th June
Band in the Park  – 12-4pm
Wigan: Jubilee Park Wigan Road, Ashton in Makerfield, WN4 9BH
A Fathers Day Band in the Park event, open to all the community. Bring your own picnic, there will be team games and lots of change to chat, relax and be together.
Moreton Avenue / Pritchard Street / Horward Street Party –  10-7pm
Trafford: Moreton Avenue, Stretford
A street party for local residents to bring along food and have fun. There will be facepainting, a bouncy castle and toys for children to play with.
Lostock Community Picnic – 12-4pm
Bolton: Lostock Park
Entertainment for children, and a car boot sale.
The Dimobi Great Get Together Afternoon Tea – 1-3pm
Manchester: 5 Fulham Avenue, Newton Heath, M40 2TF
An afternoon tea for parents and their children to come along and create unity. Free refreshments and fun – helping children with learning disability and ausitm to thrive.
Community Fathers Day Family Barbecue – 1-6pm
Manchester: St Wilfred Enterprise Centre, Royce Road, Hulme, M15 5LA
An event to celebrate fathers and families, all coming together with the community to have fun and be fed, with live entertainment and music.
The Great Get Together Mahdlo – 11-3pm
Oldham: Mahdlo Youth Zone, Egerton Street, OL1 3SE
Lots of family friendly activities including an RSPCA dog show, The Bug Lady, cupcakes and foodstalls, cooking demonstrations and information stalls.
Chorlton Community Picnic – 12pm
Manchester: Chorlton Central Church, Barlow Moor Road, Manchester M21 8BF
A Community picnic for all local people to come together, eat food and celebrate their differences. Prior to the day, the local community members are coming together to paint a huge banner, which will be hung outside the hall at 1.30pm.
St James Church Great Get Together – 12pm
Tameside: St James Church, Union Street, Ashton-Under-Lyne, OL7 9NL
Lunch for the community before heading out for the Whit Walks if people wish, then afternoon tea at 3,30pm after the walks have finished.
Ramsbottom's Great Get Together – 1-4pm
Bury: Nuttall Park, Nuttall Hall Road, Ramsbottom, BL0 9LU
A Mad Hatter's Tea Party themed picnic in the park, everyone from the local community is welcome. There will be stalls, food, a bake off competition, face painting and much more.