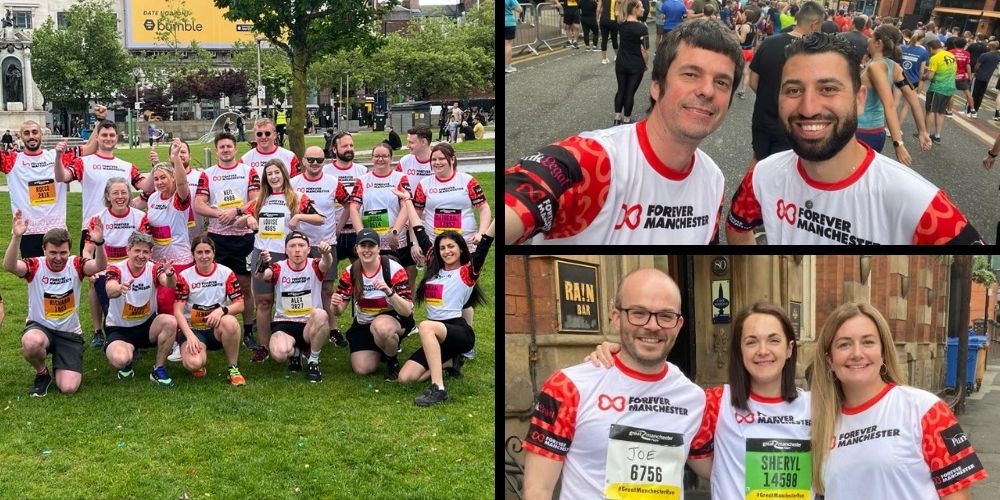 In the Great Manchester 10k run on Sunday 22nd May 2022, our brilliant runners raised over £10,000 due to their fantastic fundraising efforts! We are delighted to be able to reinvest this back into the communities of Greater Manchester.
Thousands of runners took part in the Great Run, the first time it has returned to it's Spring slot since 2019. Helping create a party atmosphere around the city was a cheering crowd of thousands keeping the energy levels high and Manchester anthems blasting across the course. 100 runners took to the street for Forever Manchester in their eye-catching running T-shirts, kindly sponsored by Punk Legal.
We would like to say a huge thanks to all the good people at:
Auto Trader, Beevers and Struthers, Cuckoo Design, Express Solicitors, JW Lees, Oscar and Stagecoach.
In addition, we thank the following individuals:
Chris Marsh, Jessica Tooney and Joseph Nadin
And of course our wonderful Forever Manchester staff members:
Paul Haworth and Phoebe Massey
We'd also like to give a big shout out and thank you to Emily Hughes who ran the Hackney Half Marathon for us which was held on the same day as the Great Manchester 10K. Emily raised an impressive £742 and featured in Just Giving's top 15% of fundraisers for May!
---
Everyone at Forever Manchester appreciates your efforts and hope you enjoyed the day as much as we did! It was great seeing everybody in person and being able to catch-up with both our business supporters and individuals.
For more information about where your money will be going, check out these inspiring stories about how community activity makes a huge difference to the lives of people across Greater Manchester.
We've even gathered below some of our favourite tweets from the day:
---
Date added: 27th May 2022
---