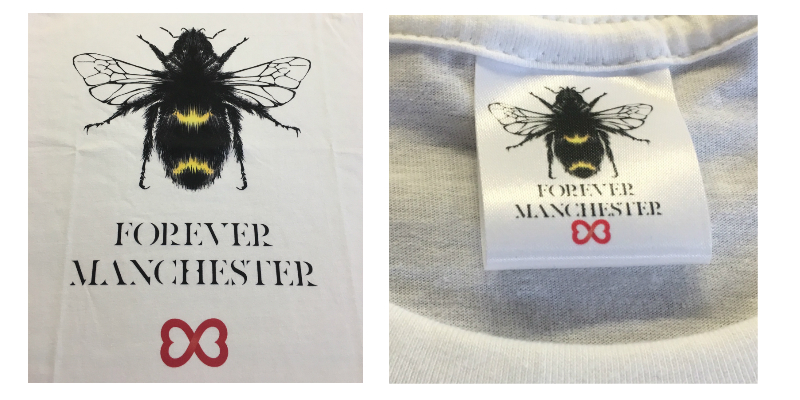 Now on sale, the brand new Forever Manchester T-shirt, worn by Manchester Poet Tony Walsh at the 'One Love Manchester' benefit concert on Sunday 4th June, where he delivered his inspirational 'This is the Place' Poem.
Designed exclusively for Forever Manchester by award winning designer Si Scott, this T-Shirt takes inspiration from the Manchester Bee together with the words Forever Manchester and heart-shaped infinity symbol.
All profits from the sale of this item go to Forever Manchester to fund and support community activity across Greater Manchester.
The worker bee was adopted as a motif for Manchester during the Industrial Revolution, at a time when Manchester was taking a leading role in new forms of mass production. The bee denotes Mancunians' hard work during this era and Manchester being a hive of activity in the 19th century.
Seven bees are included in the crest of the city's arms which were granted to the Borough of Manchester in 1842.
This T-Shirt is identified with it's special designed collar label.
Price: £20 each
Colour: White
Sizes:
Ladyfit: S, M, L, XL
Standard Fit: S, M, L, XL, XXL
Please allow 7 working days for delivery.
BUY FOREVER MANCHESTER T-SHIRT HERE
---
In 2012, Forever Manchester commissioned local poet Tony Walsh (aka Longfella) to create a poem to encapsulate the spirit of Greater Manchester, to celebrate our local communities and help explain what Forever Manchester does.
Tony performed the poem at a number of Forever Manchester events, and with the help of local creative agency Studio North, visuals were added to a shortened version of the poem and published on YouTube (see above).
Since writing 'This Is The Place', Tony has written a number of follow up poems or Forever Manchester, which he has performed at numerous Forever Manchester events, including our annual Birthday Bash, where he received standing ovations on every occasion.
Less than 24 hours following the terror attack on Manchester Arena on 22nd May 2017, Tony Walsh performed the 'This is The Place' poem at the vigil at Manchester Town Hall, in front of thousands of people gathered in Albert Square and millions of people across the world on TV.