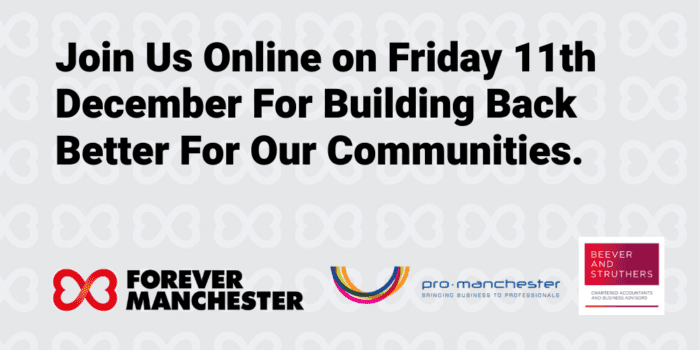 Forever Manchester is delighted to be working in partnership with business supporters Beever and Struthers and ProManchester on their event, Building Back Better for our Communities.
The event will take place online on Friday 11th December, 10.00am – 11.00am
This webinar/forum will discuss the impact of the coronavirus pandemic within Greater Manchester communities and in particular how organisations can help and build ownership to drive social value and impact upon a wider business community. The event will look at why developing and implementing a social value strategy is important for business and what are the realities of businesses getting involved in communities in the current climate.
We will hear views, information and advice from Nick Massey, Chief Executive, and Jean Mills Head of Business Development of Forever Manchester on the effect and impact on Greater Manchester communities and the financial perspective and benefits for businesses from Sue Hutchinson, Head of Charities Sector at Beever and Struthers.
We hope you will join us for what promises to be an interesting discussion.
Find out more at www.pro-manchester.co.uk/event/building-back-better-for-our-communities
---
Date added: 7th December 2020
---