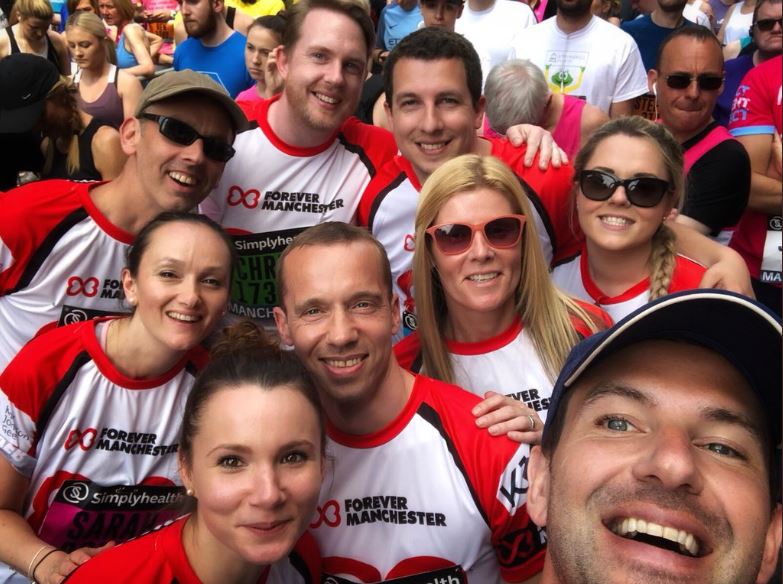 In the Great Manchester 10k run on Sunday 20th May 2018, our fantastic runners have so far raised an amazing £24,232 – an incredible achievement! We are delighted to be able to reinvest this back into the communities of Greater Manchester.
On a scorching hot Mancunian afternoon, over 18,000 runners took to the streets to help create a party atmosphere across Manchester. The runners were greeted at the start line by poet Tony Walsh, proudly wearing his Forever Manchester T-shirt.
We would like to say a huge thanks to to all the good people at:
Kay Johnson Gee, Moda Living (pictured) Havas Lynx, Express Solicitors, HSS Hire Oakland House, Beauty Bay, Hall Brown, Beech Holdings, Forward Role, MTSG and ANS Group.
In addition, we thank the following individuals who took part in the run for Forever Manchester.
Aaron Turner, Alan Keary, Alex Hartley, Anna Hardy-Watmough, David Powell, Hannah Madkour, Jamie Hartley,  Jade Barnes, Jane Ellis, Joe Storm, Josh Pepper, Karl Astbury, Katie Hitchen, Laura Green, Olivia Dyson, Richard Hartley,  Sally Penni, Sam Johnson,  Sam Mikkleson, Scott Forrest, Tom Goreham.
A very special mention to Graham Hogg of Havas Lynx who was the quickest Forever Manchester runner, who the completed the 10k run in an exceptional 36 minutes and 41 seconds. The quickest female runner was also of Havas Lynx, Susan Harrison completed the run in 51 minutes and 50 seconds.
And finally. we'd like to say a big thank you to Kay Johnson Gee for kindly sponsoring the rather fetching Forever Manchester running T-shirts.
Everyone at Forever Manchester appreciates your efforts on such a hot day, your money is going to do some amazing things. Well done all and check out where your money will be going. 
Too see highlights of the day (which includes an interview with Tony Walsh) search for Great Manchester Run on BBC iPlayer.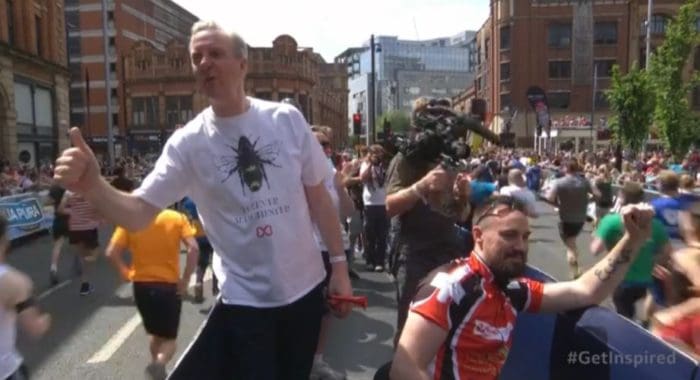 What an incredible day with a bunch of inspiring HSS'ers – over £3000 raised for @4EVERManchester and a sun tan at the same time! Now where's the beer… @Great_Run #TeamHSS pic.twitter.com/mXfSepLP2f

— Kayleigh Wright (@KayleighJaydeW) May 20, 2018
Fantastic day @Great_Run raising money for @4EVERManchester. Team @LiveTheModaLife out in full force #GreatManchesterRun @johnnycaddick @Lydia_Eustace pic.twitter.com/QMr5WVu6EF

— Moda (@LiveTheModaLife) May 20, 2018
Really struggled in the heat and had to 'Paula Ratcliffe' it half way through but managed get round in under an hour! @4EVERManchester @OscarRecruit @Great_Run #greatmanchesterrun pic.twitter.com/3w92C089tM

— Sam Mikkelsen (@SamMikkelsen) May 20, 2018
Before and After shots of @DivorceAdviser and James Brown, at the @Great_Run today. What an epic effort from them, wearing these outfits, in 24 degree heat. All in the name of charity for @4EVERManchester 😊🐝👏🏻. It's not too late to sponsor us – https://t.co/aKAJsGwvLk pic.twitter.com/klCsX1KTUD

— Hall Brown (@HallBrownLaw) May 20, 2018
We did it – yayyyy. Congratulations to everyone who did the @Great_Run today in the sweltering heat! Thank you to everyone who has sponsored our team. It's not too late if you can spare a few pennies for @4EVERManchester – 🐝💛🌈https://t.co/sYItWOk5xF pic.twitter.com/v7odXRV7aa

— Ellen Walker (@ellenwalker1990) May 20, 2018