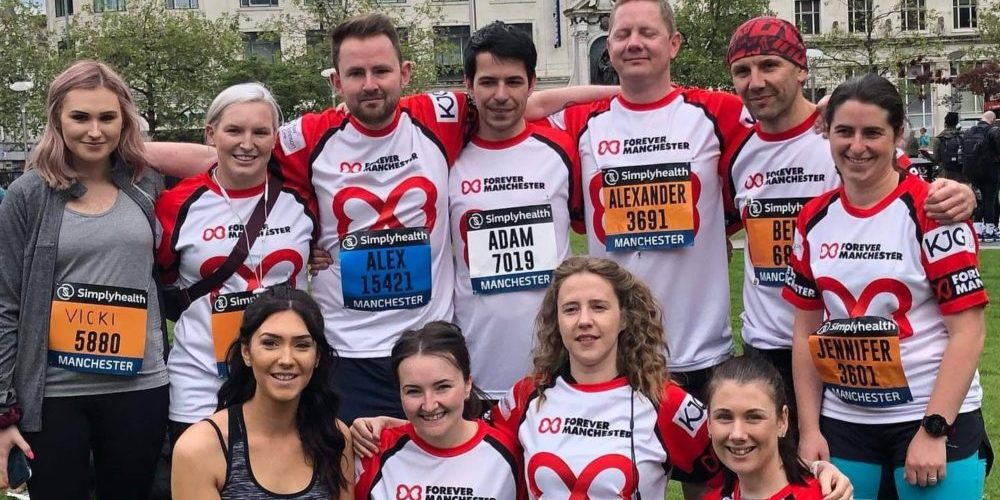 In the Great Manchester 10k run on Sunday 20th May 2019, our fantastic runners managed to raise over £17,000 – an incredible achievement! We are delighted to be able to reinvest this back into the communities of Greater Manchester.
Over 18,000 runners took part in the run, helping to create a party atmosphere around Manchester. Ninety runners took to the street for Forever Manchester in their rather fetching running T-shirts, sponsored by Kay Johmson Gee.
We would like to say a huge thanks to to all the good people at:
Kay Johnson Gee, Moda Living, Express Solicitors (pictured), HSS Hire Oakland House, Hall Brown, HMG Paints and TecCre8. 
In addition, we thank the following individuals who took part in the run for Forever Manchester.
Allison Hardman-Taylor, Aaron McGuire,  Chris Buckley, Chris Marsh, Chris McKenna, Colette Farrugia, Jack Harrison, Jonathan Farrugia, Miki Christie, Olivia Dyson, Richard Hartley and Sam Mikkelsen. 
A very special mention to Ben Gent of Express Solicitors who was the quickest Forever Manchester runner. He completed the 10k run in an exceptional 41 minutes and 37 seconds.
One of our runners, Colette Farrugia, told us: "The whole day was amazing, I'd highly recommend doing it! It was really great to see so many people taking part for Forever Manchester this year, raising money for a charity that does such incredible things for communities across Greater Manchester"
Jack Harrison added: "It was a belting day, the atmosphere around town was ace. Glad we helped raise money for a cause that means a lot to me and many others."
Everyone at Forever Manchester appreciates your efforts, for a flavour of where your money will be going check out these inspiring stories about how community activity makes a huge difference to the lives of people across Greater Manchester.
For some other 10k highlights, check out the tweets below
Super proud to be running for and supporting a great charity @4EVERManchester in the #Manchester10K pic.twitter.com/2o7e7NEeQC

— Jack Harrison (@jakhazza) May 19, 2019
Good luck all! Raring to go ‍♀️ pic.twitter.com/ihIW5mp5Y9

— Lizzie Wood (@LizzieJWood) May 19, 2019
We did it! Great day. Awesome vibe. Fantastic cause. Sign us up for 2020! #FM10K #GreatManchesterRun @4EVERManchester @Great_Run @SimplyhealthUK pic.twitter.com/3k5AZ9308U

— MODA (@LiveTheModaLife) May 19, 2019
Team TecCre8 ‍♂️#GreatManchesterRun pic.twitter.com/JnSDHRlSpg

— TecCre8 | Commercial Interiors (@TecCre8UK) May 20, 2019
Finished! First ever 10k event. Glad I could help raise money for @4EVERManchester ‍♂️ great atmosphere! #GreatManchesterRun

Thankyou to @SaraMyerscough and my little sister & mum for coming out to support me pic.twitter.com/K9z5MCDlXX

— Aaron McGuire (@_AaronMcguire) May 19, 2019