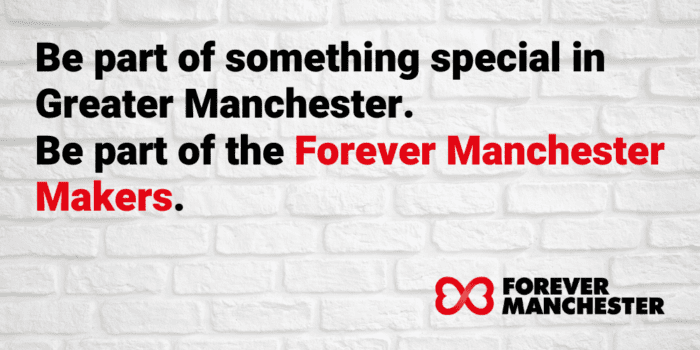 The Forever Manchester Shop is reopening soon, offering a range of gifts and exclusive collections from well-known artists and makers in Manchester.
As a charity, Forever Manchester has always stood by the ethos that "connected communities make stronger, happier communities", so we love any activity that brings people together. That includes bringing together established creators to offer people of Manchester the best selection of gifts made by artists who have their own stories of the city and wider boroughs.
The exclusive collections by third-party creators have seen such huge success, for the artists and for Forever Manchester, which is why we are now extending our commission-based model and inviting more makers to be part of the Forever Manchester Makers.
VISIT THE FOREVER MANCHESTER SHOP
A Few Things To Know as a Forever Manchester Maker
Promotion. Forever Manchester support the sale of creators' products through online promotion, advertising, emails and social media.
Minimum Term. Forever Manchester ask creators to trade for a minimum term of three calendar months.
Termination. Creators may cease trading after the minimum term by giving one weeks' notice in writing. Forever Manchester can terminate the trading agreement at any time with one one month's written notice.
Service Charge. 35% commission is applied to all sales of trader stock, Forever Manchester will collect the commission due before paying trader takings.
Trader Payments. Forever Manchester will pay creators' monthly takings by bank transfer the 7th day of the following month. Forever Manchester will send sales inventories for each month via email by the 5th day of the following month.
Trader Profile. Forever Manchester ask creators to provide a profile including a photograph.
Stock. Creators must provide retail price, product descriptions and images by 15th of the month in order to go live on the Forever Manchester Shop by 1st of the month.
Orders. Creator's orders received on the Forever Manchester Shop will be sent via email to the creator.
Fulfilment. Forever Manchester ask creators to carry out fulfilment of their products. All sales from the Forever Manchester Shop should include a "Thank you for purchasing" card.
Pop-up Shop. On occasion, Forever Manchester may have a pop-up shop where creators have the opportunity to have their stock on display.
Copyright. All creators are responsible for obtaining all relevant copyright and permissions for any items being sold and Forever Manchester is not liable for any infringement.
This list is not exhaustive and more detail is provided in the Forever Manchester Shop Trader Terms and Conditions which is to be sent to agree to be part of the Forever Manchester Makers.
---
Forever Manchester Makers
Amy Coney
Dave Draws
James Chapman
Name-Chains
Stan Chow
Stan Chow and Studio DBD
Tony Husband
Trevor Johnson
More to follow!

---
For Further Information, Please Contact:
Forever Manchester
2nd Floor, 8 Hewitt Street, Manchester M15 4BG
0161 214 0940
marketing@forevermanchester.com
---
Dated added: 13th October 2020
---