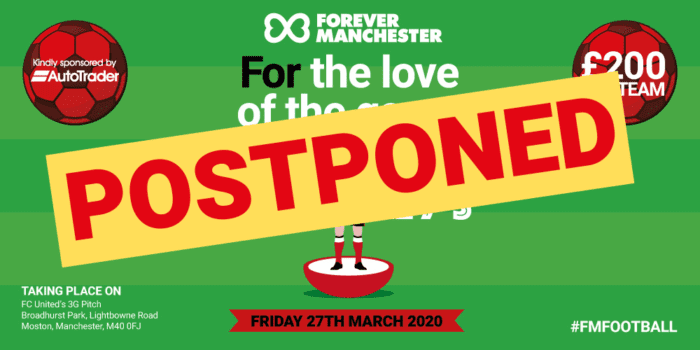 The annual Forever Manchester Football 7's Tournament, kindly sponsored by Auto Trader, planned for Friday 27th March 2020 has been postponed until further notice due to the Coronavirus outbreak.
---
All teams have been notified.
New Date: To be confirmed
FC United of Manchester – 3G Pitch
Broadhurst Park,
310 Lightbowne Road, Moston,
Manchester, M40 0FJ
The 7-a-side charity football tournament will see 15 teams competing against each other in the format of three leagues of five teams, followed by semi-finals and final. The tournament is open for male, female and mixed teams (minimum age of 16). Each team must have a squad of a minimum of seven players.
ALL 15 TEAMS HAVE NOW BEEN CONFIRMED
£3,500 HAS BEEN RAISED FOR FOREVER MANCHESTER.
As well as raising money for Forever Manchester to fund and support community activty across Greater Manchester, the tournament provides businesses with the opportunity for staff to come together as a team as well as meeting, and networking, with other local businesses.
---
The draw for the group stages of the Forever Manchester Football 7's Tournament was made on Wednesday 26th February.
---
Group A
Auto Trader #1
Indiespring
AT Engine Controls
HMG Paints
Beever and Struthers
Group B
Auto Trader #2
Deliveroo For Business
My Accountancy Place
Beech Holdings
Ampersand
Group C
Oscar Technology
Forward Role
Big Cloud
Express Solicitors
Pixel Kicks
---
About the Tournament
The full-sized floodlit 3G pitch will be divided into three pitches playing across the width of the pitch.
Each match will last 10 minutes and every team will be guaranteed to play a minimum of four matches. Matches will begin at 6pm, so players are encouraged to get to the ground in good time (from 5pm).
There is free car parking available, as well as access to the changing and shower facilities.
What to wear
We recommend that players in a team all wear the same coloured shirts. Coloured bibs will be provided if there is a clash of colours. Football boots and astroturf trainers are allowed, however metal studs/blades are forbidden. We recommend that all players should wear shin pads.
Match rules
All matches will be refereed by a qualified referee.
Each match will last 10 minutes (no half time)
Overhead height is allowed
Score from anywhere
Players can access all areas of the pitch
Goalkeepers can kick or throw the ball out
Goalkeepers can come out of the area but cannot handle outside of the area
No offside
Underarm throw-ins
After a goal has been scored play will resume from the centre circle
Free kicks and penalties will be given when fouls or hand-balls are committed
A red card for violent conduct will mean expulsion from the tournament for the player
The referee's decision is final.
No VAR!!!
Three points will be awarded for a win and one point for a draw. On each pitch the Group's Fixtures and Results from each match will be recorded and displayed.
The team with the most points in each league will progress through to the Semi-Finals. If points are tied at the top then it will go down to the best head-to-head result. If this is inconclusive then goal difference will decide, if that is the same then it is most goals scored. If this is still inconclusive, a penalty shoot-out (5 pens each) will take place between the two teams.
The team who finishes the best runner-up in terms of points will also progress to the Semi-Final. Likewise if the runners-up have equal points, then goal difference then goals scored will determine the best runner-up.
---
Tournament Sponsor – Auto Trader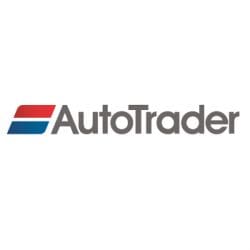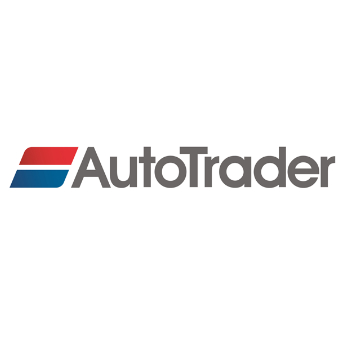 We would like to say a huge thank you to Auto Trader for kindly sponsoring the Football 7s Tournament, helping to cover the costs of tournament ensuring that all money received from the teams taking part goes to support community activity across Greater Manchester. Not only is Auto Trader sponsoring the tournament they are also entering 2 teams.
Helen Robinson , Diversity, Inclusion and Community Engagement Manager at Auto Trader, said "At Auto Trader we believe that sports play a vital role in the community by giving a chance for people to socialise and build strong relationships as well as encouraging a more active lifestyle."
With headquarters in central Manchester, Auto Trader Group plc is the UK and Ireland's largest digital automotive marketplace. Auto Trader sits at the heart of the UK's vehicle buying process and its primary activity is to help vehicle retailers compete effectively on the marketplace in order to sell more vehicles, faster.