This Summer, choose to make your fundraising activity fun by getting people together. The money you raise will mean that Forever Manchester can fund and support community activity across Greater Manchester, keeping it great.
---
Summer Spotlight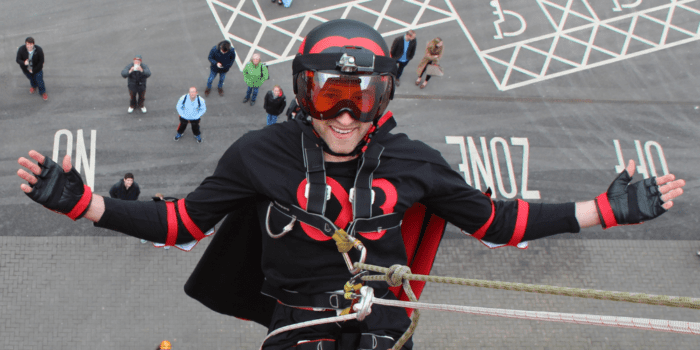 The Forever Manchester Abseil Challenge
Sunday 25th June (1 – 5pm)
Trafford Palazzo, Trafford Centre
£100 for a team of 4
Please note: This event has now been rescheduled. For more information click here
Take a leap of faith for Forever Manchester in our
charity abseil, providing the perfect challenge for
thrill-seekers or fear conquerors.
---
Matt & Phred's Night Out
Friday 21st July
£7
Manchester's iconic music venue Matt & Phred's will be hosting a lively night out to raise funds for Forever Manchester.
Summer Social
Make the most of the light evenings and arrange a team night out or an office get together. Why not organise a summer drinks, BBQ or Glastonbury social? Props and costumes optional! Simply charge for attendance and donate the money to Forever Manchester.
Win £1,000
Captain Manchester's Magical Tombola
Friday 14th July
Entering the draw is a great way to raise money for Forever Manchester while giving you the chance to win some fabulous prizes in return. Tickets are priced at £5 each per draw.

All proceeds from the sale of tickets go to Forever Manchester to fund and support community activity across Greater Manchester.

Click here to buy a ticket
Or to buy for a large number of staff, simply email
marketing@forevermanchester.com
The Forever Manchester Shop
Father's Day (Sunday 18th June)
Discussing what to get for Father's Day?
Encourage staff to shop at the Forever Manchester Online Shop.

With a fantastic selection of locally made gifts, proceeds from the sale of items go straight to Forever Manchester, making your gift-giving feel twice as nice.
---
Date added: 4th May 2023
---