Prepare to be impressed as we showcase the talents of local poets, musicians and comedians at Hard Rock Cafe on Wednesday 30th November (6pm-9pm), kindly sponsored by Opus 4.
Tickets for FM Live are priced at £10 each with all proceeds coming to Forever Manchester to support community activity across Greater Manchester.
We'll be starting with some laughs thanks to Hayley Ellis, a regular MC at gigs around the county, Hayley's natural warmth and charm make her impossible to dislike, something which has become evident in her success in new act competitions throughout the UK. Hayley is also a regular sight gag contributor to Russell Howard's Good News television programme. We're thrilled she'll be joining us for the first FM Live.
Following Hayley will be upcoming musician James Holt and for a special treat he'll be joined by his full band. James is a singer/songwriter from Manchester who plays with a band and has been supported/recommended by the likes of Brian Eno, KCRW, BBC Introducing, BBC Radio 2 (Dermot O'Leary), BBC 6music, This Feeling, Manchester Evening News and others.
His new EP 'Sanguine On the Rocks' was released on the 29th April 2016. Brian Eno chose James' song 'Whatever Happened to John?' for an arts festival last year and invited him to his John Peel Lecture where he had the opportunity to meet Eno himself. Eno said of the track: "Brisk, funny, exciting… this track feels fresh and exciting to listen to". James also recently performed at the Royal Albert hall. He's previously performed at our First Friday and we've got to say this performance will be an absolute treat.
Finally our Poet in Residence Tony Walsh, aka Longfella, will take to the stage. Tony is one of the UK's most renowned performance poets; a performer who can make you laugh, cry and feel passionate, proud and excited all at once! His 'This is the Place' and 'Silver Sparks' poems, written about Greater Manchester and Forever Manchester's role within it, will make you want to get up off your seat and do something to make a difference to Greater Manchester.
As well as our Poet in Residence, Tony has been the official poet for Glastonbury Festival, Kendal Calling Festival, the Great Manchester Run and many more. A regular on television and radio, he has performed everywhere from the main stage of the Lowry theatre to the Palace of Science and Culture in Warsaw, Poland. Tony was also commissioned to write the official tribute to Sir Alex Ferguson's illustrious career at the unveiling of Sir Alex Ferguson Way. "Absolutely brilliant! Unbelievable!" said Sir Alex.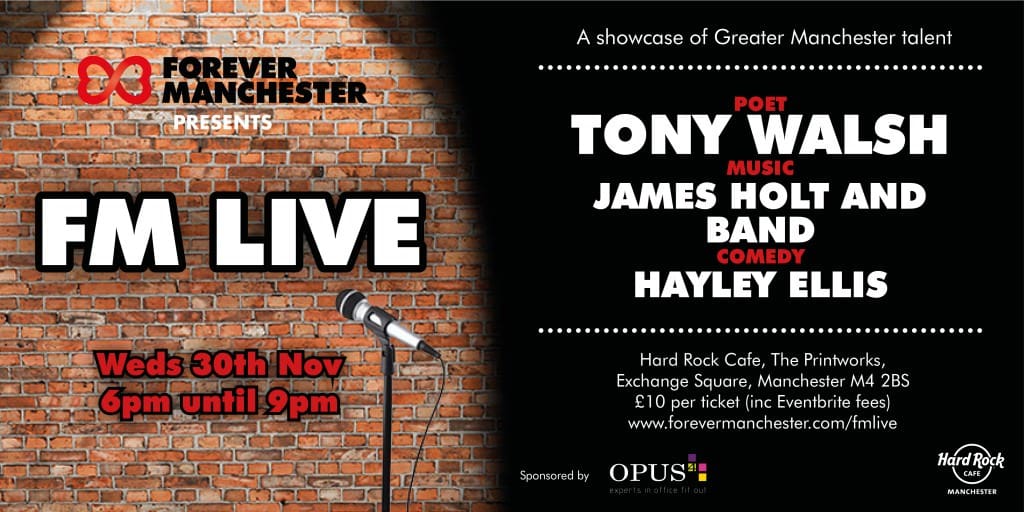 If you're looking for a heady mix of pure talent and a celebration of Greater Manchester there isn't another night like it.
FM LIVE
Wednesday 30th November 6pm-9pm
Hard Rock Cafe Manchester
The Printworks, Exchange Square,
Manchester, M4 2BS
Tickets priced £10 each are available to buy below. Alternatively, you can be invoiced for your ticket/s by emailing cheryl@forevermanchester.com.