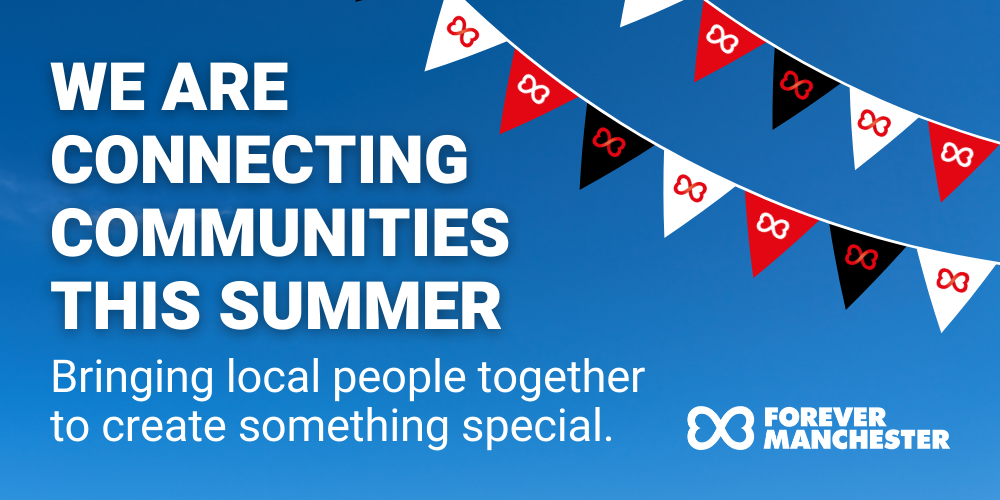 We were delighted to provide funding to help 157 community groups across Greater Manchester get together and connect with their neighbours and communities this summer.
Forever Manchester has always believed that connected communities make stronger, happier communities and love any activity that brings people together. That's why, every summer and Christmas for the last few years, we've awarded funds so that people can host events in their communities.
Many groups are to hosting get togethers, street parties, picnics and garden parties to celebrate the Queen's Platinum Jubilee, others are holding an afternoon tea in the park, a family treasure hunt, quizzes, music events, sports tournaments and much more.
Here are the many groups and activities we are delighted to support.
12th Leigh St Joseph's Brownies: Golf for Fun and Friendship and Mental Wellbeing
1st Wythenshawe Scout Group: Mad Hatter's Jubilee Tea Party
20th Leigh St. Peter's Brownies: Summer Party for Brownies and Friends
4th Newall Green Brownies: Sports and picnic evening
A Factory of Creativity CIO: Summer School
A4 Studios: Jubilee Workshops
Acton House Resident Fund: Jubilee Garden Party
African Community Togetherness (ACT): Afternoon Tea
AGSB PFA: Plant and Cake Sale
All Saints' Church Lads' and Church Girls' Brigade: Jubilee Community Picnic and BBQ
Ambergate Residents Association: Social Club
Aspull RUFC: In It Together Family Fun Day
Bamfurlong Neighbourhood Group: Platinum Jubilee Celebration
Beehappym34: Jubilee party for my elderly and disabled residents
Believe Achieve CIC: Queen's Jubilee Tea Party
Benchill: Platinum Jubilee Street Party
Bloc Ashe Bury Community Samba Group: All Saints Jubilee Celebration
Bnos Yisroel School Extra Curricular Account: Community Fun Day
Bolton Deaf Society: Brainiacs
Bolton Methodist Mission: Jubilee Indoor Street Party
Bramhall Community Hub: Afternoon Fun in the Sun
Broadoak and Smallshaw Community Association: Big Party for the Whole Community
Brookhouse Community Association: Queens Jubilee Celebration
Brunswick Village Jubilee Tea Party
Burnside Centre: Afternoon Tea
Cadishead TARA Community Association: Jubilant Jubilee
Cale Green Park Residents Association: Summer Fun day
Castleton Kids!: Castleton Together
The Counselling Family Centre: Jubilee Embroidery, crafts and chat
Christ Church Denton: Queen's Platinum Jubilee Lunch
Church Lane Community Centre: Jubilee Joy
Citizenship Group: Community Summer Party
Community Buds: Hawkshaw Gala – Platinum Jubilee
CommUNITY Little Hulton: Queens Jubilee Intergenerational Event
Cranston Drive Neighbourhood Watch Street Party: The Big Get Together Street party
Crossacres Cultivators: Platinum Jubilee party
Crossefield Road and Meadway Road: Street Party 2022
Deaf Rhinos: Deaf Summer Outing
Debdale Bowling and Social Club: Tester Day
Dementia Carers Social Group: Musical Tea In the Park Event
Denton Artistic Swimming Club: Garden party
Didsbury Good Neighbours: Didsbury good neighbours street party
Domestic Violence Assist: Jubilee DV Awareness
Dragon's Voice: Fabulous August Bank Holiday
East Lancs Papermill Rounders Team: Fun Day
Emmaus Mossley: The Big Jubilee Lunch
Ephrata Church Community: Celebrate Queen's Platinum Jubilee and our volunteers' achievements
FACT Charity: Jubilee Party
Friends of Fairless Road: Jubilee Party
Fitton Hill & Hathershaw Bulldogs ARLFC: Queens Jubilee Party
Forever Green Community Group: Jubilee Street Party & Community Picnic
Former Height Youth Centre Association: The Big Jubilee Tea Party
Friends of Herristone Park: Picnic in the Park
Friends of Kearsley Mount Cottage: Afternoon Tea for Carers of those with Dementia
Friends of Marple Memorial Park: 100th Birthday Family Treasure Hunt in Marple Memorial Park
Friends of Samwoods House: The Queens Platinum Jubilee Garden Party
Gateway Support Group: To Better Integrate, Learn the Culture.
Global Grooves: The Space Summer Party
Grace Church Bolton: Community Funday
Grace Coffee Morning: Windrush Day
Greenfields Social Group: Jubilee Garden Party
Greenmount Village Community: Jubilee Treasure Hunt Trail to Peel Tower
Guinean Society Of Greater Manchester: Jubilee Commemoration
Heath Street: Jubilee Coffee Morning
Heaton Norris Friends of the Park: Jubilee Picnic in the Park
Heatons' Men In Sheds: Canal Trip
Hindley and Hindley Green Community Action Group: Big Family Picnic
Hyde Little Theatre: Afternoon Tea
Irlam and Cadishead Healthy Heart Club: Jubilee Party
JC Foundation Trust: Walking Fit
JCO Group: Street Party to Celebrate the Queen's Platinum Jubilee
Jigsaw Bury: Summer Community BBQ
Kearsley Park Bowling Club: Jubilee High Tea
Kings People's Church: Youth Summer Social
Kings Square Library: Jubilee Celebration
Konkani Cultural Association: Mini Gathering 2022
KRIMMZ Girls Youth Club: Summer BBQ
Lancashire Veterans Association Heywood: Queen's Jubilee Party
Lancaster House: Sports Day
Lane Head South Residents' Group (LHSRG): Mt Tabor Jubilee Party
Langworthy Reds ARLFC : Celebrate the Queens Jubilee
Lawler Avenue Residents Group: Neighbourhood Picnic
Little Lane's Jubilee Celebration
Littleborough Amateur Boxing Club: Sumner fair and fitness
Longsight Lodge Residents Association: Ho Down
Love Heaton Norris: Queen's Jubilee Celebrations
M18 Community Care Hub Support Services: Community Jubilee Party
Manchester Vineyard: Fun Time Friday
Meet and Eat: Queens Jubilee Afternoon Tea
Middleton Day Centre: Quiz days
Middleton Lads & Girls JFC: Summer Football Fun Day
Middleton Rounders Club: Family Rounders Camping Trip
Miners Community Arts and Music Centre: Afternoon Tea in Moston Small Cinema
Monday Community Club: Jubilee Get Together
Moodswings Network: Community Open Day
Mossley Community Association: Jubilee Garden Party
Multiple Sclerosis Therapy Centre (NW): Volunteer Celebration Party
MyColdhurst: Jubilee Street Parties
New Life Church: Jubilee Bake off and Fun Day
New Springs Community Project Group: 50's Themed Afternoon Chai and Chat
Noah's ART: Celebration Event
Nostell Road: The Queens Platinum Jubilee Street Party
On Top of the World: Jubilee Celebration Afternoon Tea
Out In The City: Welcome Party
Park House Residents Group: Cocktails on the patio
Peel Estate Home Watch Group: Queen Jubilee Summer Party
Pelham Street: Jubilee Party
Pennine Mencap: Queens Jubilee 'On Her Majesty's Service' Tea Party
Phoenix Outreach: Valley Close Jubilee Celebration
Polish Centre Wilno Manchester: Children's Day
Positive Steps Project: Brunswick Community Summer Ball
Ramsbottom Angling Association: Summer BBQ
RC Parish of ST.Cuthbert Bolton: Family Fun Afternoon
Refugees & Mentors: Volunteers Week get together
Renew Stockport: Fun in the Park
Residents of Bramhall Close: Queens Jubilee Celebration
Richmond Street Community Centre: Jubilee party
Royal Oak and Baguley Residents Association: Summer Beach party
Ryecroft Hall Community Association: Band in the Park
Salford Loaves and Fishes: Jubilee Afternoon Tea
Salford Veterans Breakfast Club: Grand Opening Of The Salford Veterans Community Cafe
Seedfield TRA: Summer Members Meeting
Shevington & District: Community Fete
Simply Cycling: Summer party
St Gabriel's Place of Welcome: Queen's Platinum Jubilee Celebration Party
St George's Community Centre, Dane Bank, Denton: Jubilee Street Party
St Margarets Centre: Social
St. John (Ellesmere) Community Centre: Jubilee Celebration
Stalybridge Town Team: Bridge Fest '22
Step Ahead Community Group: Summer 2022 Get Together
Stepping Stones Creative: Using the Arts to Celebrate The Jubilee
Stockport Afternoon Flower Club: Jubilee Coffee Morning
The Angel Centre: Street Party
The Byrons Social Club: Platinum jubilee BBQ
The Federation of Jewish Services: The Fed Carers Jubilee Party 2022
The Garden House Marple Charity: Nature's Music
The Grafton Centre: The Queen's Platinum Jubilee 2022
The Great Lever and Farnworth Voice: Jubilee Picnic
The Officials Fandeme – BBQ Get Together Party
The River Manchester: Hats off to the Queen!
The Rough Diamonds: Afternoon Tea
The Sunnywood Project Burrs Community: Big Summer Run
Thorburn Residents: Queen's Julilee Party
TLC St Luke's: Jubilee celebration
Together Dementia Support CIC: Big Band Afternoon Tea
Trafford Deaf Children's Society: Friendly Games
Umoja Community Support (UCOS): Afternoon Tea
Victoria Park Community Centre: Jubilee Afternoon Tea
Vintage Worx Community Development Trust: Celebrate
Warburton Village Committee: Village Picnic
Wardley Residents Group: Wardley Great Get Together Picnic In The Park
Wavell Drive: Street Party for the Platinum Jubilee
Westhoughton Vision: Bingo Afternoon for the over 50's and vulnerable groups.
Winifred Street RA: Queens Jubilee Street Party
Women's Matters: Celebration of life Afternoon Tea
Wonderful Life Academy: Well-being walks
Youth Empowerment Leadership And Anti-Crime Hub "Yelah": A Sumptuous Pot of Love
---
Date added: 1st June 2022
---