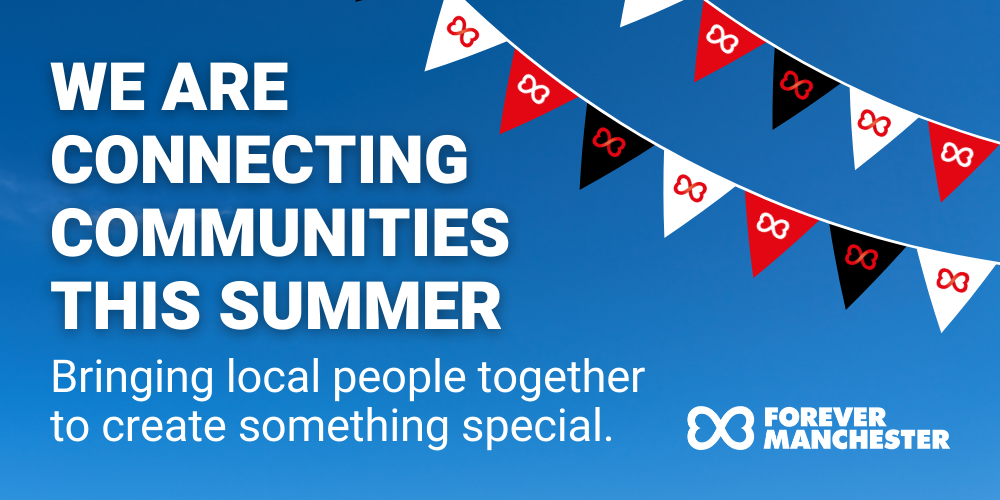 We were delighted to provide funding to help 69 community groups across Greater Manchester get together and connect with their neighbours and communities this summer.
Forever Manchester has always believed that connected communities make stronger, happier communities and love any activity that brings people together. That's why, every summer and Christmas for the last few years, we've awarded funds so that people can host events in their communities.
Many groups are to hosting get togethers, afternoon teas, picnics, and garden parties to bring their local community together, whilst others are holding cookery events, walking tours, quiz afternoons, music events, sports tournaments and much more.
Here are the many groups and activities we are delighted to support:
1st Wythenshawe Scout Group – Dungeons & Dragons Camp
Action for Children Bury Social Opportunities Service – Sports Fun Day
Action Station North West Community Interest Company – Summer fun
Aim 4 Hope CIC – Summer Party
Barlow Moor Community Association – Connecting with BMCA this summer
Become United – Community Food & Quiz
BeehappyM34 Residents Wellbeing Community Project – 1st Anniversary Summer Bee Tea Party
Bennet street over 50s – 50 plus club
Brinnington savers – Chester day trip
Charles Morris House social fund – Afternoon Tea
Christ Church Pennington – Summer Picnic
Communities for All – Get together for all
Creative Living Centre – Walking Get Together
Dancing with Dementia – Caribbean Beach Party
Deaf Rhinos – Food and Quiz Day
Four Seasons Unite – Summer Cream Teas in Extra Care Schemes
Friends Of Green Grosvenor Park – Family Fun Day
Friends of Marbury Road Edible Garden – Pilates in the park
Friends of Stamford Park – August Park Clean Up
Friends of West Gorton Community Park – Party in park
Golborne Community Members Club – Monday Club
Happy Somedays – Snowden Climb 2023
Hindley and Hindley Green Community Action Group – Family Bingo Evening
Hopwood Court Social Fund – Afternoon of Music
Jigsaw Bury – Summer Croquet & Picnic
King Foundation – Summer Treats
Kings Church Bolton – Sports Day in the Park
Kirkwood Close Residents Group – Grease Movie Night under the stars
Lancashire Hill Family Activity Group – Lancashire Hill Summer Picnic
Lee court social club – Garden party
Leigh & District u3a – Leigh & District u3a Open Day
Lips Inked Arts CIC – Yoga and Sing for wellbeing
Longsight Lodge Residents Association – Afternoon Tea Party
Make Build Grow C.I.C. – Make Good Friends
Mandem Meetup – Summer Meet Up & BBQ
Mindful EventsUK CIC – Picnic
Morrisso Health – Sports Day
New Testament Church of God – Teddy Bears Picnic
Ordsall Community Arts Centre – Local History with afternoon tea
Out In The City – Scranchester Walking Tour
Platt Bridge Community Centre – Family Fun and Activities
Platt Bridge Morris Dancers – Morris Competition
Polish Centre Wilno Manchester – Summer party
Queer Roots Collective – Alternative Pride Fundraiser
Ruby's diversity network – Cookery event
Shines – THRIVE Fest
Smithy's Bereavement Group – Smithy's Afternoon Tea
St Margaret's Centre and Playing Fields – St Margaret's Centre Community School holiday Cafe
Stockport ME Group – Summer Get Together
Street Part Caistor Close – Street Party
Syrian Community Council – Community Meal
TalkFIRST – 1st Birthday Celebration
Tandle View Court Social Club – Summer Quiz
Target Community Cafe – Target BBQ
The Centre of Yes – Meditation and Natural healing open day
The Federation of Jewish Services (The Fed) – Project Smile Summer Camp
The Friends of Hopwood Park – Afternoon tea with music from the decades
The Grafton Centre – The Grafton Centre Summer Fair
The Quiet Space – Summer Craft Event
The River Manchester – Afternoon Tea
Thriving Together – A picnic in the West Gorton Community Park
Thyme for Everyone – Summer Launch Party
TLC St Luke's – Summer fun at TLC
Trinity House Residents Group – Afternoon Tea
Unity As One Youth Club – Summer holidays family picnic at the Crescent
Victoria Baths Trust – Picnic in the Pool
Worsley Mesnes South Community Action Group – Summer Get Together
Wythenshawe Safety Patrol – Family Quiz Get Together
Wythenshawe Warriors Walking Football Club – Walking football tournament
---
Date added: 4th August 2023
---