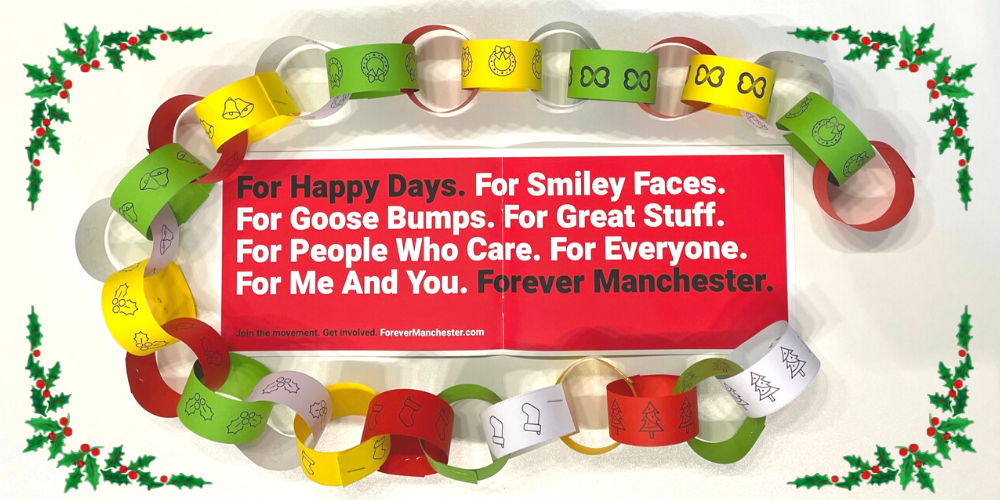 We are delighted to announce that we have supported 175 community groups across Greater Manchester to celebrate Christmas together.
Forever Manchester has always believed that connected communities make stronger, happier communities and love any activity that brings people together. That's why, every summer and Christmas for the last few years, we've awarded funds so that people can host events in their communities.
Last Christmas we saw an array of incredible ideas which enabled people to get together in person, putting on Christmas parties and walking trails, whilst others enjoyed digital events, all bringing the Christmas spirit to their community. This year as people face hard times ahead, we want to celebrate neighbours and local people who are standing strong together.
Download our Festive Paper Chain
To help groups add a bit of festivity to their Christmas celebrations, we have a produced a Connecting Communities at Christmas Paper Chain template.
All you need to do is:
Download the template below.
Print out multiple copies on plain or coloured paper (22 strips makes 1 metre of chain).
Cut out the strips.
Make a loop with one of the strips and glue or staple in place.
Pass the next strip through the first and repeat to create the chain to your desired size.
Download Paper Chain
Please share you paper with us on social media at
Twitter: @4EVERManchester
Instagram: @4EVERManchester
Facebook: /ForeverManchester
Linkedin: Forever-Manchester
---
Date added: 22nd November 2022
---