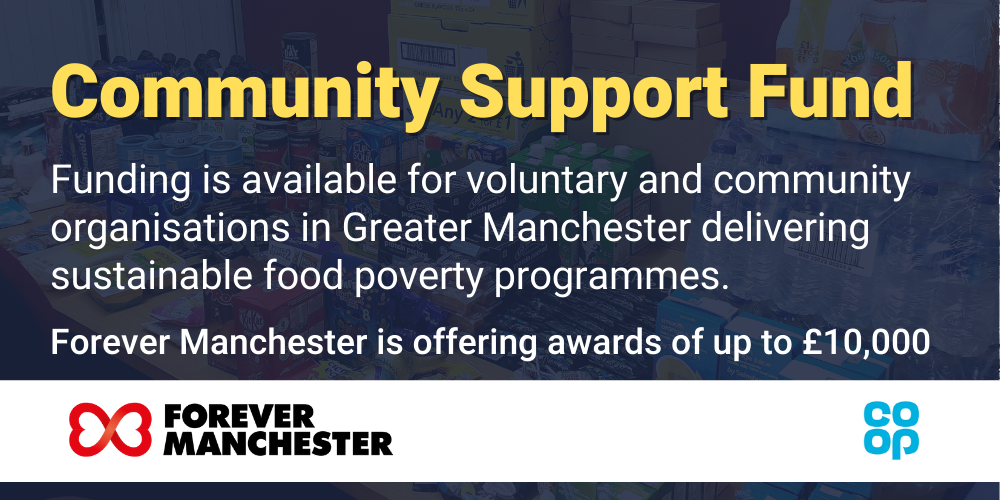 Community Support Fund is NOW CLOSED FOR APPLICATIONS.
The deadline to apply was midday on 13th November 2020.
New funding announcements will be published on our website, featured in our newsletter and shared on our social media channels.
For this round of the Community Support Fund, supported by the Co-op, we are accepting applications from voluntary and community organisations based in any of the ten boroughs of Greater Manchester.
The focus for this funding is sustainable food poverty programmes.
---
Who Can Apply?
To apply you need to be a charity or community group with your own bank account and relevant safeguarding policies in place. We expect you to be based in the area where you are delivering activity.
For this round we are only supporting sustainable food poverty programmes. This means food programmes for vulnerable communities that are delivered in those communities.
Food poverty programmes must be the core purpose of your organisation and this should be demonstrated in your organisation's aims and objects as shown in your governing documents. Applications which do not meet this criterion will be rejected.
Applicant organisations must have been established for at least 12 months.
Priority will be given to groups with an annual income of less than £150,000.
How much can you apply for?
You can apply for up to £10,000, but as we expect a lot of applications and we will not be able to fund them all, we ask that you only apply for what you know you need.
What can you apply for?
We are prioritising applications which are providing a food poverty programme in direct response to community hardship created by the Covid-19 pandemic. This could be for responding to ongoing emergency needs or for making changes to how you work so that you can continue to help those affected by the Covid 19 pandemic over the coming months.
For example, projects could include, but are not limited to:
Provision of food parcels to those most in need.
Meal delivery service for the vulnerable and shielding.
Increased hours for part time frontline workers to deliver services.
Purchasing additional equipment to respond to increased demand on services.
You must be able to demonstrate how you make sure what you offer is visible to those who need it, e.g. through social media pages, your website or sharing information through partners in the area.
How long will a decision take?
We aim to assess your application and give you a decision within four weeks of the closing date, but please note we can only do this if you provide us with all the supporting documents requested.
Supporting Documents
For help and guidance on your groups supporting documents and to see what we require to be submitted alongside your application, please refer to our guidance which you can find here: For Supporting Information
Deadline for Applications
We will close for applications at midday on Friday 13th November 2020. Any applications received after this time will not be considered.
If you have any questions or have trouble completing the form, please contact us at awards@forevermanchester.com or phone 0161 214 0940.
---
Date added: 26th October 2020
Last updated: 13th November 2020
---