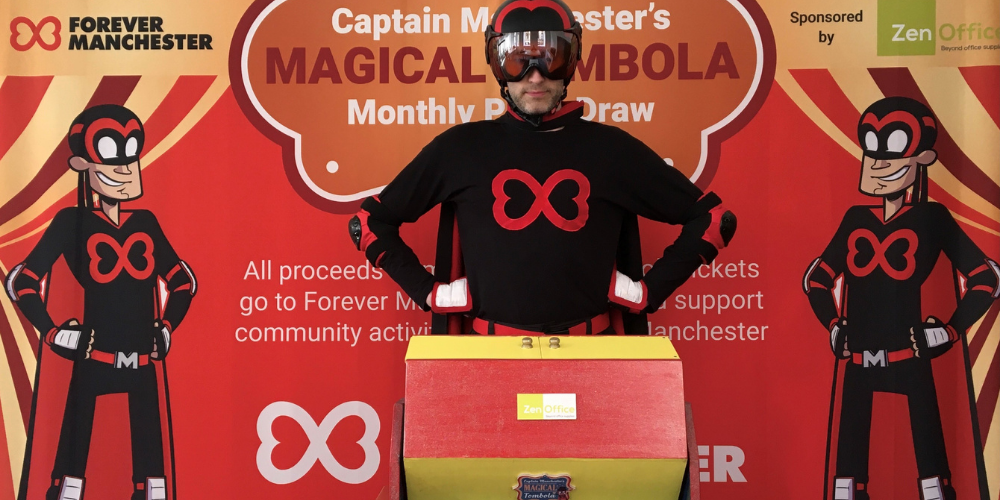 We'd like to say a huge thank you to everyone who entered the Christmas Special of Captain Manchester's Magical Tombola. Whilst the main draw took place on Friday 16th December 2022, a second Golden Ticket was also available to win on Boxing Day…
An impressive 1,258 tickets were sold raising an amazing £6,290 for Forever Manchester to fund and support community activity across Greater Manchester.
We are also delighted to announce that since the Tombola began in February 2017 we have raised a magnificent £147,560
The draw was made by our very own Captain Manchester, live at our Pop-Up shop!
---
The £500 Golden Ticket winner is:
Samuel Anderson
---
We used the following website to generate the name of the winner –https://www.gigacalculator.com/randomizers/random-name-picker.php
They say: "Our random name picker first assigns incremental integer IDs to each name you enter, then uses a robust random number generator to produce a number in the range from minimum to maximum. The RNG algorithm is cryptographically safe, results in an unbiased pick, and can be used instead of a coin, dice, or another more primitive randomizing device (which might actually be biased due to imperfect construction)."
"The random selector has been tested statistically through simulations so you can be assured it is doing its job of giving each name an equal chance of being picked on any particular draw from the virtual urn / bag of names."
---
The winner will be contacted directly regarding how to claim their prize once we return to the office on Tuesday 3rd January 2023.
Tickets are now available for the next draw of Captain Manchester's Magical Tombola, taking place on Friday 13th January 2023.
You can buy tickets for the next draw by clicking the red button below or you can set up a monthly direct debit by clicking on the black button.
BUY A TOMBOLA TICKET
SET UP A DIRECT DEBIT NOW
---
Date added: Monday 26th December 2022
---