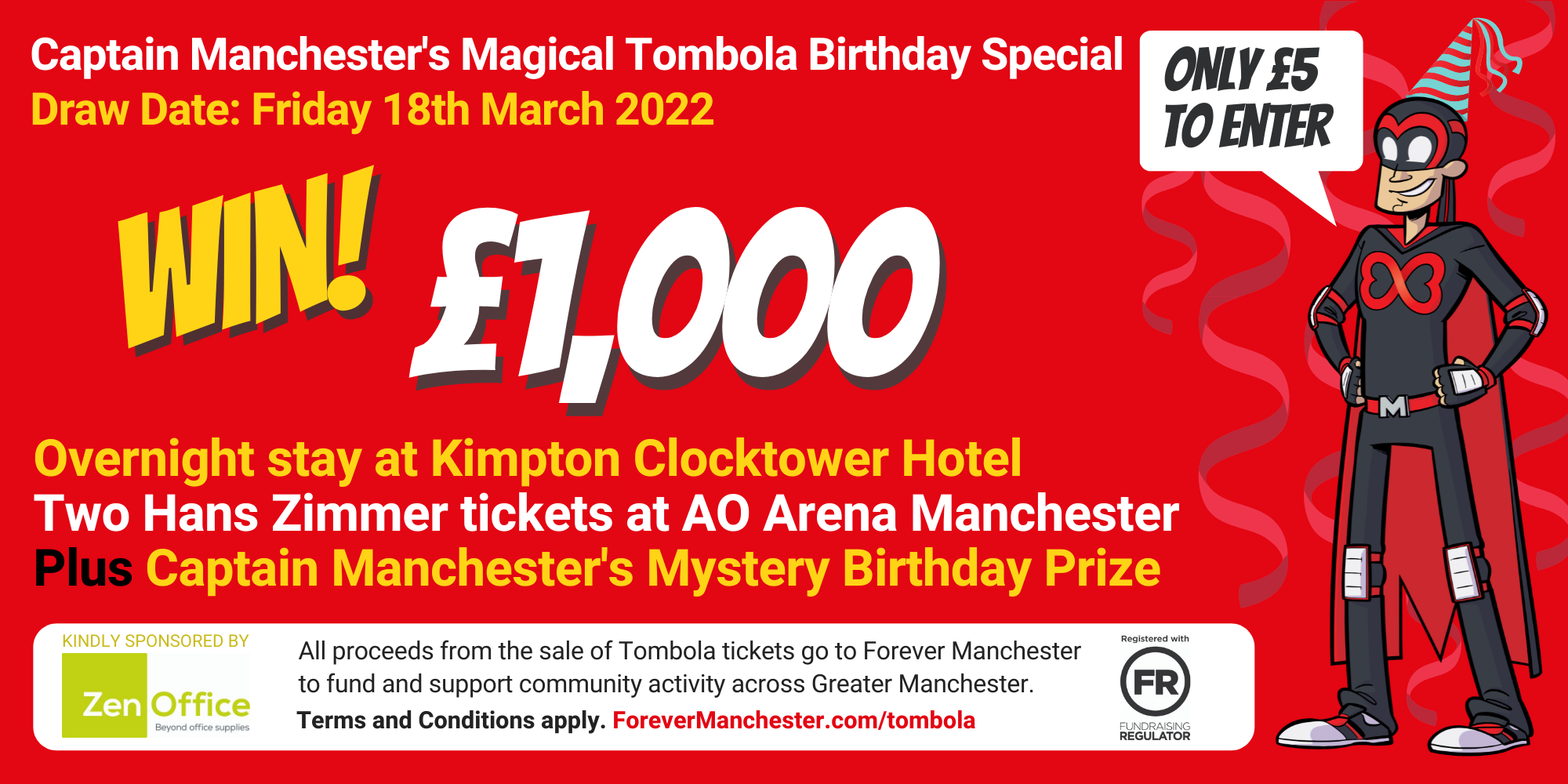 We're delighted to announce that the next draw of Captain Manchester's Magical Tombola, sponsored by ZenOffice, will take place live at our Birthday Party on Friday 18th March 2022.
For just £5 a ticket, you could win our first prize of £1000, with amazing prizes too for second and third place. Including an Overnight hotel stay at Kimpton Clocktower Hotel and Two Hans Zimmer tickets for his show at the AO Arena Manchester in March. Keep reading to find out more about these fantastic prizes.
Captain Manchester's Magical Tombola is one of Forever Manchester's main fundraising activities, raising money to fund and support community activity across Greater Manchester.
The deadline to enter online is 12pm on Thursday 17th March 2022. The draw will be made live at our Birthday Party on Friday 18th March 2022.
---
1st Prize: £1,000
This can be spent however you heart desires! Fancy a shopping spree in Selfridges? A night out at some of Manchester's most luxurious bars and restaurants? Or maybe you're saving for something extra-special?
---
2nd Prize: Overnight Stay at Kimpton Clocktower Hotel
With its Victorian architecture and fresh approach to hospitality, Kimpton Clocktower Hotel has a history that dates back to 1890. Glamorous and luxurious with new things to discover at every turn, an overnight stay here is a real treat.
Kindly provided by Kimpton Clocktower Hotel.
---
3rd Prize: Two Hans Zimmer Tickets
Oscar, Grammy and Golden Globe Award-winning composer Hans Zimmer returns to the stage for a major new arena tour, joined by a band, orchestra and choir to perform hit compositions from fan favourite films as well as newer material.
These tickets are for his show at the AO Arena Manchester on Thursday 24th March 2022.
Kindly provided by the AO Arena Manchester.
---
4th Prize: Captain Manchester's Mystery Prize
It's a mystery!! What does the Captain have in his box of tricks?
---
HOW TO ENTER
You must be over 18 to enter. Please read the Terms and Conditions.
It is £5 per chance to enter. You can choose to have up to six chances by selecting the relevant amounts via the buttons below. Complete the form and make your card payment. Then wait patiently with everything crossed for the draw on Friday 18th March 2022.
You will then receive a email to confirm that your payment has been made. Forever Manchester will email you after the draw has been made to announce the lucky winners.
Good Luck!
Online Entries for the March tombola are now closed.
---
SET UP A DIRECT DEBIT
If you wish to be automatically entered into future Tombola draws you can set up a monthly direct debit using the link below. You can choose to have up to six chances per month by selecting the relevant amount. For example, if you choose to have two chances per month, select "£10 (two chances)" and each month we will enter two tickets into the draw for you.
When setting up the direct debit, you will be given a date of your first collection. If the date provided is after the next draw date, and you want to be entered into the next draw, you will have to buy a 'one-off' ticket for the next draw. For all future draws, you will be automatically entered into the draw.
If you wish to cancel your direct debit at any time, you can do so via your own bank, but please email us at accounts@forevermanchester.com to let us know.
Once you have set up your direct debit, you will receive a confirmation email for you to check and confirm your details. We will be automatically notified of your direct debit payment.
If you encounter any problems, or have any questions regarding the direct debit payment, please email us at tombola@forevermanchester.com.
SET UP A DIRECT DEBIT
---
Date added: Friday 12th February 2022
---