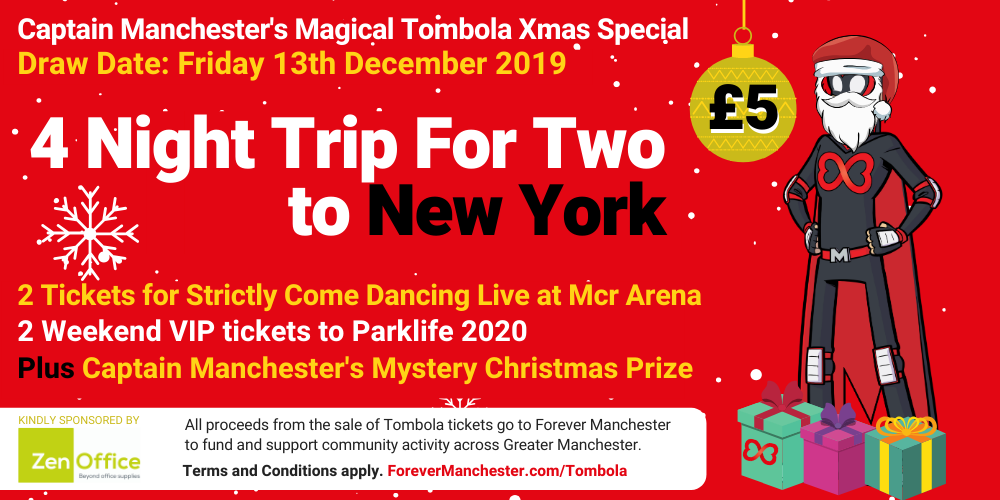 We're delighted to announce that the next draw of Captain Manchester's Magical Tombola, sponsored by ZenOffice, will take place on Friday 13th December 2019.
The November draw was a huge success, with 385 entries raising a fantastic £1,925 for Forever Manchester to fund and support community activity across Greater Manchester.
The deadline to enter online is 12pm on Thursday 12th December
If you wish to take part in the Tombola draws every month you can now set up a monthly direct debit (scroll to the bottom of this page for more details).
Alternatively you can just buy tickets for the next draw by clicking the button below:
SET UP A DIRECT DEBIT FOR THE TOMBOLA

---
1ST PRIZE: A wonderful 4-night trip for two to New York.
With over 60 million visitors annually, New York City is one of the most popular destinations in the world attracting visitors from around the globe.
There's no end to the list of fun things to do in New York; from visiting historic landmarks such as Empire State, Statue of Liberty, 9/11 memorial, Central Park, popular museums such as MoMA, innovative galleries, shopping, restaurants, bars and big-city culture, New York has something to offer everyone.
See bottom of page for 'Holiday Conditions of Entry'
---
2ND PRIZE: Two tickets for 'Strictly Come Dancing: The Live Tour' at Manchester Arena on 26th January 2020.
The audience can expect to enjoy an unmissable evening of dance entertainment filled with colour, excitement and humour. Showcasing all the amazing choreography and live music that Strictly is known for, audiences will experience a host of breathtaking dance routines guaranteed to leave them reeling and roaring for more.
Recreating the glitz, glamour and magic seen on the TV, this show is undoubtedly a must-see spectacle for fans and families up and down the country.
Kindly provided by Manchester Arena
---

3RD PRIZE: Two Weekend VIP tickets for Parklife at Heaton Park on 13th & 14th June 2020.
Parklife Festival has grown into one of the UK's most anticipated, annually showcasing a diverse lineup of underground dance and alternative music inside Manchester's Heaton Park.
Annually putting together a lineup anchored by some of the best underground DJs in the world, Parklife has expanded in recent years to include everything from grime and hip hop to pop and rock.
Kindly provided by Ground Control UK
---
4TH PRIZE: Captain Manchester's Mystery Prize
It's a mystery!! What does the Captain have in his box of tricks?
---
Here's a reminder of what you have to do – and remember every penny raised will be helping Forever Manchester fund and support community activity across Greater Manchester.
How Can I Enter?
You must be over 18 to enter
Read the Terms and Conditions
Have your card details ready (it is £5 to enter one ticket – but you can buy more than one to increase your chances!)
Click the 'Buy a ticket' button and fill out the form
Wait patiently with everything crossed for the draw on Friday 13th December.
It's that simple!
You will then receive a notification via email that your entry has been submitted. We will contact you to acknowledge receipt of your payment, and contact you again after the draw to let you know if you've been lucky or not.
Good luck!
---
SET UP A DIRECT DEBIT
If you wish to be automatically entered into future Tombola draws you can set up a monthly direct debit using the link below. You can choose to have up to six chances per month by selecting the relevant amount. For example, if you choose to have two chances per month, select "£10 (2 chances)" and each month we will enter two tickets into the draw for you.
When setting up the direct debit, you will be given a date of your first collection. If the date provided is after the next draw date, and you want to be entered into the next draw, you will have to buy a 'one-off' ticket for the next draw. For all future draws, you will be automatically entered into the draw.
If you wish to cancel your direct debit at any time, you can do so via your own bank, but please email us at accounts@forevermanchester.com to let us know.
Once you have set up your direct debit, you will receive a confirmation email for you to check and confirm your details. We will be automatically notified of your direct debit payment.
If you encounter any problems, or have any questions regarding the direct debit payment, please email us at tombola@forevermanchester.com.
SET UP A DIRECT DEBIT FOR THE TOMBOLA
---
HOLIDAY CONDITIONS OF ENTRY
Althams Travel will manage and plan the trip on behalf of Forever Manchester.
The prize includes return flights from Manchester and four nights' accommodation for two people to the advertised destination (board unspecified).
The holiday is to be booked between the date of the draw and up to six months after the date of the draw. Both hotel and flights are subject to availability. Early booking is recommended.
The prize does not include travel insurance, visas (if applicable), airport transfers, meals and refreshments, optional activities or spending money.
The winner must be at least 18 years old and hold a valid 10-year UK passport, with six months or more remaining after return to the UK.
The winner must be contactable from the hours of 09:00 to 19:00 by telephone or email for 14 working days from first being contacted by Althams Travel and in a position to agree travel dates within this time period.
---