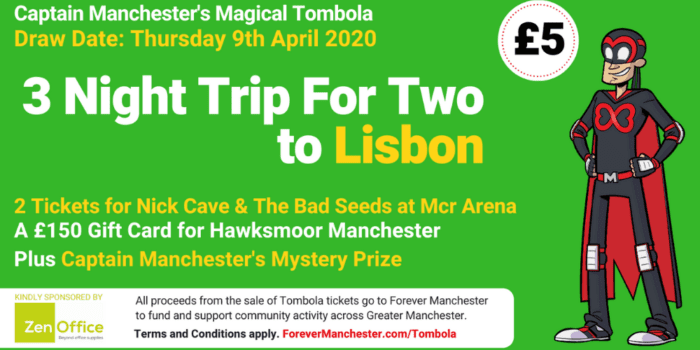 The next draw of Captain Manchester's Magical Tombola, sponsored by ZenOffice, will take place on Thursday 9th April 2020 as planned.
The prizes for April's draw were decided prior to the current emergency. Winners will be able to claim their prizes once the world is back to normal
From next month the normal prizes of weekend breaks, concert tickets and restaurant meals will be changed to all cash prizes more details to follow.
Captain Manchester's Magical Tombola draw is one of Forever Manchester's main fundraising activities, raising money to fund and support community activity across Greater Manchester.
Your support is needed more than ever and we hope that you will continue to help us by buying tombola tickets during this difficult time.
The deadline to enter online is 12pm on Wednesday 8th April.
---
For any potential concerns related to the Coronavirus

To ease any concerns regarding our prizes.
Holiday trips can be booked anytime within 6 months of the draw and can be taken anytime thereafter.
We are currently liaising with Manchester Arena regarding the status of the concert.
The Hawksmoor voucher is valid until 11.02.2021
---
---
---
1ST PRIZE: A wonderful 3-night trip for two to Lisbon
Impressive sights and a lifestyle like no other – strolling the streets of Portugal's capital will bring you a whole world of delights.
---
2ND PRIZE: Two Tickets for Nick Cave & The Bad Seeds at Manchester Arena
One of the most critically acclaimed acts working today, Nick Cave & The Bad Seeds have sold over five million albums worldwide to date. Their influence has been profound and far-reaching and they remain one of the most powerful and exciting acts in the world.
---
3RD PRIZE: A £150 Gift Card for Hawksmoor Manchester
Located in a late Victorian courthouse on Deansgate, next door to Spinningfields, their aim is to serve the best steaks in Manchester.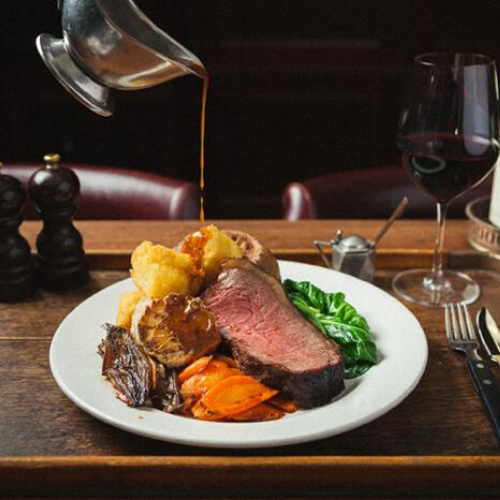 ---
4TH PRIZE: Captain Manchester's Mystery Prize
It's a mystery!! Who knows what the Captain has in mind.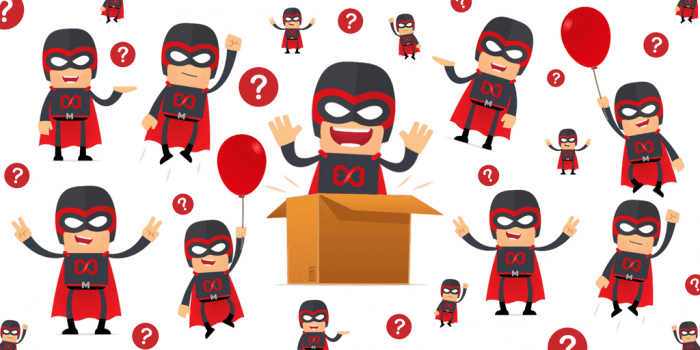 ---
Here's a reminder of what you have to do – and remember all proceeds go to Forever Manchester to fund and support community activity across Greater Manchester.
How Can I Enter?
You must be over 18 to enter. Read the Terms and Conditions. Have your card details ready (it is £5 to enter one ticket – but you can buy more than one to increase your chances!)
Click the 'Buy a Ticket' button and fill out the form. Wait patiently with everything crossed for the draw on Thursday 9th April.
It's that simple!
You will then receive a notification via email that your entry has been submitted. We will contact you to acknowledge receipt of your payment, and contact you again after the draw to let you know if you've been lucky or not.
Good Luck!
---
---
SET UP A DIRECT DEBIT
If you wish to be automatically entered into future Tombola draws you can set up a monthly direct debit using the link below. You can choose to have up to six chances per month by selecting the relevant amount. For example, if you choose to have two chances per month, select "£10 (2 chances)" and each month we will enter two tickets into the draw for you.
When setting up the direct debit, you will be given a date of your first collection. If the date provided is after the next draw date, and you want to be entered into the next draw, you will have to buy a 'one-off' ticket for the next draw. For all future draws, you will be automatically entered into the draw.
If you wish to cancel your direct debit at any time, you can do so via your own bank, but please email us at accounts@forevermanchester.com to let us know.
Once you have set up your direct debit, you will receive a confirmation email for you to check and confirm your details. We will be automatically notified of your direct debit payment.
If you encounter any problems, or have any questions regarding the direct debit payment, please email us at tombola@forevermanchester.com.
---
HOLIDAY CONDITIONS OF ENTRY
Althams Travel will manage and plan the trip on behalf of Forever Manchester.
The prize includes return flights from Manchester and three nights' accommodation for two people to the advertised destination (board unspecified).
The holiday is to be booked between the date of the draw and up to six months after the date of the draw. Both hotel and flights are subject to availability. Early booking is recommended.
The prize does not include travel insurance, visas (if applicable), airport transfers, meals and refreshments, optional activities or spending money.
The winner must be at least 18 years old and hold a valid 10-year UK passport, with six months or more remaining after return to the UK.
The winner must be contactable from the hours of 09:00 to 19:00 by telephone or email for 14 working days from first being contacted by Althams Travel and in a position to agree travel dates within this time period.
---