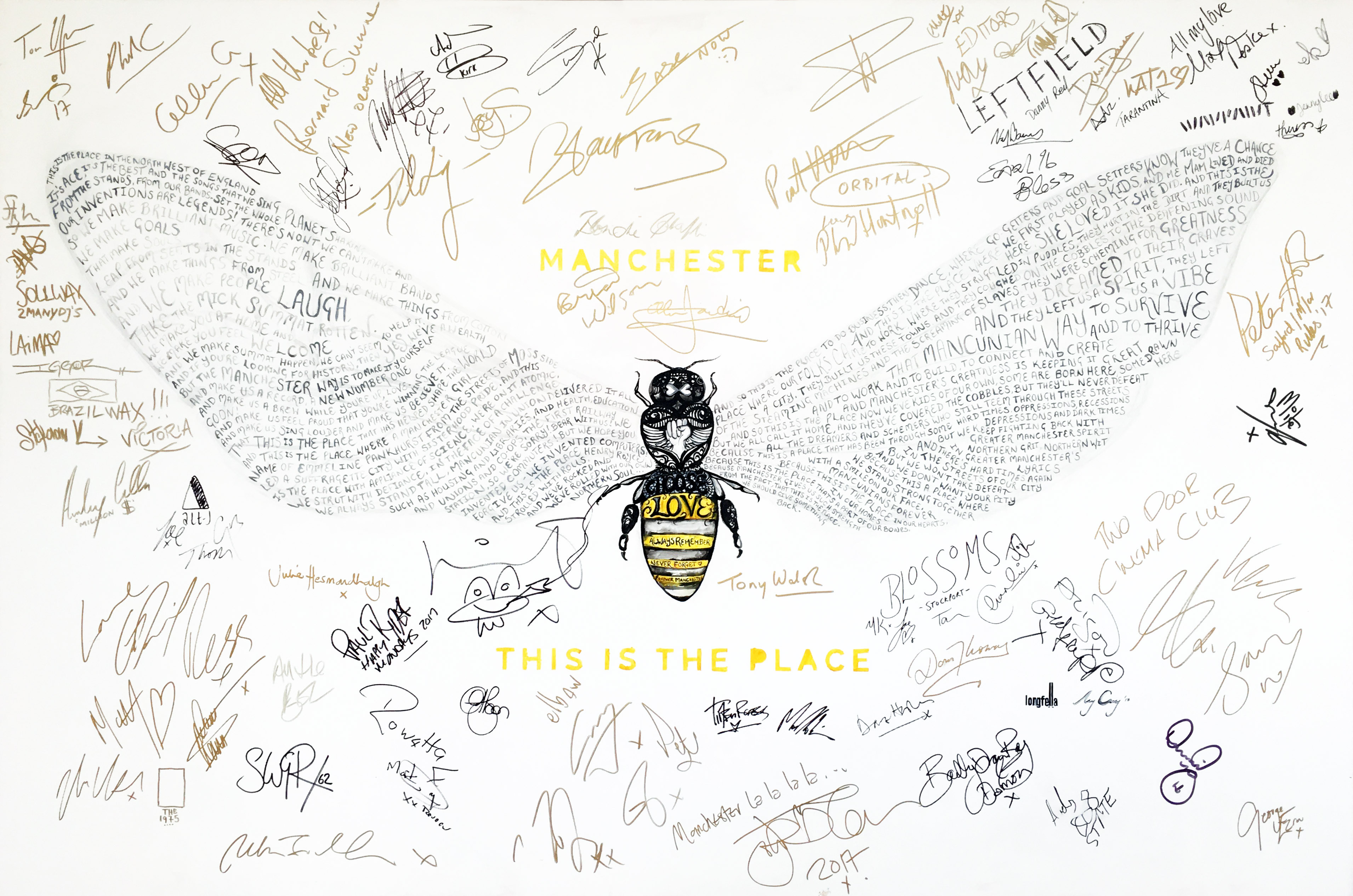 A painting by local artist Amy Coney, signed by a whole host of celebrities, has been put up for auction – with funds raised for Forever Manchester and the We Love Manchester Emergency Fund.
Following the terrorist attack in Manchester on Monday 22nd May, Amy Coney couldn't sit back and do nothing. This local artist decided to create a piece of artwork to remember those who were injured or lost their lives with a painting of the Manchester bee, known better now as 'Bee Love'. The worker bee is a symbol that has always been used to showcase the hard-working and industrious nature of the people of Manchester and now also serves as a reminder of the sense of community and spirit that the city showed in the aftermath of the attack.
In June 2012, Forever Manchester briefed local poet Tony Walsh to write a poem to encapsulate the spirit of Manchester and describe what Forever Manchester is all about. The result was a spine-tingling poem called 'This Is the Place'. Tony performed the poem at a number of Forever Manchester events and, with the help of local creative agency Studio North, visuals were added to a shortened version of the poem and published on YouTube.
Amy was inspired by this poem after Tony performed it at the vigil following the attack, entwining Tony's words into her design to create the bee's wings.
Since the painting's creation, Amy and her band of helpers have travelled far and wide to get a series of signatures, showcasing all the people who want to support the auction of the painting by lending their celebrity status to its already unique design.
So who has signed?
The 1975
George Ezra
Two Door Cinema Club
Julie Hesmondhalgh
Rowetta
Clint Boon
Dave Haslam
Elbow
Peter Hook
Peter Saville
David May
Anthony Crolla
Johnny Marr
Badly Drawn Boy
Blossoms
Andy Barker 808 State
Mike Sweeny
Bez
Tim and Mike – Charlatans
Shaun Ryder & Kermit – Black Grape
New Order
Maxine Peake
Andrew Whyment
Shane Ward
Paul Ryder (Happy Mondays)
Mark Day (Happy Mondays)
Leftfield
Goldfrapp
Orbital
Pixies
Alt-J
Warhorse
Soulwax
Nightmares on Wax
Editors
Brian Wilson
Al Jardine
Blondie Chaplin
Manic Street Preachers
That's an impressive list of musicians and icons!
The auction went live for a painting that has easily become a part of Manchester's already rich history. All of the money raised from the auction will be going to Forever Manchester and the We Love Manchester Emergency Fund. Find out how much was raised here.
If you fancy your own #BeeLove print, then you can get these in a variety of sizes with all proceeds from the sales going to Forever Manchester.
Amy would like to say a special thanks to the following people for their support in making this project a reality:
Andy Hirst – Modern English
The Forever Manchester Team
Nikki Kitchen – Purple Riot
Paul Evans – Rumpus PR
Tony Walsh – Longfella
Chris Woolard – BBC Radio
Athena Caramitsos – City Co
Andy Fletcher – Manchester Music Box
Kit Miur, Harry Springhall & Jonjo Williams – Bad Fun DJ's
Keiran Sharples – Gorilla (Trof Group)
Alex O'Neil – Original Bidder
Nina Milijus
Lee Coulson and Team – From the Fields
Sacha Lord – Warehouse Project