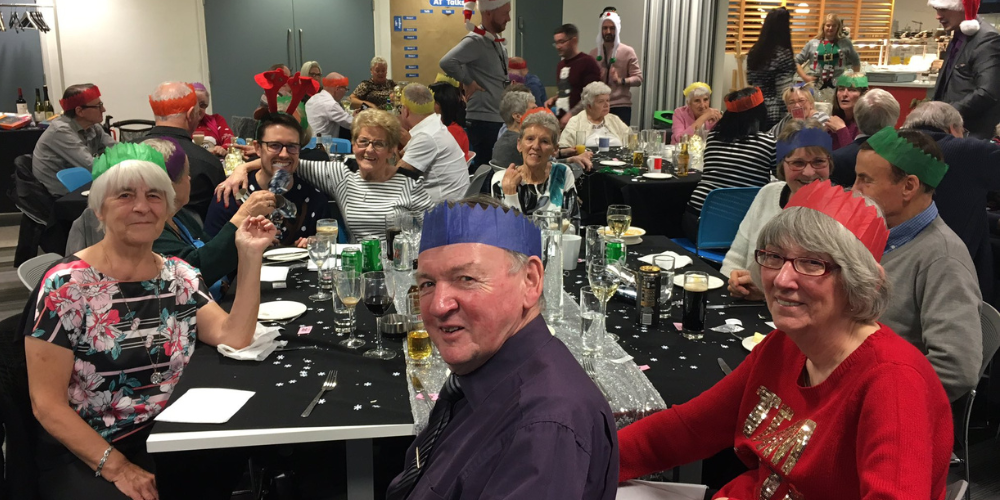 Auto Trader is delighted to sponsor our Advent Calendar again this year enabling us to share the amazing stories about some of the community groups we have supported throughout 2022.
This is the third year running in which Auto Trader has kindly sponsored the Advent Calendar, which celebrates some of the many groups that we support.
Every day throughout December we are sharing inspirational community stories from right across Greater Manchester. All the people and groups featured have helped make a real difference to the lives of others.
Click on the image below to view the Advent Calendar.
In addition, every Christmas, Auto Trader host a Christmas Party at their First Street offices (pictured above), where around 100 people from local community groups are invited to join them for a hearty Christmas lunch and lots of fun. This year the Christmas Party takes place on Saturday 10th December.
Helen Robinson, Diversity, Inclusion and Engagement Manager, Auto Trader said:
"We were so thrilled to still be able to work with Forever Manchester to provide some festive cheer to our communities even during this challenging time. Christmas can be a lonely period for many people, and we knew how important it was to continue to do what we can, but in a safe and still, enjoyable way."
Back in 2016, Auto Trader decided to demonstrate a commitment to supporting its staff and the wider community by working with Forever Manchester to "make a difference" in the local community by launching the Auto Trader Community Fund.
The results have seen a team of Auto Trader colleagues meet on a regular basis to consider a range of funding applications while enjoying the benefits of supporting local projects. They have visited, volunteered and even made films with some of the groups to capture the impact of the amazing work that goes on in our communities.
As a result, the Auto Trader Community Fund, which offers awards of up to £1,000, has provided £304,686 in funding to support 327 community projects, benefitting 140,935 people.
Auto Trader's people regularly participate in Forever Manchester fundraising events such as Forever Football 7s, Forever Funny Comedy Night, the Great Manchester 10k Run and October Cheer Fest. Members of their team have also volunteered in Forever Manchester's pop-up shop.
Between 2016-2022 Auto Trader has also kindly sponsored the Captain Manchester Award at our Annual Birthday Party. They have also sponsored and competed in the Forever Football 7s Tournament every year since 2018.
Nick Massey, Chief Executive of Forever Manchester, said:
"Auto Trader demonstrates fantastic social investment and commitment to its local community, recognising that, as a business, it's important to give back and provide opportunities for its neighbours to lead happier, healthier lives. This scale of social investment has massive impact at a grassroots level. It's a pleasure to work with a company with an ethos of supporting local people and providing opportunities to make their lives better."
Auto Trader's Christos Tsaprounis, Head of People and Culture said:
"Our business purpose it to Drive Change Together, Responsibly and our community strategy is led by our passionate colleagues. Our partnership with Forever Manchester has provided us with the opportunity to connect with grassroot projects and support their incredible work. Every time we review the funding applications we are always amazed with the determination, creativity and community spirit that shines across Greater Manchester"
---
Date added: 29th November 2022
---