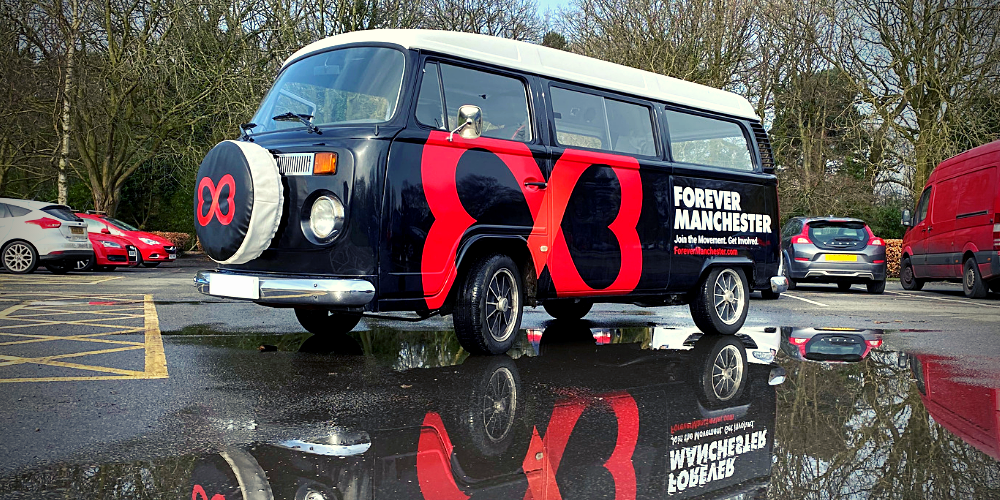 Auto Trader has donated money and their expertise to help Forever Manchester buy and refurbish a Camper Van to help us expand our support of community activity across Greater Manchester.
The Forever Manchester branded Volkswagen Camper will soon be hitting the streets of Greater Manchester as we celebrate 30 years of funding and supporting community activities.
A fundamental part of our approach to working in communities is to identity, connect and showcase the people, community groups, organisations and physical spaces that exist in an area. By discovering what interests and passions people have, we work closely with residents to turn their great ideas into reality, helping to make a real difference to the lives of others in the local community.
Nick Massey, CEO at Forever Manchester said "We are always looking at ways to reach more people and expand our support. When we shared the idea of using a Camper Van as a quirky mobile meeting space, Auto Trader stepped-in to help; not only to support sourcing through their website but also donating cash to purchase it and pay for the refurbishment."
Auto Trader has been an avid supporter of Forever Manchester ever since it relocated to Tony Wilson Place, Manchester, in 2015. Over the years, as well as donating a considerable amount of money, Auto Trader has also sponsored some of our key events, encouraged their employees to fundraise and even held Christmas parties in their onsite restaurant for local community projects.
Auto Trader former CEO Trevor Mather, who became Forever Manchester's President in July 2017 said
"When I heard their brilliant idea of having a Camper Van to engage with more people, it was a no brainer that we should help. One of our core values at Auto Trader is all about encouraging our people to think about the community where they live and what they can do to enrich their local community to be better. By providing our expertise, time and money towards this project, not only are we living and breathing our values we are also doing our bit to support community activity across the region."
On 1st June 2020, Auto Trader highlighted the Forever Manchester Camper Van in their "more than a" feature on their website.
More than a VW Campervan >>>
The custom-fitted Camper, which can seat up to six people and has tea and coffee facilities, will allow the Forever Manchester team to chat with small groups of local people over a brew and a biscuit without having to worry about the region's unpredictable weather. The Camper will also be used at community get togethers and fundraising events, as well as helping to raise awareness of Forever Manchester across the whole of Greater Manchester.
Working from home?

Forever Manchester's @TerrySnowdenMBE is making good use of our Camper Van.

Read more on the Camper Van and how our friends at @AutoTraderLife helped us by clicking the link belowhttps://t.co/N1SnGzyMze@VintageVWCamper pic.twitter.com/dmDK7m225Y

— Forever Manchester (@4EVERManchester) June 3, 2020
---
Date added: 6th March 2020
Last updated: 3rd June 2020
---