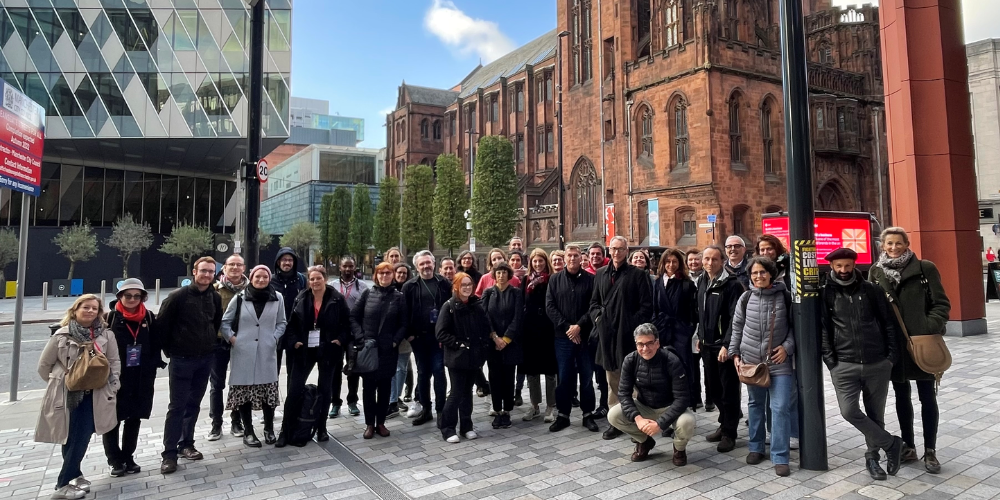 Forever Manchester joined together with colleagues from Community Foundations across the UK and around the world at Manchester's historic and beautiful Kimpton Clocktower Hotel for the UKCF Conference 2022: 'Foundations for the Future: acting now to shape tomorrow.'
The three-day conference (11th-13th October) was the UK's largest gathering of professionals involved in local giving and philanthropy. With a line-up of inspirational speakers and engaging workshops this conference provided the opportunity to exchange experiences and ideas and start to formulate a shared vision for the future of our unique organisations. Delegates and speakers explored the challenges facing our communities and how local philanthropy can drive and support change both now and in the future.
On Tuesday 11th October, Nick Massey DL, CEO of Forever Manchester opened the conference with an inspiring welcome speech.
Nick Massey (@MasseyManc), CEO of @ForeverManchester has given us a warm welcome to #UKCF22 and is opening our conference with some wise words 🙌

"To be relevant in the future we need to put our citizens first." pic.twitter.com/4mrU4d6Ph0

— UK Community Foundations (@UKCF_tweets) October 11, 2022
Prior to the conference Rosemary Macdonald – CEO, UK Community Foundations said
"Over three days we will think about what the future will look like for our communities into the 2030s and beyond, from a range of perspectives. We'll consider future economies, housing, the climate crisis, mental health and wellbeing, and much more. We will explore the role of philanthropy in making our places better for the long term. We want our delegates to be inspired to act now to shape the future."
On the eve of the conference, on Monday 10th October, Forever Manchester, Greater Manchester's Community Foundation, had the pleasure of hosting and entertaining 50 international delegates.
We'd like to say a massive thank you to Oscar Technology for kindly giving us access to Manchester's best roof terrace at their Windmill Green offices, offering our guests stunning 360-degree views of Manchester's skyline and some of the city's best architecture.
And we'd also like to thank Jonathan Schofield who took our international guests on a guided tour of Manchester on Monday afternoon (see photo above). Jonathan has been a registered Blue Badge Tour Guide since 1996 and is the official tour guide for the world-famous Manchester International Festival. He has also written and published several books about Greater Manchester.  
And finally, thank you to Sam's Chop House; our destination for Monday's evening meal together.
Community Foundations
Forever Manchester is part of a global movement of more than 2,000 Community Foundations. In the UK we are part of UK Community Foundations (UKCF); a national network of 47 community foundations, bringing together people and organisations that want to improve their communities.
The community foundation model is placed-based. This means that funds are distributed to the local area or region in which the funder is based. Place-based funding works on the principles of community engagement and collaboration.
For community foundations no place or neighbourhood is "forgotten" or "left behind". Our understanding of need isn't shaped by stereotypes, preconceptions, or assumptions about a locality, rather it is shaped by decades of listening, learning, and living in the places that we operate.
---
Date added: 7th October 2022
Last updated: 17th October 2022
---