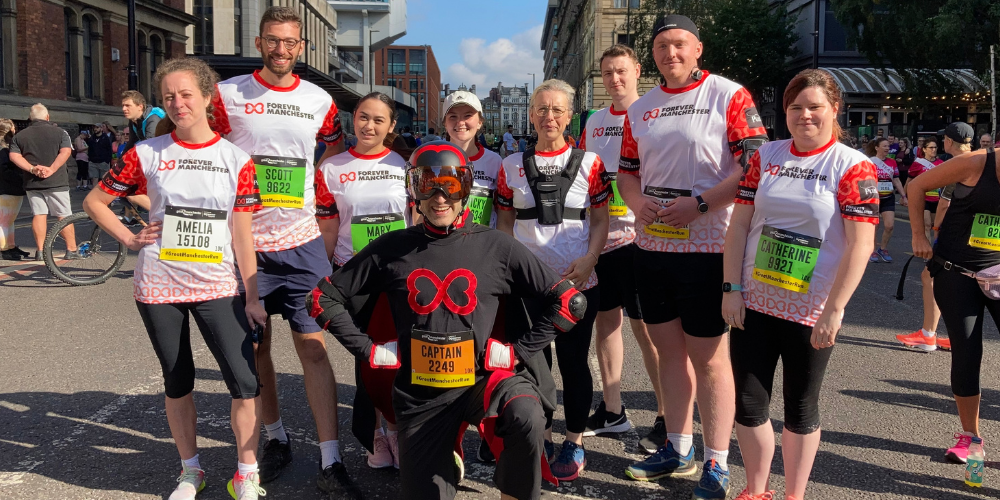 In the Great Manchester 10k run on Sunday 26th September 2021, our brilliant runners raised over £10,912 due to their incredible fundraising efforts! We are delighted to be able to reinvest this back into the communities of Greater Manchester.
Over 15,000 runners took part in the Great Run, helping to create a party atmosphere around the city, with a cheering crowd of thousands keeping the energy levels high. Sixty runners took to the street for Forever Manchester in their eye-catching running T-shirts, kindly sponsored by Punk Legal.
We would like to say a huge thanks to all the good people at:
Express Solicitors (pictured), Kay Johnson Gee, Oscar and Stagecoach.
In addition, we thank the following individuals:
Chris Marsh, Heather Davies-Strickleton, Jonathan Platt, Sam Johnson, Steven Sandbach and Kieran Treleaven-Jones.
And of course our wonderful Forever Manchester staff members:
Kev Duxbury, Natasha Davies-Strickleton and our very own Captain Manchester.
---
Forever Manchester Ambassador and avid runner, Jennifer Lutton from Express Solicitors, said:
It was amazing on Sunday finally seeing the return of the 10k and being able to cheer on and support so many runners from Forever Manchester. There was a lovely atmosphere and everyone from Team Express seemed to have a brilliant time, made even better by the money that has been raised for such a fabulous charity.
Everyone at Forever Manchester appreciates your efforts and hope you enjoyed the day as much as we did! It was great seeing everybody in person and being able to catch-up with both our business supporters and individuals.
For more information about where your money will be going, check out these inspiring stories about how community activity makes a huge difference to the lives of people across Greater Manchester.
Photos from the day are now available to view on our Facebook page below:
10K PHOTOS
For other 10K highlights, we've gathered below some of our favourite tweets from the day:
So proud to have beaten my donations target for @4EVERManchester and my personal best 10k time today! pic.twitter.com/VNGETkT6OC

— Steve Sanders (@SDSanders90) September 26, 2021
---
Date added: 1st October 2021
---